Weekly Recap: OP Accrues Gains as Ethereum Merge Nears
The altcoin market seems headed for recovery following last week's growth patterns, as Optimism's OP and YFI lead the way.
The total global market cap grew by almost $60B to once more rest above the $1 trillion mark. Bitcoin has not been left out as the world's largest digital currency. BTC has remained relatively in the green for nearly a month, after opening July under $20k. For now, the king crypto continues to trade at over $20k, even rallying last week to almost hit the $24,000 mark. At writing, BTC is seated at $23,329.
Ethereum meanwhile is inching closer to its transition to Ethereum 2.0. A movement that has caused ripples across the crypto market, with coins like Optimism (OP) showcasing the effects. Along with an ETH resurgence which has seen it draw near the $2000 mark, other altcoins are likewise charting an impressive recovery.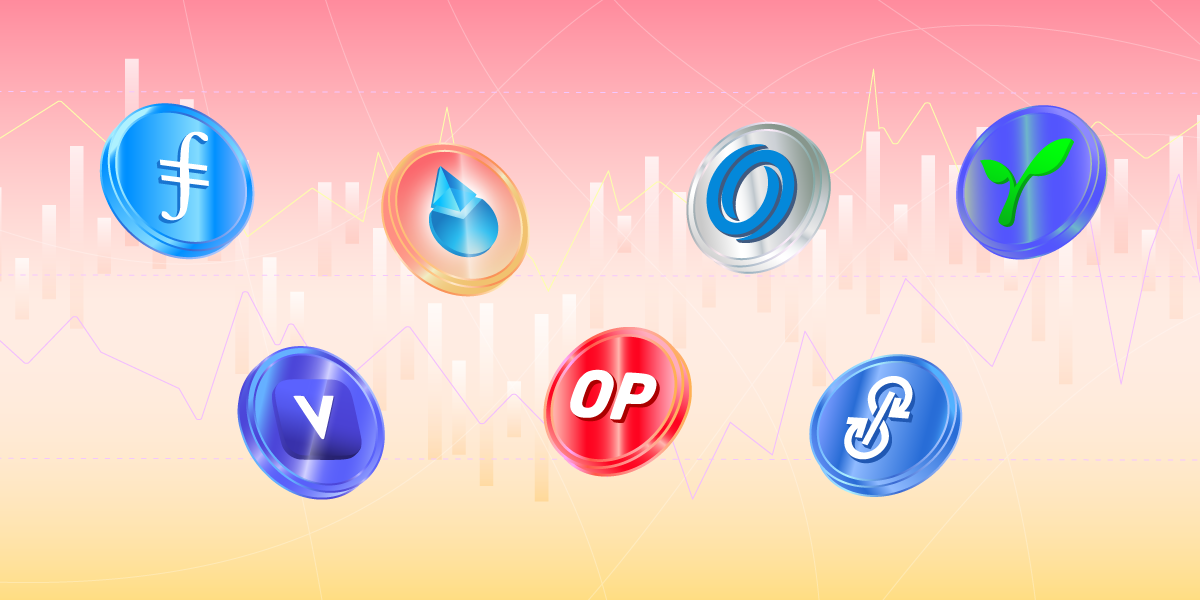 Top Gainers: Exciting Announcements Push ROSE, OP, and Filecoin Up
Optimism (OP)
Ethereum layer-2 scaling solution Optimism broke into a massive overnight rally last week. The token offered traders gains on their holdings scaling 55%. Analysts have identified some key drivers behind the bullish price action, the most notable of which is likely Ethereum's forthcoming Merge upgrade. The update is set for September and investors are confident in its ability to take the network to the next level.
OP is currently trading at $1.67 and has risen 15.88% over the past day.
Oasis Network (ROSE)
The Oasis Network's native ROSE token emerged as one of the leading gainers this week with a 76.41% rise in value. ROSE had something of a rocky patch last week after it dipped to $0.049 and was charting in the red. The token recovered slightly on Wednesday evening and began to rise steadily the following day after Oasis Labs shared news of a collaboration with Facebook parent company, Meta.
Oasis grew 35% in just 24 hours going from $0.052 to $0.071, its value rests at $0.082 at writing.
Yearn.Finance (YFI)
Yield farming platform, Yearn.Finance saw its native coin increase nearly every day this past week. The token grew over 70% eventually peaking at 13,903 USD. This marks a noteworthy jump, about 160% from its monthly low of $5,350. YFI has since retraced to hover at $10,950 presently. YFI users would hope for a possible prolonged recovery from last month's bearish trend.
Filecoin (FIL)
Filecoin charted some solid gains over the past 7 days. Demand for the token began to increase after the team announced a partnership with the Harvard University Library Innovation Lab (LIL). Thus, after days spent reading within the 5-6 dollar range, FIL grew steadily until it hit a double-digit high of 11.67 USD. Filecoin has grown over 60% in one week and has retraced to rest at $8.37 at writing.
Lido DAO (LDO)
Lido DAO nearly doubled in value over the past week having surged 51.51%. The token continued a steady increase in price that began the previous week eventually hitting a peak of $2.63. LDO dipped under $2 for a short time yesterday but bounced back afterward to trade at $2.35 at the moment.
Top Losers: Voyager Resumes Downward Trend, BOND Almost Halves
Radicle (RAD)
Radicle spent the past week in the red, falling over 35.11% over the past few days. The platform's RAD token started the week at $1.90 and briefly rose to $3.84, however, it followed this with a plunge to a low of $2.26 and continues to bounce within the $2 range.
Fruits (FRTS)
The eco-friendly blockchain project opened the week in the trading in the green. The project's FRTs token had spiked previously to hit $0.0216 and remained within that area. However, as the week drew to a close it began to dip steadily, plunging choppily to record a 7-day low of $0.016 and a 15.01% loss in value.
Voyager Token (VGX)
Since the start of its liquidity issues and subsequent bankruptcy application, VGX has seen investors steadily ditch the token. The asset has continued its freefall despite slight jumps over the past few weeks. Last week saw the token flail at the $0.40 range, however, it has since given in to the market pressure and fallen 14.45% to trade at $0.3549.
Barnbridge (BOND)
The Barnbridge Protocol's BOND token fell by more than 50% over the past 7 days. Notably, the token rode into the week on an almost 2-week long rally that saw it hit $24.67 after starting at about $3.16, a 680% rise in value, Fast forward a few days, however, and the token began to fall until its price had halved by the end of last week. BOND is currently trading at $8.85.
Cult DAO (CULT)
Cult DAO had been charting a bullish course since mid-July, however, the token began to drop in value late last week. CULT has seen losses scaling 15% since then and is currently valued at $0.00001503.