Weekly Recap: Ethereum Merge Date Confirmed, Circle in Support
Ethereum's confirmed Merge date leads a positive week for crypto. In similar news, Binance could be saving the day in the aftermath of Curve's hack.
Tornado DAO Shuts Down for Legal Reasons
In a bid to keep its contributors and developers safe, decentralized autonomous organization, Tornado Cash has shut down its online operations last Thursday. A member of the Tornado team confirmed that the multi-sigs decided to reimburse all Governance accounts, close the multi-sig wallet, and shut down the DAO.
According to the source, Tornado contributors were wary of legal issues, and the team felt it was also unsafe for its devs.
The DAO can't "fight the US" and protect its members as well, is the rationale a team member offers. Hence it decided to drop out of the game till things stand on firmer ground.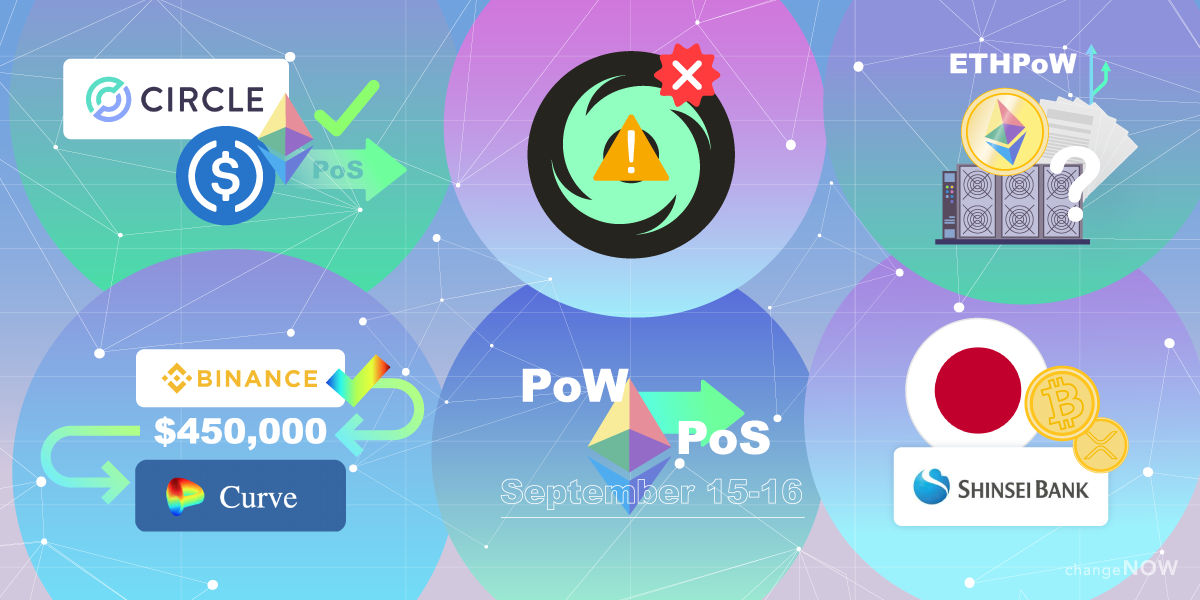 Major Japanese Bank Rewards Customers with $XRP and $BTC
Shinsei Bank announced last week it is offering existing and potential customers a chance to win up to 8000 yen rewards in XRP and BTC cryptos. The bank will award customers for performing specific transactions in a campaign starting in early August and ending on October 30th. Reports state that new customers get a coupon worth 500 yen or $3.7.
In addition, deposits of up to 30,000 yen can win coupons worth as much as 2500 yen or $18. Winners of these coupons can be cashed out via email in the two cryptocurrencies $XRP and $BTC.
The financial institution's campaign is also in cooperation with the SBI VC Trade and encompasses other incentives. For instance, clients depositing in the bank stand a chance to win "crypto asset exchange tickets" of as much as 10,000 yen. The lottery campaign aims to reward 1,300 customers while it runs.
The ETHPoW Fork is Inevitable, Says Guo
The ETHPoW team's upcoming hard fork during the upcoming Merge event is inevitable, Chandler Guo of the PoW team says. Ethereum Classic is unable to accommodate Ethereum's computing pool in its entirety. Hence ETC's expectation that all ETH miners migrate to its Proof of Work Cooperative is unrealistic.
The ETHPoW team believes that ETC's pessimism about the feasibility of the intended hard fork is unfounded. Rather the miners stated in their open letter to ETC cooperative on Friday that the fork is inevitable.
Furthermore, the team opines that matching the capability of Ethereum's considerable computing power pool would require multiple forks. Consequently, the hard fork is slated for September, when the Merge is also meant to launch.
In anticipation, ETHPoW has disabled the difficulty bomb on its Ethereum code and other development moves. This enables miners to continue their activities once the fork is deployed easily. The team also plans to launch a testnet before finalizing the fork.
Curve Finance Hack, Binance Saves The Day
On Friday, Binance shared in a tweet that it has recovered $450,000 of the $537,000 stolen assets in the recent Curve Finance hack.
Last week Monday, Bad actors had hijacked Curve Finance's website by compromising its domain name system (DNS). They stole over half a million dollars in USDC before the breach was discovered and users alerted. The hackers then laid down a convoluted trail by sending the stolen assets to an array of exchanges.
However, Binance was able to identify the suspicious transactions when they arrived on the exchange and froze the assets. Both teams are working to return the assets to their rightful owners.
Ethereum Merge Date Announced
Meanwhile, top smart contract blockchain Ethereum is set to launch between September 15 and 16. The team announced this after completing its final test run on the Georli net.
Over the past year, Ethereum Merge dates have suffered delays and adjustments. However, the Ethereum team is confident the new date is quite definite.
In similar fashion, Tim Beiko announced the PoW's expected Total Terminal Difficulty to be 58750000000000000000000 on Tuesday. That is the difficulty level for mining the final block before Ethereum's PoW model is replaced by the energy-efficient PoS consensus mechanism.
Although the final date is still not set in stone, the devs are optimistic that it is workable. The Merge will spell a new shift fit Ethereum, and even weeks prior ETH price has surged steadily in response since late June.
Circle Stands For Ethereum's Merge.
Amid stifled protests from ETHPoW supporters, Ethereum-backed stablecoin issuer Circle intends to fully support Ethereum in the completion of the upcoming Merge.
Circle believes its dollar-backed coin USDC will continue to thrive through the Merge. It stated that USDC had been a significant contributor to Ethereum DeFi restructuring.
The company considers Ethereum's impending Merge to be advantageous. Therefore it will fully support it. The Circle team added that it does not foresee any interference with USDC's on-chain capabilities and Circle's other offerings.