Weekly Recap: CVX and RGT Defy Market in Erratic Week
Convex Finance's CVX finally leads in green after consecutive weeks in the red and near-attacks. Likewise, Synthetix continues to improve on its monthly gain.
June ended on a red note, with top coins Bitcoin and Ethereum still struggling. Most of the crypto market closed the month in a bloodbath, while the total market capitalization dropped by another $100 billion within a week.
Notably, Bitcoin could not stay above the $21k support and soon dropped below $20k. Its brief recovery means the crypto market gets some reprieve in the first week of July.
Interestingly, despite the cold crypto winter, Bitcoin has not been short of suitors and adopters. During the week, El Salvador and Microstrategy, both notable Bitcoin proponents, added sizable BTC to their assets.
Likewise, most altcoins struggled during the week, with Cardano, Polygon, and Solana both losing in double figures. Meanwhile, coins like Convex Finance and Rari managed to recoup some of their previous losses.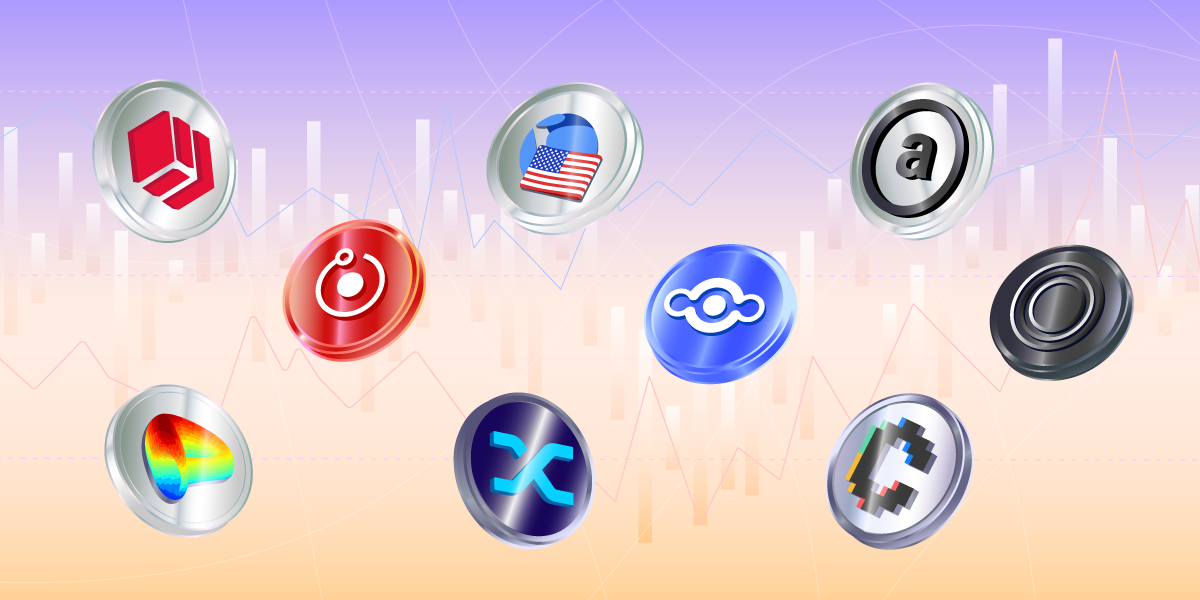 Top Gainers: CVX, RGT Make Good Recovery
Rari Governance Token
While the DeFi-based initiative has been constantly seeking new lows, it managed to ace the previous week in green. Rari's token, RGT, surpassed its previous high on Monday, climbing more than $9.00 from a low of $4.14.
RGT rose by more than 74% in the last seven days, providing traders with significant returns. The simultaneous decline of Vauld is most likely responsible for the rise in the value of the RGT token. Vauld is another lending platform that has ceased withdrawals and trading due to financial difficulties. Rari also sparked interest in the past during the Celsius crisis. RGT is currently trading at $7.50, a 25% decline from its daily high of $9.20.
Convex Finance
After surviving a domain name system hijacking attempt, Convex protocol's CVX emerged as one of the week's top gainers. In contrast, the coin has closed at consistent reds in the past weeks.
Last week, the CVX token traded between $3.5 and $5.5. Moreso, CVX broke through a minor resistance yesterday and hit a high of $6.19. As a result, CVX's price has gone up by roughly 51% in the past week. At the time of writing, CVX trades at $5.63.
Arweave
This decentralized storage network finally steals into the top gainers this week. Arweave (AR) began the previous week at $9.8 and has since surged to a high of $12.48. Amid the challenging time in the market, AR has seen two consecutive green weekly candles. Since its recent high, the storage coin's price has settled at $11.41, a 13.3% gain over the previous week.
AR's price hike might have been buoyed by the recent release of the Arweave Name System.
Curve DAO token
Curve ecosystem's native token has risen sharply in value over the last two weeks. CRV broke through its previous daily structure yesterday and has since been on the rise, even reaching a high of $0.90 yesterday.
Also, CRV tapped the downside liquidity on Thursday, touching a low of $0.63, according to the charts. CRV trades at $0.87 at present, up more than 38% from its low on Thursday.
Synthetix
This Ethereum-based project has had a few minor bullish retracements, allowing traders to profit. While SNX broke a minor resistance two weeks ago, yielding more than 80%, it has since been trading sideways. During the weekend, SNX gained some bullish momentum, reaching a high of $2.98 on Monday. The token has since declined about 13% to $2.59 at writing time, reflecting a weekly return of over 6%.
Top Losers: KuCoin and Huobi Exchange Tokens Suffer Losses
Serum
The DEX's utility token, SRM, has been on a losing streak since late March and has seen little to no retracements. Despite recent developments by the project, the Solana-based token has yet to receive any significant boost in its price. SRM was one of the last performers last week, falling from $0.92 weekly open to $0.723.
Since hitting the $0.72 support however, SRM has racked a few gains, trading at about $0.745.
Huobi Token
Along with other exchange tokens like KCS, the Huobi token's value has steadily declined. In the previous week, the exchange's token hit a 76-week low of $4.45. Moreover, HT has tumbled nearly 90% since its all-time high of $39.9 in May 2021. At writing time, the token is trading at $4.44, a 16% decrease over the past week.
Hive
Aside from a brief spike to $0.717 last Wednesday, Hive's value has remained in the red, even worsening in recent days. The slump of the Web3 blockchain protocol was as sudden as its rise.
With a 23% loss, HIVE sits comfortably in the week's losers list.
Render Token
Render Token (RNDR) momentarily peaked at $0.717 on Tuesday but could not maintain that level. On the charts, RNDR has experienced a few minor retracements in the overall bear trend. Additionally, the token's price appears to be falling further, having breached its previous daily support of $0.469.
Helium
Despite the Helium team's fresh plans of wielding 5G into Web3, the HNT token continues to fall. HNT's value remained in the red throughout last week, with only a small 6% recovery.
It soon retraced its gain, dropping from its weekly open of $10.65 to $8.9.