Weekly Recap: Crypto Gains Traction as Hackers Strike Again
Billions of dollars were withdrawn from exchanges in the past week, showing increased institutional adoption. In other news, a DeFi protocol lost 25,000 ETH to hackers.
Rapper Snoop Dogg Unveils NFT Collection on Cardano
American rapper Snoop Dogg launched his NFT collection on the Cardano network in collaboration with Clay Nation. The NFT project will offer renowned clay animations, land bids, and unique music content on the recent smart contract compatible blockchain platform. The launch followed a conversation between Snoop Dogg and Cardano's founder Charles Hoskinson, centred on NFTs and music. At the time, the project's announcement had no significant impact on the ADA's price, probably because of the market sentiment.
Snoop Dogg, a long-time trailblazer in hip-hop culture, appears to be the face of the NFT industry. Last month, the rapper joined FaZe Clan, a gaming platform that aims to improve the cultural relationship between music and gaming. Likewise, he partnered with The Sandbox to develop his own virtual environment, "Snoopverse."
Similarly, rappers like Eminem and Jay-Z have long jumped on the NFT bandwagon, seeing the industry's tremendous potential.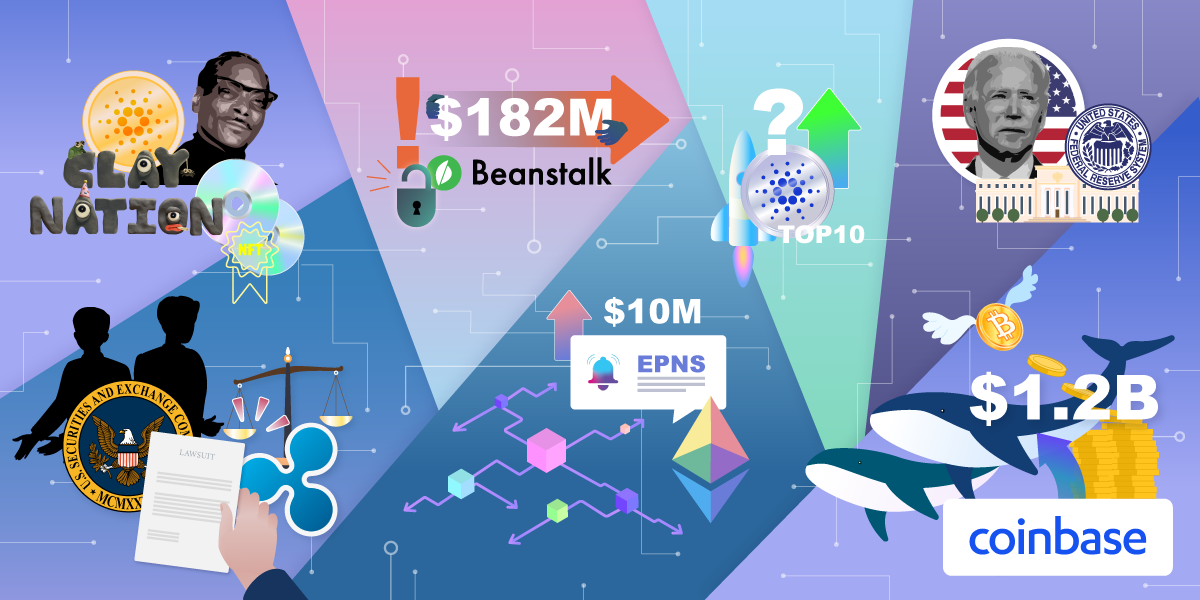 Former SEC Officials Sued for Shady Roles Played in Ripple vs SEC Palaver
On behalf of Shannon O'Leary, US attorney Fred Rispoli sued former SEC executives Jay Clayton and William Hinman. This followed earlier calls from the Ripple community for an investigation into Clayton and Hinman for wrongful activities. The class action lawsuit, filed on April 11, alleged that both ex-executives worked in the best interests of their employers.
Additionally, Rispoli noted that O'Leary chose to make a statement because no agency was interested in the matter. The lawyer also stated that there is adequate proof exposing some of Clayton and Hinman's shady dealings. Similarly, the duo in question have previously been accused of the same act.
On the positive side, Judge Sarah Netbur has ordered the SEC to turn over potentially incriminating emails to Ripple. Should that happen, the US SEC may be compelled to work out an agreement with the payment technology company.
Cardano's Founder Gears Up for Vasil Hardfork
On Tuesday, Cardano's founder Charles Hoskinson shared a video explaining the significance of the "Vasil" hardfork. The IOHK and Cardano's development team have worked on Vasil since the past year. Charles highlighted that the hard fork upgrade will significantly increase Cardano's performance.
Further, the founder disclosed that he is prepping for the upcoming Consensus 2022 conference in June. The event coincides with the release of the Vasil upgrade, which is scheduled for the same month. The update would contain scalability upgrades such as pipelining, UTXO on-disk storage, new Plutus CIPs, and Hydra.
In addition, Cardano's team is hard at work developing new products for its customers. The products include a new lightweight wallet as well as a dApp store with a variety of intriguing features. He then further mentioned that an innovative meeting for Cardano developers and third-party organisations will be held in May.
$1.2 Billion in BTC Flows out of Coinbase, Indicating Institutional Adoption
Of late, there has been a significant net outflow from major cryptocurrency exchanges such as Huobi, Kraken, and Gemini. Similarly, according to blockchain data provider Glassnode, 31,130 BTC worth about $1.18B were withdrawn from Coinbase last week. According to the blockchain analytics firm, this was the highest net outflow since July 2017.
As of Thursday, the number of BTC in the American exchange had decreased to around 649,000. This brings it back to the 2017 ATH levels and represents a 35% decrease from the ATH in April 2020. Further Glassnode metrics indicate that these transferred coins were deposited into a wallet with very little transaction history.
Additionally, Coinbase, the largest exchange by BTC balance, is a favoured platform for American-based organizations. This, in turn, indicates that institutions are adopting cryptocurrencies and are interested in the coin's long-term value. Accordingly, an increase in net outflows from exchanges is often viewed as a bullish signal in the crypto industry. It is a strong indication that investors are increasingly recognizing Bitcoin as a valuable asset in modern investments.
Ethereum Push Notification Service Receives $10M in Series A Funding
Ethereum Push Notification Service announced on Thursday that it has secured $10.1 million in a Series A funding round. As a result, the Ethereum-based initiative is now worth $131 million. EPNS promotes itself as the missing element of Web3 technology. The company intends to usher in mainstream messaging based on blockchain technology.
Furthermore, Jump Crypto led the round, with participation from VC firms such as Tiger Global, Polygon Studios, and others. Even more, Web3 leaders such as Andrew Keys, David Silverman, and Anton Bukov, among others, took part in the round.
The project's staff explained that the financing was "extremely strategic" for the protocol. In addition, they unveiled plans to go multichain and recreate the success gained by debuting on the Ethereum network. Following that, EPNS founder Harsh Rajat announced plans to launch on Polygon, followed by Binance and Harmony shortly after.
Only in March, EPNS ended its extended seed round of $660,000 at a valuation of $12 Million USD. Strategic VCs such as Binance Labs, True Ventures, Bitscale, LD Capital, and Bixin, among others, had joined the seed investors.
US President Shortlists Ex-Ripple Aide as Vice Chair for Fed Supervision
On Friday, President Joe Biden announced his intention to appoint Michael Barr as the new Vice-Chairman for Federal Reserve Supervision. Barr, a former Ripple Labs consultant, has the president's public approval. Moreover, Biden admitted that his choice possessed the necessary skills and expertise needed for the political post.
The appointment comes after Sarah Raskin resigned from the same position in March owing to increased opposition in the Senate. Prior to that, the supervisory office had been vacant since October, when Randal Quarles' term expired.
Furthermore, Biden remarked that the Fed plays an important role in managing inflation and that his candidate would be suitable. Barr, who oversaw the Dodd-Frank Act's creation, has also served in the Obama and Clinton administrations. His new post as Fed supervisor will make him an influential regulator in the banking and financial industry. Meanwhile, the Senate has yet to approve Biden's nominations for Fed chair, vice chair, and two governors.
Hacker Obtains $182M from Beanstalk Farms
Yesterday, an attack on the DeFi protocol Beanstalk resulted in a $182 million loss. A combination of two malicious governance propositions and a flash loan attack wreaked havoc on the protocol. Flash loan attacks continue to be the choice of weapon for many DeFi hackers. According to Blockchain security company PeckShield, the hacker amassed over $80 million, including 24,830 ETH and 36 million BEAN.
The exploit comes on the heels of a $625 million loss caused by a hack of the Ronin blockchain in March. According to Beanstalk, investigations are currently underway, and a plan for the future is being developed. Furthermore, the DeFi community and chain analytics experts have been requested to assist the decentralized credit-based stablecoin system. The company also expresses willingness to talk with the attacker.
Unexpectedly, the beanstalk team has subsequently stated that they are not to blame for the attack. This has sparked outrage among its users, who are demanding that they accept responsibility. PeckShield also reported that the exploiter transferred $250,000 of the stolen funds to a Ukrainian relief wallet. As of now, the BEAN token of Beanstalk is down by more than 80%.