Weekly Recap: Bitcoin Thrives Amidst Increasing Crypto Adoption
Alongside Bitcoin's good run and the crypto market's resurgence, the UK, Russia, and others continue to press for crypto regulation.
Florida Pushes to Embrace Crypto
Florida Governor Ron DeSantis announced on Wednesday that the state could soon begin to accept cryptocurrencies for corporate taxes. This announcement comes in the middle of a slew of crypto-forward activities from around Florida. As a result, crypto-tax implementation was not the only thing on DeSantis' mind.
The Governor revealed that he was also working with state authorities to find ways to make crypto payments available to businesses. Furthermore, he enthused about a bright future for Bitcoin and cryptocurrencies in general.
However, the Governor expressed skepticism about a possible Central Bank digital currency (CBDC), which he fears might be abused.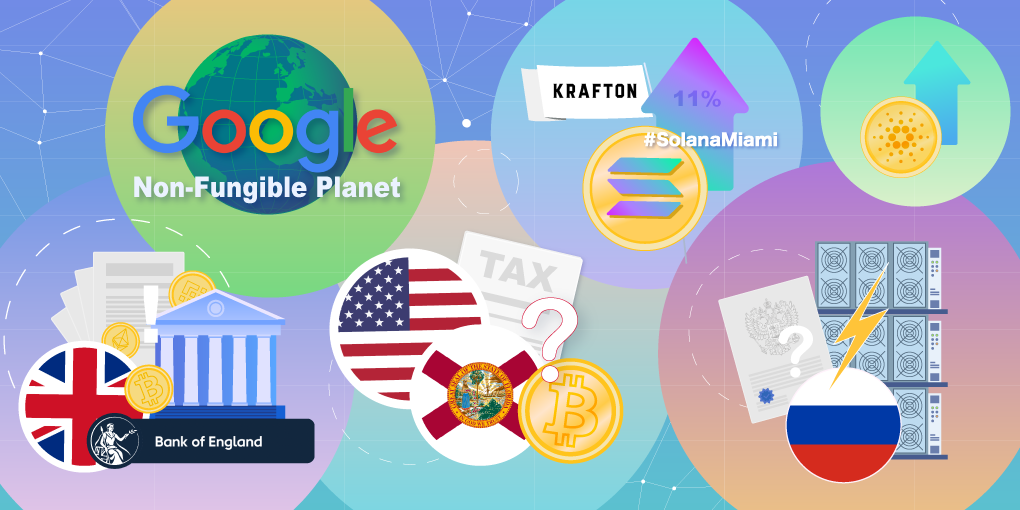 Cardano Wraps up Major Network Upgrade
Cardano (ADA) received a significant upgrade to its mainnet on March 21, when it reached epoch boundary 328.
Input Output HK (IOHK), the development firm behind Cardano, announced that the upgrade will include an increase in the blockchain's per-block Plutus script memory unit limit. Similarly, the unit limit was raised from 56 million to 62 million.
IOHK also announced its commitment to completing the scaling phase of Cardano's Roadmap. This will result in greater network speed and capacity while preserving security and decentralization. The upgrade came on the back of rumors that Cardano was testing a token burn mechanism.
Bank of England Establishes Crypto Regulatory Framework
With the crypto market rapidly coming under the scrutiny of regulators, the BoE recently proposed a regulatory framework for cryptocurrencies.
According to the BoE's financial policy committee, crypto activities that mimic regular financial services will be governed by existing regulations. The committee also stated that crypto markets now pose a modest risk to UK financial stability. However, if the rate of growth witnessed in recent years continues, the risk will escalate.
So far, letters have been written to the CEOs of financial institutions and other investment organizations warning them of the risks of virtual assets and how to avert them. In recent months, UK authorities have grown stricter with crypto policies. A fortnight ago, the UK's Financial Conduct Authority issued an order mandating all crypto companies to register with the agency by March 31. This led to the closure of several crypto ATM stands.
Analysts Forecast More Gains for Solana
Quick rising blockchain Solana has been on a characteristic surge in the past week. Despite its modest gain, analysts anticipate more bullish moves from the altcoin. Solana, which gained over 28% last week, is currently trading above $111 with a large market cap of $36.8 billion.
There are suggestions that the altcoin skyrocketed following the announcement of a collaboration with Krafton, a South Korean gaming conglomerate. The new collaboration is expected to concentrate on developing blockchain-based games.
Another motive to follow Solana's upward trajectory is the planning for Solana Miami, which is scheduled to open on April 5, 2022. This event will include a developer community as they build applications offline with in-person assistance on the ground.
Russian Minister Demands Crypto Mining Legalization
Evgeny Grabchak, Deputy Minister of Energy of Russia, has urged the government to legalize the space, citing the country's tremendous economic hardship.
While cryptocurrencies are subject to a few pertinent laws in Russia, they remain a contentious issue among government agencies. The Central Bank, on the other hand, has been an advocate for a total crypto ban. However, there have been positive steps in the past months to set up proper crypto frameworks.
In addition, Minister Grabchak suggested that regulating crypto mining at the state and regional levels would be more productive because miners would need to agree on regional development plans. He also cited that the country has a favorable environment for crypto mining.
Google's New Mystery Project
On March 21, the internet behemoth secretly filed a trademark for a new project – "Non-Fungible Planet." Despite hot speculation, Google claims this initiative has nothing to do with NFTs or the metaverse.
While it welcomed attention from crypto audiences on social media, Google insisted its project is more about global warming education. The Non-Fungible Planet project will be leveraged for commercial gain, as the company's curiously covert preparations continue. Google did not announce when the project's implementation will begin.
You can buy, sell or swap any of your preferred tokens on ChangeNOW without any registration.
Welcome to the NOW experience! The ChangeNOW team presents you with the new community-inspired crypto wallet – NOW Wallet. For safe and efficient asset tracking, try our crypto portfolio tracking app – NOW Tracker.