Weekly Recap: Algorand Secures FIFA Agreement, as Ethereum Crashes
The limits of the Ethereum Network were hugely tested during the week, collapsing under traffic. Algorand, on other hand, banked some good news.
Solana's Okay Bears Project Outperforms All Other Ethereum NFT Projects
On Tuesday, the launch of the Solana NFT project, Okay Bears, inspired new records, not only on Solana but on Ethereum as well. The project outperformed by trade volume every other Ethereum-based NFT collection, including favorites Meebits, BAYC, and Mutant Apes.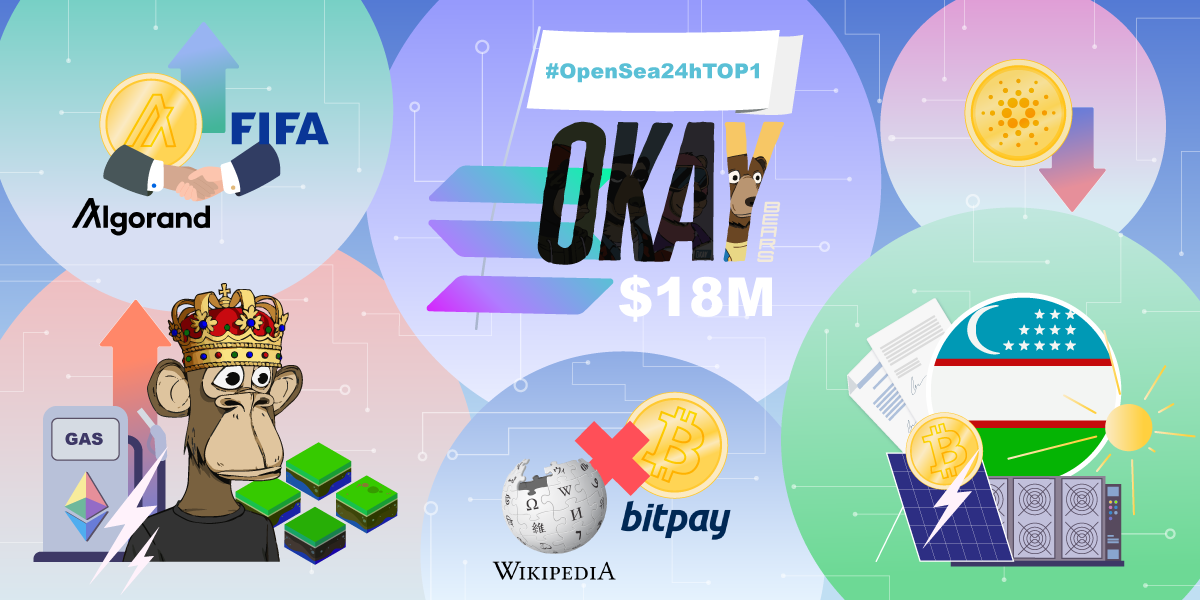 Not only did Okay Bears set a record 24-hour trading volume, it also banked the largest daily trading volume of any NFT collection in history, at $18 million.
Okay Bears is a Solana-based profile picture project with 10,000 distinct avatars made up of diverse bears. Although the Solana-based project debuted on Magic Eden at a mint price of 1.5 SOL each, its floor price soon exploded. At the time of writing, the market had seen around 683,900SOL ($59.5m) worth of transactions. In addition, its floor price at present is 74 SOL, which is approximately $6,400.
Uzbekistan's Government Revises its Crypto Regulations
Uzbekistan's President, Shavkat Mirziyoyev, signed a new decree last Wednesday that expanded the regulatory framework for the nation's cryptocurrency space. The goal, according to the statement, is to advance digital technology while also establishing an ideal environment for digital entrepreneurship. It also provided enhancements to virtual legislation. Moreover, the declaration determined that the National Agency for Perspective Projects (NAPP) will become the crypto sector's primary regulatory authority.
Similarly, NAPP has been tasked with protecting investors' rights and implementing government policy in the crypto sector. One way to do this, according to the statement, would be to take the responsibility of combatting financial fraud, terrorist financing, and firearms trafficking with crypto. Along with its new crypto-positive laws, the Uzbekistan government also just recently approved the development of Bitcoin mining plants using solar energy in the country.
Bored Ape Looks to a new Blockchain After its Metaverse Sales Crashed Ethereum
On Saturday, the Ethereum network collapsed following the debut of the Bored Ape Yacht Club metaverse "The Otherside''. This sparked hot discussions once more about Ethereum's scalability, especially as the network collapsed due to traffic.
Many Bored Ape Yacht Club (BAYC) fans were keen to acquire one of the Otherside's NFT collections. As a result, Ethereum's gas fees soared. According to Etherescan, nearly $120 million was spent solely on fees for participation in the NFT minting process. Even despite the high fees, many Ethereum users complained of failure in transactions.
Along with users, ETH-based dApps, businesses, and other Ethereum-dependent platforms also had problems. Etherscan, for one, which serves as the blockchain explorer for the Ethereum network, was unavailable for about three hours according to reports.
Yuga Labs tendered an apology following the breakdown, while also suggesting that it could search for another blockchain other than Ethereum. The Bored Apes developing firm followed up its apology with an intention to compensate victims of the unsuccessful transactions.
Delay of Vasil Hardfork Affects Cardano's Price
The Vasil hard fork had been earlier scheduled for the second quarter of this year. However, according to recent sources, the launch will be most likely delayed by weeks or even months, until Cardano-based dApps receive updates. Vasil hard fork is expected to bring several improvements to the Cardano network like scalability and "light-speed" transaction processing.
Cardano's development firm IOHK says the sophistication of the fork, which involves rewriting Cardano's Plutus logic, means the project was always in danger of getting delayed.
Cardano users, on the other hand, might not be too happy with the delayed implementation process. With the installation of the Vasil network, the price of Cardano's token, ADA, was expected to recover its bullish trend. Analysts, on the other hand, are now forecasting a drop in ADA's with a low target of $0.68.
Wikipedia has Stopped Accepting Cryptocurrency Contributions Growing Environmental Concerns
After eight years of receiving crypto donations, Wikimedia Foundation on Sunday announced it would only finally stop. The decision was made in response to a request from the Wikimedia community, which cited problems of environmental sustainability as a primary cause.
Molly White, a Wikipedia editor, revealed that the conclusion was reached following a three-month debate.
The Wikimedia Foundation is a non-profit organization that hosts Wikipedia and other knowledge projects for a fee. In July 2014, the foundation began taking Bitcoin in response to demands from the volunteer and donor communities. Part of Wikipedia's donated funds goes to charity and specially awarded grants, apart from sustaining the Wikipedia product of course.
Algorand Secures FIFA Partnership to Become its First US Blockchain Sponsor
This Monday, the world football governing body, FIFA, announced its alliance with blockchain technology firm, Algorand.
Algorand automatically becomes FIFA's first "blockchain" partner prior to the world cup. Before its partnership, notable exchange Crypto.com had also entered similar discussions with FIFA. While Crypto.com's offering to FIFA is yet uncertain, Algorand will deliver authorized blockchain-supported wallet service to players and fans alike. In addition, the blockchain network will work with the football organization to develop its digital assets plan.
In terms of sponsorship, Algorand will be a regional supporter of the 2022 World Cup, spanning North America and Europe. The 2022 World Cup is scheduled to take place from November to December. Additionally, the blockchain protocol will be the official sponsor of the FIFA Women's World Cup Australia and New Zealand 2023.
FIFA, on the other end, will provide sponsorship resources such as advertising, media coverage, and marketing opportunities. FIFA President Gianni Infantino expressed excitement about the new collaboration. He stated that the relationship is a critical component of FIFA's vision of making football truly worldwide.
Following the news, Algorand's native token ALGO increased by more than 20% to a high of $0.743. At the time of writing, ALGO trades at $0.67