Walmart Set to Enter the Metaverse
Last year's metaverse craze has carried on into the new year as retail giant Walmart has hinted at plans to jump into the scene.
Patent Applications for Blockchain-Based Products
The metaverse is an immersive world built on the blockchain which employs virtual and augmented reality to give users an experience akin or perhaps superior to real-world interactions. While Walmart hasn't exactly been forthright concerning the details of its impending entry into the space, the company has filed a series of trademarks with the US Patent and Trademark Office.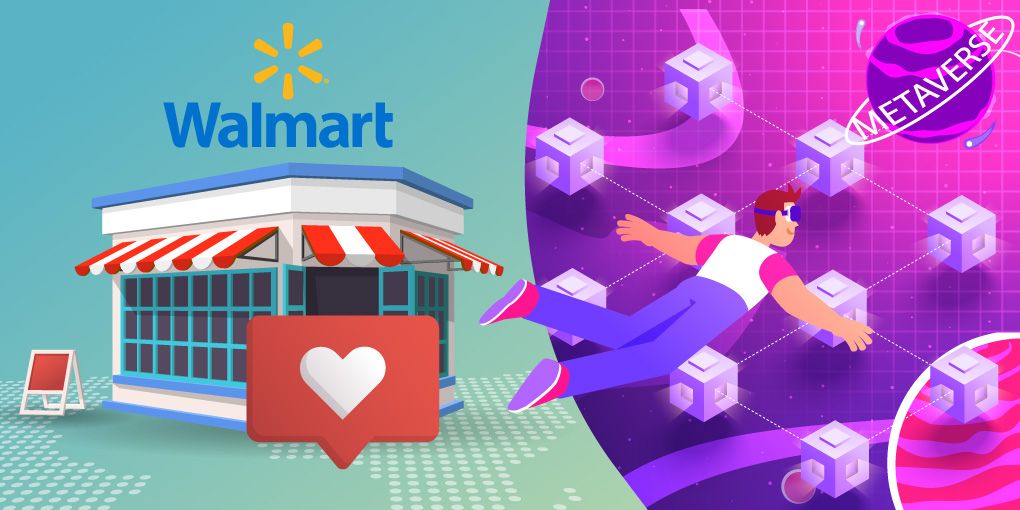 The company filed the trademark applications on Dec 30 last year. They are majorly centered around the sale and use of various forms of virtual products. In one of the filings, Walmart discusses the utilization of a trademark digital currency for its customer base. Due to this, there have been speculations that the company intends to release cryptocurrency of its own as well as non-fungible tokens.
Additionally, one of the retail giant's applications describes service offerings such as physical fitness training alongside health and nutrition classes, leading people to suggest that these activities will take place within a virtual environment.
Walmart Is "Super Intense" Concerning Its Plans
Since filing the applications which come to a total of 7, Walmart has released a statement where it expressed that it was always probing into the ways through which new technological developments could be incorporated into the shopping experience. The company revealed that they are continually testing fresh ideas, some of which develop into products or services for their customers, "some we test, iterate and learn from" Walmart said.
Since Facebook changed its name to Meta, also sharing plans to explore metaverse applications, the concept alongside NFTs has surged in popularity. Sports brand Nike recently shared plans for a virtual space dubbed NIKELAND. Like Walmart, Nike recently filed applications to introduce branded sneakers and NFTs. Gap also joined in, selling tokenized versions of its well-known logo sweatshirts with prices ranging from about $8 to $430 as well as a physical hoodie.
Despite coming into the space a little late compared to other corporations, Walmart appears to be quite keen on this new venture. In a statement, trademark attorney Josh Gerben described the company as "super intense" with its technological ambitions. He also stated that the language in the filings pointed towards a lot of background work regarding their approach to the crypto industry.
This isn't the first time Walmart has hinted at a foray into the crypto and blockchain space as in 2021 the retailer had an opening for a "Digital currency and Cryptocurrency Product Lead" but it appears the company is finally moving forward with its plans.
You can buy or trade any of your preferred tokens on ChangeNOW without any registration.
Welcome to the NOW experience! The ChangeNOW team presents you with the new community-inspired crypto wallet – NOW Wallet.