Vechain Upgrades to Proof of Authority 2.0
Vechain upgrades to the first phase of its PoA consensus mechanism, as it hopes to be "the greenest chain" on the block.
The supply chain upgraded its VeChainThor mainnet to the first phase of the Proof of Authority (PoA) 2.0 SURFACE consensus algorithm on November 16, marking a significant milestone in the network's six-year existence.
Vechain Proof of Authority
VeChain is a supply chain monitoring system that integrates physical tracking with blockchain record keeping. Its switch to POA follows the encouraging environmental-friendly awareness sweeping the crypto market.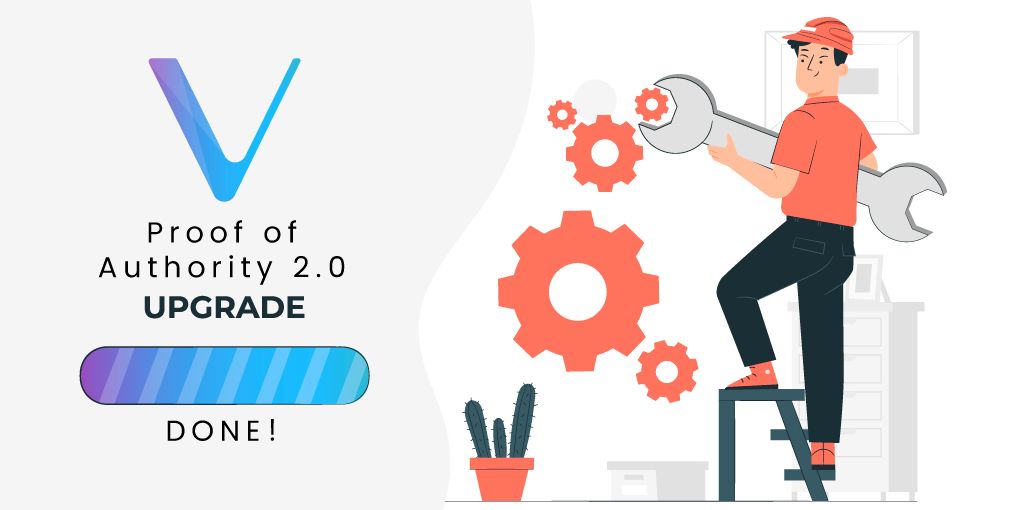 In the blockchain space, Proof of Authority (PoA) and Proof of Stake (PoS) are different from Proof of Work (PoW) in that they don't need mining to gain network consensus, and are thus not energy intensive. While the familiar PoS mechanism achieves consensus by staking coins in the network, PoA gets consensus by confirming users' identities. The latest improvement, according to VeChain, is the "world's greenest consensus to promote widespread adoption."
The Upgrade 2.0
According to VeChain's official notice, the network upgrade consists of three primary components. The first is a verified randomization function (VRF), which allocates nodes to build blocks or process transactions in a safe and random manner, making them impenetrable to tampering.
The second is a block-producing mechanism that has received committee approval and considerably decreases the risk of network forking. Forking may reduce the network's performance and create delays.
On the VeChainThor mainnet, the PoA 2.0 SURFACE update seeks to enhance scalability, security, and throughput. The upgrade's "Adaptive" and "Relatively Fork-free Approach" to Chain Extension according to the VeChain team, is required "to satisfy the expectations of future blockchain applications and rising global demand."
VeChain, being one of the most eco-friendly public blockchains, could be an excellent place to start for governments and businesses looking to make the green shift. VeChainThor is intentional about assisting global businesses in achieving the United Nations Sustainable Development Goals ("SDGs").
VeChain's method is the first of its kind in the world, and combines the strengths of the two primary consensus types – Byzantine Fault Tolerance and Nakamoto Consensus, while removing their flaws.
You can buy or trade any of your preferred tokens for VeChain (VET) on ChangeNOW without any hidden fees.
Welcome to the NOW experience! The ChangeNOW team presents you with the new community-inspired crypto wallet – NOW Wallet.