VeChain Coin Review 2022
Since the beginning of the COVID-19 pandemic, supply chains have faced numerous problems, which has exposed many of their weaknesses.
The inability to manage, track, and ship goods efficiently has cost world countries billions of dollars in lost revenue. More efficient solutions are dearly needed, and that's where cryptocurrency networks like that of VeChain can help.
Blockchain technology can improve the shortcomings of current supply chains by providing a publicly available record of essential information. For example, shipped goods can be tracked worldwide from the production phase until they are delivered to the client's doorstep. Imagine a system that keeps records of the materials used in the manufacturing process, locations the shipment stopped at before reaching the final destination, and how the goods were stored?
VeChain provides the technology to fix these and other issues with traditional supply chains. Let's see how they intend to do that, shall we?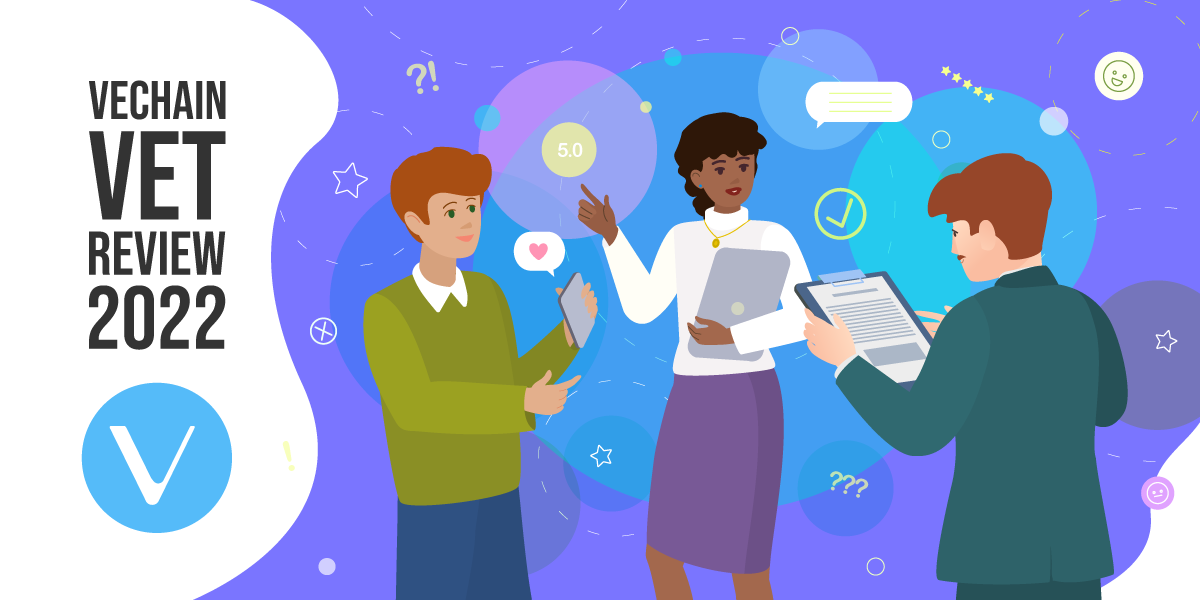 VeChain (VET) In 2022
About VeChain
VeChain was created in 2015 by a Chinese software company called VeChain Tech. They held an ICO in 2017 that netted the developers close to $20 million in revenue. Like many other new crypto projects, VET began as an Ethereum-based token before its mainnet – VeChain THOR blockchain – was launched in spring 2018.
The company has offices worldwide, including China, Japan, the United States, France, and Italy. The project's future and roadmap are managed by a Singapore-based non-profit foundation called the VeChain Foundation. VeChain aims to provide big businesses with blockchain-powered solutions for more efficient supply chain management. The project is globally recognized and has established strategic partnerships with brands such as Bayer, Walmart China, BMW, and Shanghai Gas.
The VeChain ecosystem takes advantage of and combines several top-class technologies, not just blockchain tech. For example, NFC, RFID, and QR codes are used to track goods worldwide.
Thanks to the immutability of the VeChain blockchain, it's possible to check and verify the quality and origin of goods to battle counterfeiting, for example. The network doesn't require trust, and with a scan of the smart chip of an item, customers can ensure that the products are genuine and stem from the original manufacturers.
VeChain (VET) Team
VeChain was created by Electrical Engineer Sunny Lu, a former Information Officer at Louis Vuitton in China, and Jay Zhang, who used to manage Deloitte UK. Mr Lu is the current CEO, while Jay Zhang works as the VP of Finance. Both men are experienced professionals in enterprise software operations and know how the supply chain is supposed to work.
Software and hardware developer Jianliang Gu is the company's VP of Technology. He has over 16 years of experience in development and management. VeChain's VP of Research & Development is Dr Peter Zhou. He is a published researcher and computer scientist.
Other vital members of the team include:
Bin Qian, Chief Blockchain Architect.
Yanyu Chen, The VP of Operations.
Scott Brisbin, General Counsel.
Jerome Grilleres, General Manager for VeChain Europe.
Jason Rockwood, Country Manager in VeChain US.
Arnaud Bauer and Dimitrios Neocleous, Ecosystem Managers in VeChain Europe.
An experienced Advisory Board provides the needed wisdom and guidance for the future.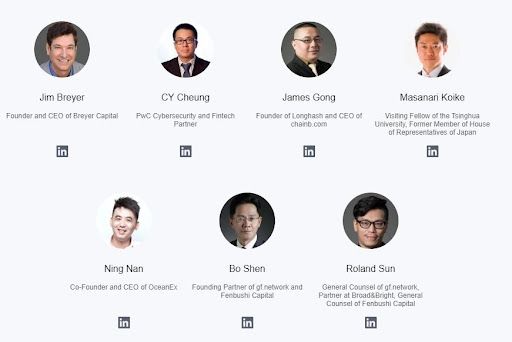 VeChain (VET) Roadmap
VeChain has already reached significant milestones in the years from 2018 to 2021. Still, the company is not content with that and shows no signs of slowing down.
The company has released a new update to the consensus algorithm called SURFACE PoA 2.0. This upgrade allows the VeChain blockchain to eliminate the weaknesses but keep all of the benefits present in the Nakamoto Consensus and Byzantine Fault Tolerance mechanisms. The drawbacks of the mentioned consensus algorithm present a big plague for Bitcoin and many other cryptocurrencies.
The change allows for higher throughputs on the network without compromising transaction finality. The company believes the update can trigger greater adoption among enterprise and business clients because it improves the blockchain's security but decreases the possibilities of a fork at the same time.
A new source of randomness has improved the network's block proposing and validation process. As a result, a malicious actor can't manipulate the selection process or corrupt the future block proposers.
Additionally, VeChain developers have decided to start integrating NFTs into their network. For this purpose, a grant program was launched in April 2022 to incentivize the adoption of enterprise NFTs or eNFTS. San Marino partnered with the VeChain Foundation to create a COVID-19 vaccination certificate in the form of a verifiable eNFT.
One of the project's aims in 2022 is to establish closer partnerships with Western nations, the Chinese government, and the United Nations. In addition, VeChain Foundation wants a stronger presence in the EU, where it's already cooperating with countries like San Marino.
VeChain (VET) Network
VeChain uses a forked and modified version of Ethereum's blockchain called VeChain THOR. It's been optimized and custom-built to suit applications for supply chains. The project developers opted for a consensus algorithm created by the people behind Polkadot and known as Proof of Authority (POA).
The blockchain requires speed to be suitable for enterprise-grade supply chain solutions, and that's why VeChain Thor can process 10.000 transactions per second. The network is smart contract compatible and supports Ethereum's Virtual Machine (EVM). Unfortunately, these types of smart contract interactions are limited to only 300 transactions per second.
POA operates differently from POW because it doesn't require extensive computational power, as is the case with Bitcoin. Instead, the block producers are selected based on their reputation among network participants. The masternodes responsible for block production and validation are called Authority Nodes. There are currently 101 of these servers online. To become part of this group, you have to get approval from the VeChain Foundation. A stake of 25 million VET tokens is required to become an Authority Node.
Besides block-producing masternodes, VeChain also has Economic Nodes and X Nodes. They don't validate transactions and partake in consensus, but they have voting rights depending on their staking levels. Their voting authority is intentionally made stronger than that of Authority Nodes to incentivize the network's decentralization.
The VeChain ecosystem doesn't include just VET tokens. There is a second asset called VeThor Token or VTHO. VTHO is used similarly to GAS on Ethereum for paying transaction fees. The coin has an unlimited supply, and most of it is burned after the mining fees have been paid. In contrast to VTHO, VET has a maximum supply of 86 billion units, with over 70% of all tokens already in circulation.
The network currently supports over 80 decentralized applications available over the VeChain App Hub. Additionally, developers can create their own tokens based on the VeChain blockchain. Besides the two previously mentioned, there are 21 other digital assets.
Institutional users can utilize the VeChain Toolchain platform to take advantage of the powers of blockchain technology. This highly scalable development kit allows anyone to create their own decentralized applications, smart contracts, and wallets. The Toolchain consists of software and hardware solutions, including mobile apps, sensors, and IoT chips, allowing customers to track and manage their data and shipments.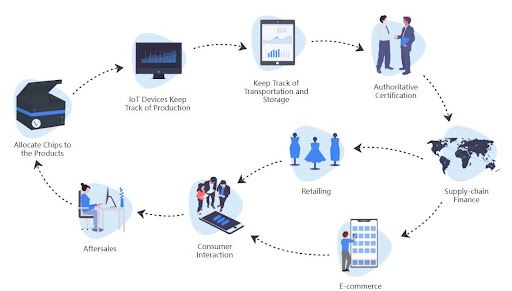 The VeChain Toolchain can be used for various purposes:
Consulting services for companies wanting to achieve carbon neutrality.
Tracking services for the food industry to manage product origin, quality, and safety data.
Blockchain traceability services for companies that wish to improve the production and distribution of goods through the supply chain.
Some of the industries utilizing VeChain solutions are the clothing, wine, art, electronics, agriculture, luxury, and automobile sectors.
How to Mine VeChain (VET)?
VeChain can't be mined like Bitcoin or Ethereum because it's a Proof of Authority (POA) type of coin where block producers and validators are selected based on their reputation. The blockchain has 101 Authority Nodes responsible for validating transactions and securing the network. All such masternodes are KYC-ed and verified by the VeChain Foundation.
When a new block is produced, all network participants who have staked VET coins are rewarded VeThor tokens proportional to their stake. But it's not just Authority Nodes that receive new VTHO. Economic and X Nodes also partake in the rewards distribution.
The VeThor tokens have two use cases. First, network participants use them for transaction fees within the VeChain ecosystem. And they are also used for costs that involve smart contract executions.
VeChain (VET) 2022 Price Prediction
VeChain (VET)
Market forecasters from Analytics Insight have taken a look at the VET token and shared their thoughts about it. Since the start of the conflict between Russia and Ukraine, VeChain (like most other cryptocurrencies) has been dropping in value. But that trend could soon change.
In the middle of May 2022, VET was trading at $0.03/coin. The team from Analytics Insight believes VeChain tokens could double their value by the end of this year. Its long-term future looks even brighter because it's thought it will reach $0.1 in 2025, and it could go up to $0.160 by 2028.
Forecasters from CryptoNewsZ have their take on VeChain. They are optimistic and believe the coin will close 2022 at around $0.056. They expect slow and steady bullish movements throughout 2023 and a $0.07 per coin maximum valuation. Whatever goes up eventually must come down, and that's why it's being predicted that we will witness a slight downtrend in 2024, with the price moving between $0.045 and $0.055. Market analysis suggests that the token's value in 2026 could be between $0.11 and $0.13.
VeThor Token (VTHO)
The VTHO token is trading at around $0.002 in mid-May 2022. CryptoNewsZ has used its prediction tools to try and see in which direction the asset will move in the next five years.
They expect a significant price increase during 2022, with the values bouncing between $0.0052-$0.0059. The forecast for 2023 shows that VTHO could trade at around $0.00618 on average. The positive trend is expected to continue into 2024 as well, where it's likely that the max. price could be close to $0.0076/coin. However, a reversal could happen in 2026 when the VeThor token might drop to $0.0069 per unit. The coin's all-time high is predicted to be $0.008.
The experts from PricePrediction.net are very bullish on VTHO. They don't expect much to happen this year, but they suggest a price bounce upwards to $0.003 in 2023. In 2024, they believe the maximum value will be $0.005. Positive strides are presented all the way until 2031, when PricePrediction market analysts suggest that VeThor could be trading between $0.056 and $0.064/coin.
How Can I Buy and Trade VET and VTHO?
You won't have problems buying and storing the two VeChain assets because they are trading on several popular crypto exchanges. In addition, many mobile, desktop, and hardware wallets offer support for VET and VTHO.
Let's see what options are available for you.
VeChain (VET) Wallets
NOW Wallet is a secure, lightweight, and private multi-currency software wallet available for Android and iOS. This phone app supports NFTs and allows users to easily connect their bank accounts or VISA/MasterCard payment cards for quick and easy crypto purchases. NOW Wallet supports VET tokens and is the recommended choice for serious VeChain holders.
The coin's official website lists several other software clients.
VeChainThor Wallet is a mobile solution that can be downloaded and installed on Android and iOS devices. PC users and developers may want to try VeChain's official desktop wallet, Sync. An updated version of this client has been released and is called Sync2. It offers support for Windows, macOS, and Linux environments.
There are some other 3rd party software wallets where you can store your VET and VTHO tokens. Those include:
Atomic Wallet
Cobo Wallet
Exodus
Guarda Wallet
Trust Wallet
If you are looking for a hardware wallet to manage your cryptocurrencies, you will be happy to hear that Ledger supports VeChain (VET) tokens in connection with the VeChain Sync desktop client. Ledger offers 3 hardware devices: Nano S, Nano X, and the Nano S Plus.
VeChain Crypto Exchanges
VeChain's VET token has been listed on many quality exchanges. However, for a seamless experience when buying this digital asset, we suggest using the excellent-rated ChangeNOW crypto swaps platform. It facilitates fast cryptocurrency purchases with Bitcoin, Ethereum, Tether, and many fiat currencies.
VET tokens can also be purchased on several other exchanges such as Binance, Kucoin, Binance.US, Bithumb, Gate.io, or Huobi Global, just to name a few.
The VeThor Token (VTHO) doesn't lack exchange listings either. Besides the two Binance sites and Gate.io, you can look for it on MEXC, Crypto.com, Tokocrypto, Bitrue, etc.
Bottom Line
VeChain is a cryptocurrency ecosystem meant for easy onboarding of retail and enterprise clients who wish to benefit from the advantages of blockchain technology when managing their supply chain data. It provides end-users with a transparent and verifiable system to track all sorts of information: what is in the clothes they wear, where the food they eat comes from, and whether the watch they have purchased is genuine or not.
VeChain's partnerships with the Chinese government and major global brands from all sectors of life speak enough about the platform's qualities. The coin is also witnessing greater adoption on the NFT and DeFi markets. Knowledge is power, and VeChain allows its customers to discover everything there is to know about the goods they purchase.