US confiscated $3.6 billion in Bitcoin from hackers
Federal agents impounded over $3.6 billion in Bitcoin belonging to a New York couple, following suspected connections with Bitfinex's hack in 2016.
Feds Impound Stolen Coins
The US Department of Justice said Tuesday morning that it had repossessed over $3.6 billion in stolen cryptocurrencies associated with the Bitfinex breach six years ago. Authorities have apprehended a New York couple as part of the operation, on suspicion of laundering digital goods.
Ilya Lichtenstein, 34, and his wife, Heather Morgan, 31, have been slated to make key appearances in the federal court in the near future. The feds accuse the couple of attempting to launder the earnings of about 120,000 Bitcoins stolen from Bitfinex's platform after a hacker accessed the company's infrastructure and initiated over 2,000 unlawful transactions. Prosecutors claim the stolen Bitcoin was transferred to a digital wallet belonging to Lichtenstein.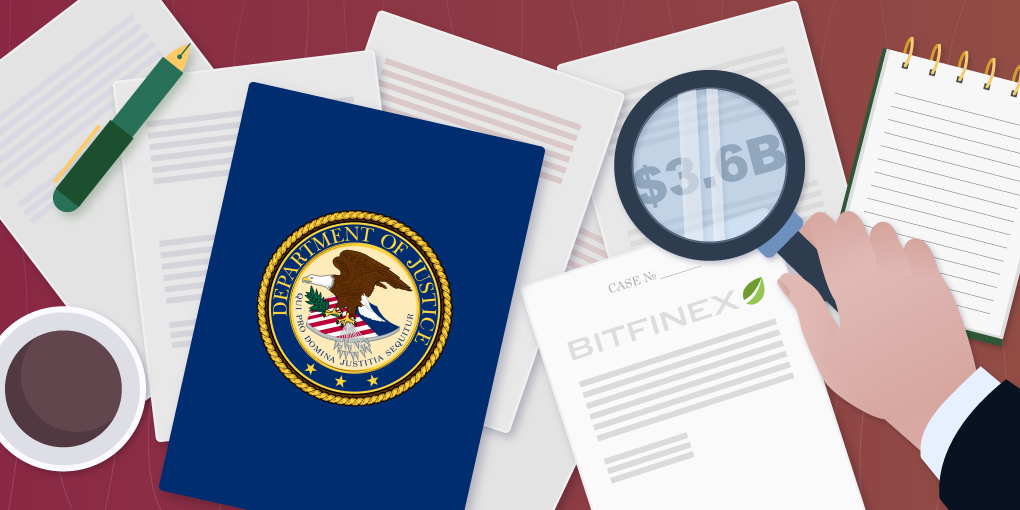 According to court records, the couple adopted various ways to hide its looted funds, including opening accounts under false identities, moving coins from one to wallet in minor transactions, and switching from one type of coin to another.
Federal officials have stated that they could seize about 94,000 Bitcoin, which was worth approximately $3.6 billion at the time. The remaining 26,000 Bitcoins which are unaccounted for represent the amount Lichtenstein and his wife were able to launder within the past six years. The couple is believed to have had difficulty moving huge parts of their digital loot because wallet addresses associated with the hack were immediately blacklisted. Otherwise, Lichtenstein's Bitcoin loot would currently be around $5 billion.
Crypto platforms have faced several hacks and scams in recent months. Scammers took home a record $14 billion in cryptocurrency in 2021, according to data from blockchain analytics firm Chainalysis. Wormhole, one of the most popular bridges linking the Ethereum and Solana blockchains, lost about $320 million in an apparent hack earlier this month.
Implication for Bitfinex
Bitfinex said it would work with the Department of Justice to retrieve the impounded coins. Once the exchange does it, Bitfinex will refund investors in the UNUS SED LEO utility token, which was designed to plug a fiscal chasm left by the seizure of an unrelated payment processor used by Bitfinex by authorities in three different countries.
"If Bitfinex gets a recovery of the stolen Bitcoin, as stipulated in the UNUS SED LEO token white paper, Bitfinex will use a sum equal to 80% of the recovered net money to repurchase and burn outstanding UNUS SED LEO tokens within 18 months of the date of receipt," said the company.
Following news of the Fed's BTC seizure, Bitfinex's native currency LEO token leaped from $4.94 to almost $7 within an hour just after the news came out. The coin recorded a new ATH of $8.04 at 17:35 UTC yesterday. Bitfinex's LEO is up 41% in the past 24 hours at writing, trading at $7.14.
You can buy, sell or swap any of your preferred tokens for Bitcoin (BTC) on ChangeNOW without any registration. Welcome to the NOW experience! The ChangeNOW team presents you with the new community-inspired crypto wallet – NOW Wallet. For safe and efficient asset tracking, try our crypto portfolio tracking app – NOW Tracker.