Unlocking the Power: A Guide to Utilizing Zelcore and Navigating ChangeNOW Exchange
The rapidly growing world of cryptocurrencies has paved the way for a multitude of digital assets, each with its unique qualities and use cases. As the number of cryptocurrencies increases, so does the need for efficient management and secure exchanges.
In this article, we will delve into the importance of efficient crypto management, introduce you to the ChangeNOW exchange platform, and guide you through the process of utilizing Zelcore to manage your digital assets effectively.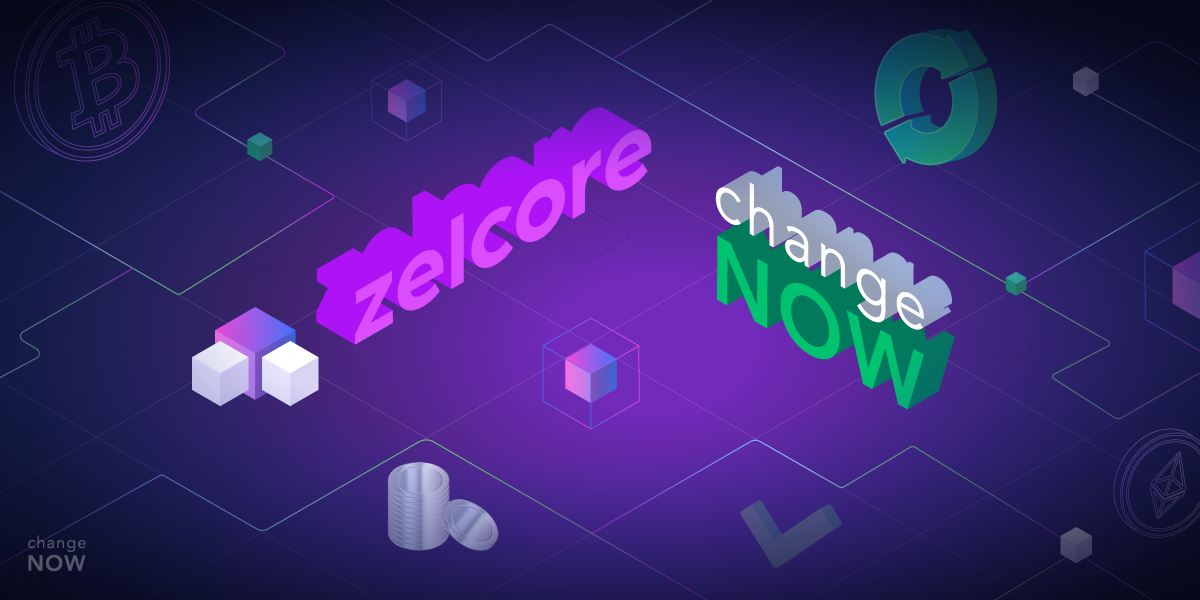 The Importance of Efficient Crypto Management and Secure Exchanges
As the cryptocurrency market continues to expand, it's more important than ever for users to manage their assets efficiently and securely. This involves selecting a reliable exchange platform and a robust wallet to store and manage your digital assets. With the right tools, you can safeguard your investments and make informed decisions when buying or swapping crypto.
Enter ChangeNOW, an exchange platform with numerous advantages, and Zelcore, a powerful multi-asset wallet that simplifies the process of managing digital assets. Let's explore these two tools and learn how to use ChangeNOW Exchange and utilize Zelcore effectively.
Navigating ChangeNOW Exchange: A Reliable Platform with Numerous Advantages
ChangeNOW is a leading cryptocurrency exchange platform that offers a user-friendly interface, making it easy for users to exchange digital assets. The platform supports more than 850 cryptocurrencies, ensuring users can exchange their preferred currencies without using multiple platforms.
Some of the key advantages of ChangeNOW include:
Fast transaction times: ChangeNOW is known for its quick transaction times, providing users with the best possible rates when exchanging digital assets. This feature ensures a seamless and efficient exchange experience.

Wide range of cryptocurrencies: With support for over 850 cryptocurrencies, ChangeNOW offers a versatile platform that caters to the diverse needs of its users.

Simple and intuitive interface: ChangeNOW's user-friendly interface makes it easy for both beginners and experienced users to exchange their digital assets securely and quickly.

No account creation or verification required: ChangeNOW provides a hassle-free experience without the need for account creation or verification, making it a convenient choice for users.
About Zelcore: Simplifying Crypto Management
Zelcore is a powerful multi-asset platform that gives users access to the entire blockchain universe, offering a seamless way to manage and truly own digital assets and information. With a strong focus on security and user experience, Zelcore supports over 70 blockchain protocols, and 1M+ coins and tokens, making it one of the most comprehensive multi-asset wallets available today.
Some of the standout features of Zelcore include:
User-friendly interface: Zelcore's intuitive interface allows users to buy, store, trade, and swap assets across any protocol and exchange, as well as use DeFi applications.

Indexed trading pairs and connections to markets: Zelcore connects to markets that offer the best price execution, ensuring users get the most value when trading or swapping crypto.

Unparalleled security: Users access their wallets via private keys that are only known to the wallet owner. Zelcore doesn't store those keys or any private information, ensuring robust security. The platform also offers d2FA as an additional measure to secure and verify transactions.

Multi-asset capabilities: Zelcore supports storage and management cryptocurrencies and NFTs, and also features a hardware wallet integration feature that allows users to sync Ledger and Trezor cold storage devices.
How to Begin With Zelcore
To get started with Zelcore, follow these steps:
Visit the Zelcore website and download the app for your device.
Install and launch the Zelcore app.
Create a new wallet by following the on-screen instructions, or import an existing wallet using your private key.
Once your wallet is set up, you can view and manage your digital assets within the Zelcore interface.
How to exchange crypto on Zelcore via ChangeNOW:
Once you've established a Zelcore account, you're ready to swap assets with ChangeNOW via the Zelcore QuickSwap feature.
Log into your Zelcore account.

Navigate to the Exchange button with the two arrows which are pointing in opposite directions.

Choose the QuickSwap option.

Now choose the wallet from which you wish to swap assets in the top section of the screen.

Choose which crypto you wish to exchange, the amount, and the asset for which you'd like to exchange it.

Select the "Best Rate" or "ChangeNOW - Fixed" option to get the best available rate.

Once you're ready, just click the Swap button and that's it. Your swap will be finished shortly.
Ensuring Security and Best Practices: Safeguarding Your Funds
When dealing with cryptocurrencies, it's crucial to prioritize security and follow best practices to protect your funds. Here are some tips for ensuring the safety of your digital assets:
Use a secure wallet: Select a reliable wallet, such as Zelcore, that offers robust security features and allows you to control your private keys.

Enable two-factor authentication (2FA): Use 2FA to add an extra layer of security when accessing your wallet or exchange platform.

Keep your private keys and seed phrases safe: Store your private keys and seed phrases in a secure location, such as a hardware wallet or a password-protected document.

Monitor your transactions: Regularly review your transaction history to spot any unauthorized activities or security breaches.
Stay updated on security threats: Keep yourself informed about the latest security threats in the crypto space and take necessary precautions to protect your funds.
Zelcore: A Powerful Tool for Crypto Enthusiasts
As a comprehensive multi-asset platform, Zelcore plays a vital role in simplifying the process of managing and exchanging digital assets. By partnering with ChangeNOW, Zelcore enables users to swap their cryptocurrencies seamlessly and securely within the decentralized app. This integration fully eliminates the need to navigate multiple platforms, mitigating security and privacy risks that occur by transferring funds between wallets and exchanges.
Conclusion: Embrace the Power of Zelcore and ChangeNOW
When it comes to managing your crypto portfolio, you don't have to compromise on security, convenience, or efficiency. With Zelcore and ChangeNOW, you can enjoy a seamless and secure journey through the world of cryptocurrencies, empowering you to make informed decisions and unlock the full potential of decentralized finance.
Take advantage of ChangeNOW's reliable exchange platform and Zelcore's powerful multi-asset wallet to transform the way you manage and exchange your digital assets. Experience the ultimate solution for crypto enthusiasts, and embark on a seamless and secure journey through the ever-evolving cryptosphere.