Unlocking the Future: Exploring the Top Token Unlocks to Watch
The world of cryptocurrency is ever-evolving, and with every new development comes new opportunities for investors and traders. One of the most closely watched events in the crypto sphere is the unlocking of previously locked tokens. Token unlocks are crucial events that can significantly impact the price and market dynamics of various digital assets.
In this comprehensive and distinct guide, we will explore the top upcoming token unlocks to watch in June, with a special focus on STEPN and its recent price decline. Moreover, we will also cover crucial information about other significant token unlocks, such as ICP, APT, and FIL. So buckle up and get ready for an exciting journey into the future of token unlocks, and don't forget to check out the fantastic services offered by ChangeNOW to buy and sell these tokens!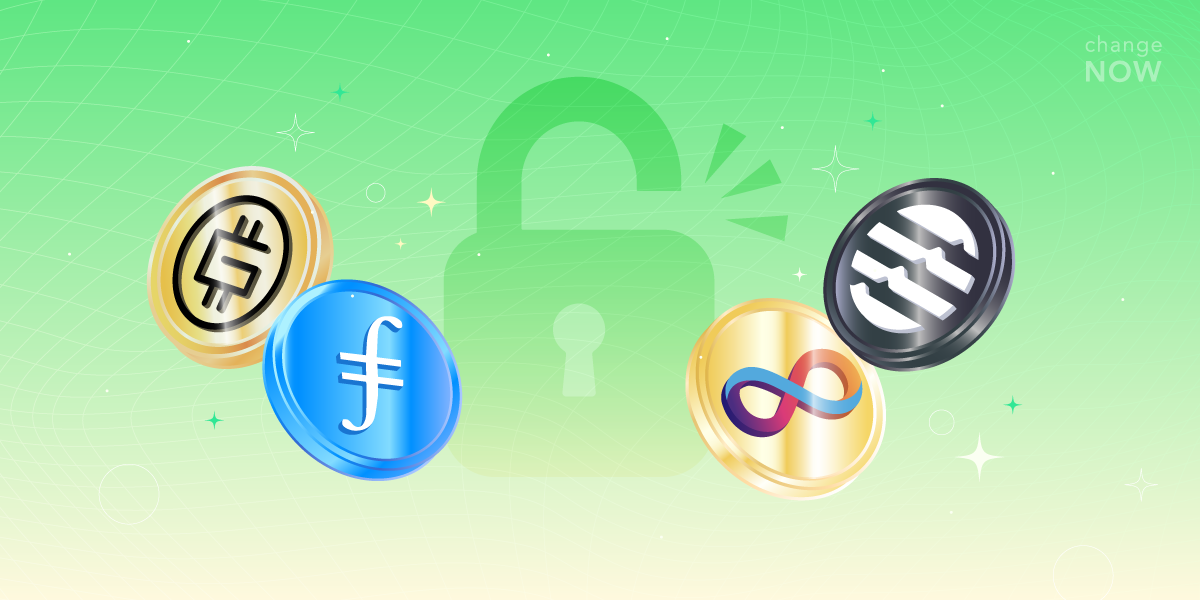 1. STEPN (GMT) - June 9th
What is STEPN?
STEPN is a next-generation blockchain-based fitness app that rewards users with tokens for achieving their daily fitness goals. By leveraging cutting-edge technologies like IoT, AI, and blockchain, STEPN aims to create a decentralized ecosystem that promotes healthy lifestyles and incentivizes users to stay active.
Token Unlock Details
GMT's token unlock is scheduled for June 9th, 2023. This is a highly anticipated event that is expected to have a significant impact on the price and market dynamics of the GMT token. The unlocking will see a total of 88 million GMT tokens worth $23 million at current prices enter the market, which is a significant increase in the circulating supply. It is essential to note that the price of GMT tokens has been on a decline recently, which might be attributed to the upcoming token unlock.
How to Buy and Sell GMT Tokens?
Investors and traders interested in GMT tokens can buy or sell them on ChangeNOW, a leading cryptocurrency exchange platform that offers fast, secure, and seamless transactions. ChangeNOW provides an easy-to-use interface and a wide range of supported cryptocurrencies, making it the perfect platform for exchanging GMT tokens.
2. Internet Computer (ICP) - June 11th
What is ICP?
The Internet Computer Protocol] (ICP) is a revolutionary blockchain platform that aims to redefine the way we build and deploy software. ICP is designed to enable developers to build decentralized applications (dApps) and smart contracts on a secure, scalable, and tamper-proof infrastructure. With its groundbreaking technology, ICP has the potential to disrupt the traditional internet and pave the way for a decentralized web.
Token Unlock Details
ICP's token unlock is slated for June 11th, 2023. This event is expected to exert a significant influence on the price and market dynamics of ICP tokens. As with any token unlock, investors should keep a close eye on market developments and make informed decisions based on their research and analysis. ICP has gained significant attention in the cryptocurrency community due to its unique approach to blockchain technology, and its token unlock is likely to be a major milestone in the project's development.
3. Aptos (APT) - June 12th
What is APT?
Aptos is a Layer 1 Proof-of-Stake (PoS) blockchain that boasts a new smart contract language called Move. The project envisions a blockchain ecosystem that fosters mainstream adoption of Web3 applications and empowers the development of decentralized applications (dApps) to address real-world user problems.
Token Unlock Details
APT's token unlock is set for June 12th, 2023. This event is anticipated to have a considerable impact on the price and market dynamics of APT tokens. This event involves the automatic release of millions of APT tokens, which will increase the circulating supply by 0.45%. The unlock is valued at over $40 million based on current prices. As always, investors should stay vigilant and monitor market developments closely to make informed decisions.
4. Filecoin (FIL) - June 14th
What is FIL?
Filecoin (FIL) is a decentralized storage network built on blockchain technology. It aims to create a global, open-source, and decentralized marketplace for data storage and sharing. By leveraging the power of blockchain, FIL ensures secure, transparent, and tamper-proof storage solutions that can be accessed by anyone, anywhere.
Token Unlock Details
FIL's token unlock is scheduled for June 14th, 2023. This event is expected to have a considerable impact on the price and market dynamics of the tokens, with concerns over downward price pressure and sell pressure due to early-stage investors sitting on significant returns. It is worth noting that after unlocking, token holders can sell their tokens in the open market, at times causing tokens to go down due to increased selling pressure.
Navigating the Token Unlock Landscape
Token unlocks can be a double-edged sword for investors and traders. On one hand, they can lead to increased liquidity and market activity, offering opportunities for profit. On the other hand, they can also result in short-term price volatility and downward pressure on token prices.
To navigate the token unlock landscape successfully, investors must stay informed about upcoming events, conduct thorough research, and develop a solid understanding of the underlying projects. Moreover, it is crucial to choose a reliable and secure platform like ChangeNOW for buying or selling those tokens.
ChangeNOW: The Ultimate Platform for Swaping Unlocked Tokens
ChangeNOW is a leading cryptocurrency exchange platform that offers a seamless, secure, and user-friendly experience for exchanging a wide range of tokens, including those with upcoming unlocks. With its competitive rates, fast transactions, and top-notch customer support, ChangeNOW is the perfect partner for navigating the token unlock landscape.
Don't miss out on the exciting opportunities offered by these upcoming token unlocks! Head over to ChangeNOW and start buying or selling these tokens today!