Upgrade Your Crypto Wallet: TRX Swaps with ChangeNOW API
Integrating ChangeNOW's API with TRX into your crypto wallet is a seamless process that can greatly enhance the functionality and convenience of your platform. By integrating ChangeNOW's API, you can provide your users with the ability to swap TRX with other cryptocurrencies directly within your wallet. In this article, we will guide you through the steps to integrate ChangeNOW's API with TRX swaps into your crypto wallet, enabling you to offer a comprehensive and user-friendly experience to your customers.
What is TRON?
TRON is a blockchain-based platform that aims to revolutionize the digital entertainment industry. It provides a decentralized ecosystem that allows developers to create and deploy smart contracts and decentralized applications (dApps). TRON's network is powered by its native cryptocurrency, TRX, which is used for various purposes within the ecosystem, including voting, staking, and transaction fees.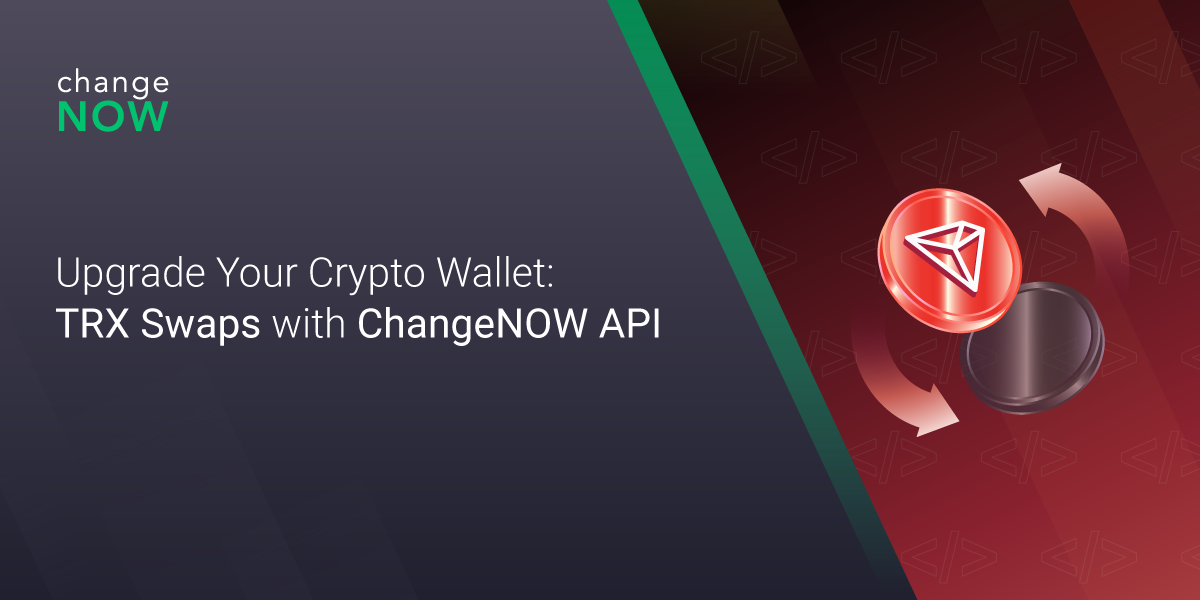 Why Integrate TRON Swaps with ChangeNOW's API?
ChangeNOW is a leading crypto exchange platform that offers a wide range of services, including seamless crypto swaps. By integrating ChangeNOW's API with Tron swaps into your crypto wallet, you can unlock a host of benefits for both your users and your business.
Benefits for Users
Convenience: With TRX swaps integrated into your wallet, users can easily and securely swap TRX with other cryptocurrencies without the need to navigate to external exchange platforms.

Enhanced User Experience: By offering TRX swaps within your wallet, you provide users with a seamless and efficient crypto experience, eliminating the need for multiple platforms and simplifying the process.

Access to a Wide Range of Cryptocurrencies: Through ChangeNOW's API, users can access over 900 cryptocurrencies, allowing them to diversify their portfolios and explore new investment opportunities.
Benefits for Developers of Crypto Wallets
Expand the Range of Assets: By integrating ChangeNOW's API, you can expand the number of assets available on your platform, including TRX. This enables you to cater to a wider audience and meet the diverse needs of your users.

Streamline Exchanges: With ChangeNOW's API, you can seamlessly facilitate exchanges to and from TRX, providing a comprehensive exchange service within your wallet.

Personal Account Manager: At ChangeNOW, we provide our partners a personal account manager to aid wallet developers in addressing any inquiries or questions they might encounter. This tailored support guarantees that wallet developers have access to the necessary resources for delivering top-tier security measures to their users.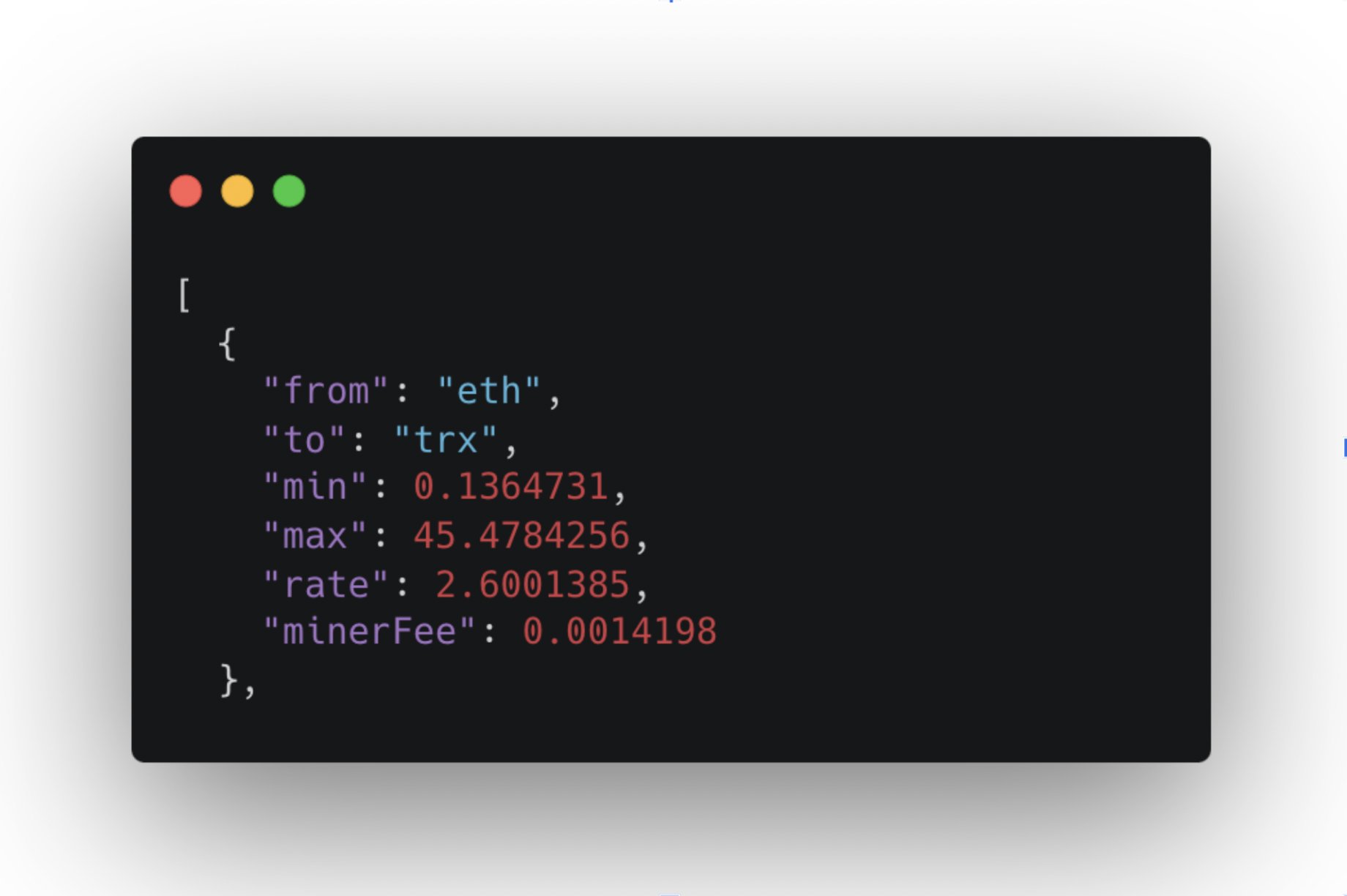 How To Integrate Tron Swaps with ChangeNOW
The process of integrating ChangeNOW's API for TRX swaps into your cryptocurrency wallet is straightforward. Follow these steps to smoothly integrate the API into your platform:
Step 1: Register for an Account
To initiate the integration process, create an account on the ChangeNOW website. This will grant you access to the essential tools and documentation necessary for integrating the API into your cryptocurrency wallet.
Step 2: Generate an API Key
After completing your account registration, generate an API key. This key serves as a secure link of communication between your platform and ChangeNOW's API, facilitating seamless data transfer and ensuring the confidentiality and security of your users' information.
Step 3: Collaborate with Your Development Team
Work with your development team to integrate ChangeNOW's API into your crypto wallet. ChangeNOW offers comprehensive documentation and support to assist you throughout the integration process, ensuring a smooth and efficient experience.
Step 4: Unlock an Array of Services
Once the integration is successfully implemented, your platform will gain access to a diverse range of services provided by ChangeNOW. This includes the capability to enable fiat-to-TRX exchanges, broadening the selection of assets available to your users. Furthermore, your users will be able to seamlessly exchange TRX with other cryptocurrencies directly within your wallet, enhancing their overall crypto exchange experience.
Embrace the Power of Tron Swaps with ChangeNOW
With ChangeNOW's API integration, TRX swaps have never been easier for both users and developers. Users can enjoy a seamless swapping experience with access to over 900 cryptocurrencies, including TRX, while developers can enhance their crypto wallets and platforms with TRX swap functionality using ChangeNOW's powerful Exchange API. Whether you're looking to swap TRX or offer TRX swaps to your users, ChangeNOW provides a comprehensive solution that combines convenience, security, and competitive exchange rates. Embrace the power of TRX swaps with ChangeNOW and elevate your crypto experience today!