Top Crypto-Friendly States: Legislation, Taxes
America's national-level cryptocurrency laws are notoriously sophisticated and strict.
There are also state-wide rules, and they vary greatly – some administrations are reducing the tax burden, loosening regulation, and attracting investors, while some do the opposite. However, crypto-friendly local rules have their drawbacks, while a strict stance on digital assets has some perks as well. Meanwhile, state-wide crypto laws tend to be liberalized in some states. Let's see how such a diverse landscape is possible within one single country.
New York vs. Miami: How States Compete for Crypto
Before we look at the most crypto-friendly states and states with strict regulation, let's consider one illustrative case. One crypto company decided to move its headquarters from the financial capital New York to a place where the local climate seemed to be more friendly to crypto – Florida. This example shows well how states' local policies contribute to their attractiveness for crypto businesses.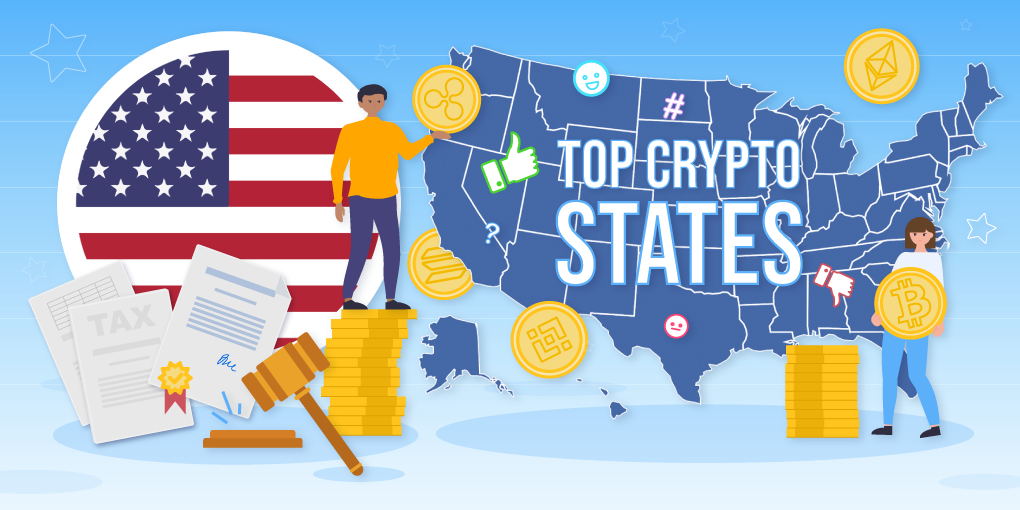 In 2021, the Blockchain.com crypto services company decided to move from NYC to a new home. "New York is a great city," says the company's co-founder and CEO Peter Smith. "But Miami was an easy choice for us."
This choice was not only motivated by a milder climate – but as Smith says, Miami aligns better with the company's goals. The city boasts a vibrant crypto community, and it's a gateway to Latin America. "It's probably the most excited city in the world about crypto right now," says Smith.
Miami is trying to become the most dominant crypto city in the USA. It hosts major thematic conferences, and many qualified professionals live there. Given the fact that crypto may become the future of finance, the long-term domination of New York in the domain of finance is now being questioned.
Mayor Francis Suarez of Miami, who is enthusiastic about crypto, plays a big role in this process. He is pitching in front of cryptocurrency top dogs, emphasizing that living in Miami costs twice as less than in NYC, and pointing out that local taxes were reduced. America's biggest crypto companies like FTX US, eToro, and Bit Digital are to migrate to Miami. Suarez claims that in the last 16 months, the city has managed to attract about $1.2 trillion worth of assets under his management.
However, the new Mayor of New York Eric Adams is planning to make the city a crypto capital, too. Even though NY has a state income tax for crypto, it also boasts many universities and a professional community, while its strict policy helps protect crypto investors. The public debate between Adams and Suarez has been much on the news in the last months of 2021. Even given the strict crypto rules in today's New York, the crypto industry can benefit a lot from such competition.
Top 5 Most Crypto-Friendly States
By introducing a liberal crypto policy, states compete with each other for the workforce and capital — and become richer. Let's see what states have succeeded in this, and how.
California
One of California's greatest competitive advantages is the abundance of educated and passionate specialists – according to Bloomberg research, shares of San Francisco and Los Angeles in crypto hires in 2021 were the greatest across the country. Top crypto giants like Kraken and Coinbase are based there (though the latter is to abandon its offices in favor of remote work).
A crypto reviews platform The Crypto Head called California the most crypto-ready state – local population is the most active on searching cryptocurrencies on the internet, while Bitcoin ATMs are much in demand and ubiquitous (over 2,400 machines).
Wyoming
Wyoming boasts a very crypto-friendly regulation – there are over 20 bills that facilitate the circulation of cryptocurrency in the state. They free digital assets from a state income tax and also exclude them from regular money processing rules. There was even a special crypto banking charter accepted that helped Kraken establish its first U.S. crypto bank there.
Florida
We've already mentioned Miami Mayor Francis Suarez who is keen on crypto. However, there is also Florida governor Ron DeSantis who does a lot for promoting digital assets in the state. For instance, he has proposed to start accepting cryptocurrency for some of the state taxes.
One of Suarez's enthusiastic projects is MiamiCoin (MIA) – an asset created by the CityCoins company that gives 30% of its profits to the budget of Miami. Among other things, this money is paid out to the city's residents. Suarez himself gets his salary in Bitcoin.
Texas
Texas is also one of the most cryptocurrency-friendly states. In 2021, the state accepted a law that recognizes the legal status of cryptocurrencies and allows banks to provide crypto custody services to their clients.
Even more importantly, Texas offers competitive electricity prices, so many miners settle here. Tax credits, training, and other supporting measures help promote mining in the state. The share of Texas in the Foundry USA Bitcoin mining pool is as high as 14%. By 2022, there are even doubts that the local power grid will handle the workload that particularly increased after China banned crypto and miners fled the country.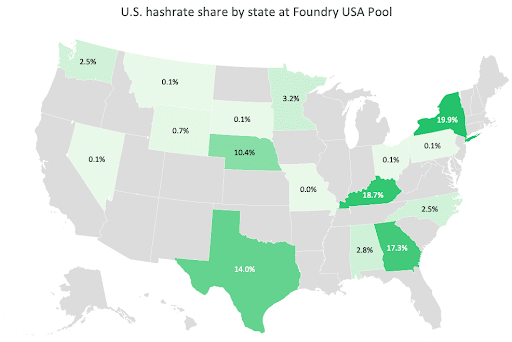 Colorado
Colorado laws had created a favorable environment for crypto business, and that had its outcome – crypto is widely used in the state; you can even buy a house for Bitcoin there. Governor Jared Polis said in 2021 that the state will be the first to accept crypto tax payments (seems like he will have to compete with Florida's Ron DeSantis who proposed a similar initiative).
Top 3 States Strict on Crypto
New York
As discussed above, New York City seems to be losing domination in crypto to Miami. In NY, crypto businesses pay a state income tax, and the laws are quite strict. Say, crypto exchanges need a special BitLicense to operate. New Mayor Eric Adams says, "the city that never sleeps is sleeping on crypto." Like Miami, NYC has issued its NewYork coin, but New Yorkers can't even mine it due to strict regulation.
On the other hand, the city also hosts large crypto conferences, and Bloomberg reports a great level of crypto hires in NYC. The Mayor wants to "go big" on crypto and receives his paycheck in Bitcoin. These are the signs that something may change in New York's strict rules.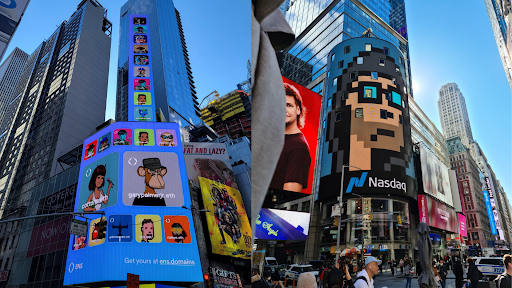 NFT advertising on Times Square, NYC. Image source
Hawaii
In 2016, Hawaii adopted a law that obliged crypto trading platforms to hold an amount of cash equivalent to crypto that the state residents have bought there. This was supposed to back all operations, but ultimately many services suspended crypto purchases in Hawaii.
However, in 2020, a pilot program was introduced that allows some exchanges to operate without such backing. The program has proven successful, and now the Hawaii Department of Commerce and Consumer Affairs is working on new improved legislation.
Vermont
Vermont's also not the best place to run a crypto business – the industry seems to be almost absent in the state. There are just too few people passionate about crypto. In Vermont, there are no specific bills on crypto, no Bitcoin ATMs, and digital assets are searched half as frequently as in California.
Drawbacks or Advantages?
Crypto-friendly legislation drives the blockchain industry but also has its shortcomings. For instance, tax benefits in Wyoming mean that the state budget doesn't profit from the industry's active development. There is also an opinion that looser regulation opens doors to dishonest actors who make low-quality and fraudulent products and harm users as well as the reputation of cryptocurrency in general.
Conversely, strict laws have their advantages. Take New York City. It has tight rules for crypto, but that means investors are protected better – platforms that users can work with have been thoroughly tested, and many of them were asked to improve their services before going live.
The Future of the U.S. Crypto Laws: Strict Feds, Milder States
It seems that crypto regulation is to become stricter on a national level in the USA. Treasury Secretary Janet Yellen, SEC Chair Gary Gensler, and many other top officials demonstrate quite a tough stance on crypto.
A good example of this is the "America COMPETES Act of 2022". If it's adopted, the U.S. Treasury will be able to arbitrarily ban crypto transactions without public notice, if they are allegedly associated with criminal activity or money laundering. The crypto community has called this act a "disaster" and a direct attack on the industry that gives Janet Yellen the "dictatorial-level power" over crypto.
Another initiative worth attention is the recent President Joe Biden's plan for crypto regulation. His administration is to call upon the federal authorities such as the Securities and Exchange Commission, the Commodity Futures Trading Commission, and the Internal Revenue Service to develop a regulatory framework for Bitcoin, Ethereum, and NFTs "as a matter of national security."
In contrast, local laws tend to become softer. In Arizona, a State Senator introduced a bill to make Bitcoin legal tender. Although the U.S. Constitution prohibits individual states to establish their own kinds of money, the bill is a significant precedent. Another initiative in Arizona aims to exempt cryptocurrencies from taxes. Bitcoiners in Wyoming, Texas, Kentucky, North Dakota, Michigan, and Arkansas are also fighting for tax breaks and pro-crypto laws.
In Mississippi, there are no crypto laws whatsoever – but there is now a bill to define the status of digital assets and give banks the right to provide custodial services for crypto. In Florida and Colorado, some of the state taxes might soon be accepted in Bitcoin.
Bottom line
The U.S. crypto laws may tighten on a federal level, but locally, we are witnessing another trend. State regulations for digital assets are liberalized, governors compete with each other for workforce and capital, and mayors receive Bitcoin paychecks. There are thriving crypto industries in California, Florida, New York, and Colorado.
We are yet to understand how the crypto market development facilitated by local crypto-friendly laws will affect state budgets and public sentiment. If states profit from their mild policy and society sees that, we will enjoy watching the further growth of local centers of the crypto industry in the USA.