TikTok Makes First Foray into NFT Market
With a diverse range of Non-Fungible Tokens (NFTs) rapidly entering social media applications, many platforms are now attempting to capitalise on the trend, either by enabling NFT displays or by developing their own digital artworks for community sharing.
Popular app for creating and sharing short videos, TikTok, has decided to join the NFT bandwagon. To publicize its entrance into the market, TikTok ran a full-page advertisement in the New York Times.
The Release of Tiktok's Initial NFTs Collection
According to a press release issued by the firm, its first NFT compilation, TikTok Top Moments, will consist of videos developed by community-defining artists and inspired by the popular videos these influencers generated.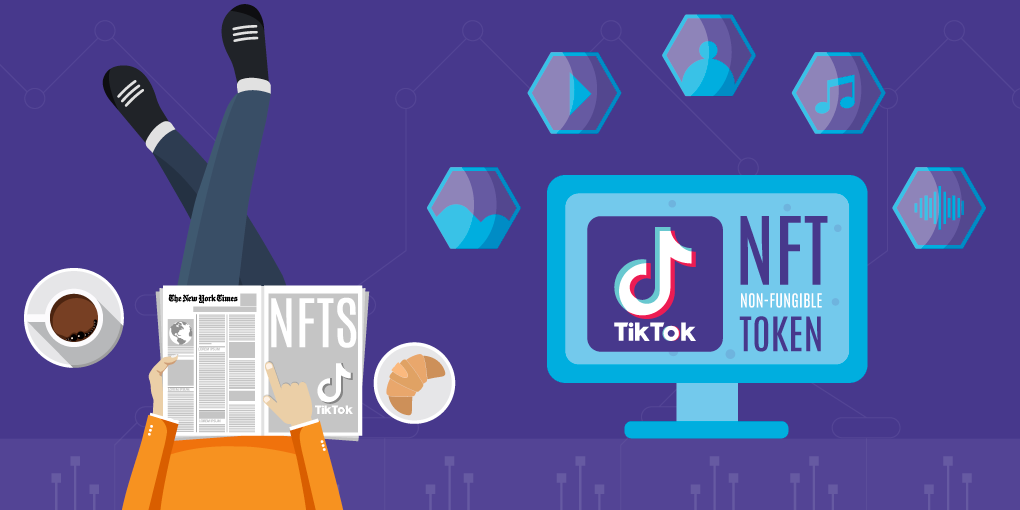 The objective is to offer a method for creatives to be acknowledged and be paid for what they do even with novel methods, as the world goes through a digital cultural shift.
The social media company has curated its NFT collection on Immutable X, an Ethereum layer-2 scaling solution that claims to be "100% carbon neutral".
TikTok Top Moments will showcase six culturally important TikTok videos out of their vastly prominent creators. The influence of these artists — involving Lil Nas X, Rudy Willingham, Bella Poarch, Curtis Roach, Brittany Broski, FNMeka, Jess Marciante, and Gary Vaynerchuk — on entertainment, culture, and the TikTok audience is commemorated in each unique NFT.
The selected creators are collaborating on rare edition NFTs alongside notable NFT makers, including COIN ARTIST, x0r, RTFKT, Grimes, and others.
Majority of profits earned will go straight to the makers and NFT creators involved, giving the members of the community a chance to support their favourite makers. Fans may visit a special drop location where Lil Nas X will be the first to unveil his rare and exclusive edition, in collaboration with electronic producer, Rudy Willingham.
With Immutable X, TikTok is skirting future environmental concerns that could arise from what is supposed to be a commemorative decision. Elon Musk expressed worry earlier this year about the environmental effect of Bitcoin and related technologies, suggesting that crypto mining activities and trade use a significant amount of energy.
However, all NFTs exchanged on Immutable X are carbon-neutral, according to the press release. Immutable X, one of the most successful scaling solutions for NFTs, allows companies to develop and sell NFTs while maintaining the safety of Ethereum, the most widely used NFT blockchain.
You can buy or trade any of your preferred tokens for Ethereum (ETH) on ChangeNOW without any registration.
Welcome to the NOW experience! The ChangeNOW team presents you with the new community-inspired crypto wallet – NOW Wallet.