Theta (THETA) Review 2022
Streaming services and video sharing platforms are taking up a significant portion of the global internet traffic.
As a result, companies such as YouTube increase their revenues every year. The problem is that most of this money flows into the pockets of centralized platforms and not into those belonging to content creators and consumers. What if we could create a fairer system for everyone involved?
Theta wants to do just that. Their team is aware of the problems concerning content delivery and believes the solution to the issue is a decentralized P2P blockchain network that awards all parties that contribute to its successes. Everyone can become part of Theta, so let's see how the online video industry can improve thanks to decentralized blockchain technology.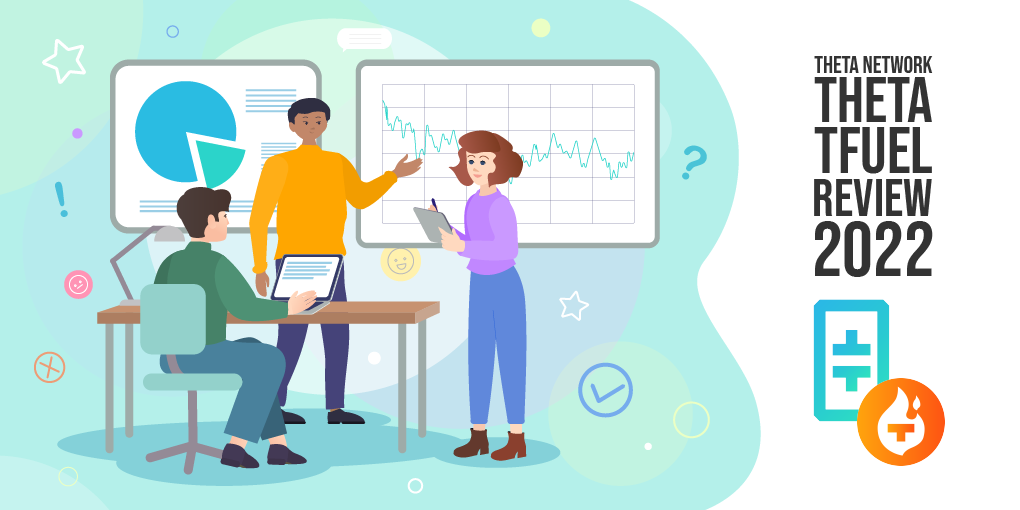 About Theta (THETA)
Theta is a streaming platform for videos and a Content Delivery Network (CDN). The project aims to improve the quality of streamed content and decrease the viewer's loading times. The network was created by San Francisco-based software company Theta Labs, Inc. in 2017 and raised $20 million in a token sale the same year.
With the rise of streaming needs and increased interest in blockchain technology, the team behind the platform concluded that it would be best to combine these two technologies into a complete solution.
The problem with modern video streaming is the following:
The picture quality varies depending on your geographical location. Many parts of the word experience re-buffering and loading issues.
The viewers want to consume 4k and 8k videos but can't due to inefficient delivery systems.
Because of centralized CDN setups, viewers and content creators reap little to no benefits from traditional platforms.
Theta aims to solve this with its P2P and blockchain-powered delivery service that incentivizes all users (consumers and creators) to participate in the network.
Viewers receive TFUEL cryptocurrency for watching videos and sharing their non-used bandwidth with the community.
The decentralized nature of the system can guarantee the same viewing experience in all parts of the world.
The cost of delivering streaming services is reduced because there is no need to purchase expensive hardware infrastructure.
Theta is an open-source project suitable for various needs. It can host eSports, VR content, music, movies, and do live streaming. The network possesses smart-contract functionalities and allows developers to build their own decentralized applications and protocols.
Theta (THETA) Team
Theta has two co-founders: Mitch Liu, the company CEO, and Jieyi Long, Theta's CTO. Both developers worked together on THETA.tv and realized that a different approach to traditional video streaming was needed.
The company's blockchain team consists of 21 engineers, developers, and managers. In addition, Theta has dozens of investors, including popular venture funds and technology giants such as Sony or Samsung.
This service provider shines when it comes to its advisory team. Several influential figures from Twitch, Microsoft, Sony, or Verizon are all official Theta advisors. However, the most notable one is Steve Chen, the co-founder of YouTube. Steve is a big fan of the project and believes it will disrupt the video industry by offering more superb image quality at lower prices.
Last but not least, we should mention Theta's partner network. Powerful names such as Metro-Goldwyn-Mayer, Lionsgate, NASA, Katy Perry, Chainlink, FailArmy, or the World Poker Tour are all cooperating with Theta in one way or another.
Theta (THETA) Roadmap
The project's roadmap can be found on the official website. Among the achievements for 2021, we will mention the following two feats: Theta is now supported by hardware wallet producer Ledger. And the beta version of an NFT marketplace called ThetaDrop has been released and is being tested.
These are Theta's plans for Q1 of 2022:
A new digital asset will be released on the mainnet. TDROP is an NFT token created for liquidity mining.
A cross-chain bridge between THETA and ETH will be made for DEX, NFT and dApp communication.
Theta's Elite Edge Nodes will have a feature to store NFTs in a decentralized manner.
The roadmap for Q2 of 2022 looks like this:
An NFT-based video platform with P2P video sharing is planned to be released as beta.
Users will be introduced to a Live experience video streaming platform.
Improvements are scheduled for Edge Streaming Nodes.
Theta (THETA) Network
The Theta blockchain is based on Ethereum, and hence it's a Proof-of-Stake (POS) coin. It supports both fungible and non-fungible tokens and smart contracts. The network uses a Multi-level Byzantine Fault Tolerant consensus algorithm, which allows it to process around 1.000 transactions per second.
Theta uses various nodes to protect its blockchain, verify transactions, and host video content. The first type is the validators, known as Enterprise Validator Nodes. As of February 2022, there are 16 validator nodes operated by Theta Labs and several renowned companies such as Google, Sony, Samsung, Binance, etc.
Around 3.500 Guardian Nodes make up the 2nd part of the consensus group. And finally, there are over 130.000 Edge Nodes on the Theta blockchain. As the name might suggest, the guardians are responsible for safekeeping the blockchain if Validator nodes get hacked or start acting maliciously. Guardian Nodes also have double-checking responsibilities, and they inspect everything that Validator Nodes are doing.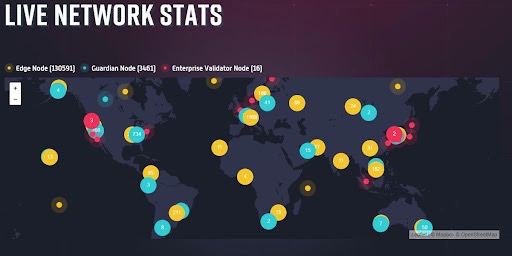 Edge Nodes provide computational power to relay videos on Theta's decentralized content sharing and delivery platform. This service is known as EdgeCast. EdgeCast's decentralized nature doesn't allow Theta to control, censor, or delete content uploaded to it. This is the exact opposite of what YouTube is doing.
Besides censorship resistance, what else makes Theta different from centralized streaming networks? CDNs ensure that the videos you watch are delivered to you in good quality. If you live in the city, a data server provides that content to you. But data centers aren't available in all places of the world, like deserts, wastelands, forests, Siberia, and less-developed regions in Africa and East Asia.
The missing infrastructure causes lag and a low-quality streaming experience for viewers. Moreover, building and maintaining this infrastructure is costly. That's where Theta's blockchain comes into play. The platform incentivizes users to make their bandwidth and computational power available to Theta by creating The Global Cache. The streaming service is thus fully functional and non-dependent on Content Delivery Networks.
Instead of getting videos from CDNs, Theta users obtain them from peers who are part of The Global Cache network. You, as a viewer, have to pay a certain number of tokens to watch videos and become a content host yourself. But then someone else pays you, creating a circle of spending and earning.
The Tokens of the Theta Network
Theta uses a dual token system on its blockchain. THETA is used as a staking coin and an asset for security and network governance. The 2nd token is TFUEL, used for transaction fees, smart contract operations, and staking rewards. THETA has a maximum supply of 1 billion units, while TFUEL's upper limit is 5 billion. TFUEL is a deflationary asset. All tokens used for transaction fees are permanently burned.
How to Mine THETA and TFUEL Tokens?
Theta is a POS-based project, so it can't be mined, but it can be staked. Staking is done via the official Theta Web Wallet. A minimum stake of 1.000 THETA tokens is required to participate in the staking process. This allows the user to become a Guardian Node.
Staking can be done on a PC or using the mobile version of the wallet, which is available for both iOS and Android devices. The rewards depend on the number of staked tokens and are paid out in Theta Fuel (TFUEL). You can withdraw your stakes when you are done, and the funds will be returned to your address within 48 hours.
Edge Nodes who earn TFUEL by hosting and relaying videos can also participate in the staking process. By staking their Theta Fuel tokens, they become Elite Edge Nodes. The minimum deposit stake is 10.000 TFUEL, and the max is capped at 500.000 coins. The un-staking period can take up to 60 hours before the tokens are returned to your wallet.
TFUEL and THETA Token Price Prediction 2022
Since THETA officially started trading on exchanges, it has generated an ROI of over 2100%. 2021 was its best year performance-wise. From March until April 2021, THETA token price skyrocketed as it went from $3 to an ATH of almost $16 on 16 April 2021. As of February 2022, the coin is trading at around $4.
Many forecasters agree that the asset has plenty of room for improvement. Wallet Investor  expects the price of THETA token to increase over 100% one year from now, with trades carried out at around $11.50/coin. It's believed the asset will break the $20 barrier for the first time in January 2024 before climbing further to the $35-$40 mark in 2026.
Analysts from TradingBeasts believe that THETA is a good investment. They don't expect much to happen with it during 2022 when they predict movements between $3 and $5. A +100% ROI is expected in 2025 when the average price is believed to be between $9 and $10.
TFUEL is currently trading at above $0.23/coin. It had also registered remarkable gains during 2021 when the all-time high of $0.68 was recorded at the beginning of June. Theta Fuel has gone up 24.000% since then in relation to its lowest value.
Wallet Investor predictors are extremely bullish on TFUEL. Their 1-year forecast shows a price increase to $0.44. In addition, 2023 is expected to be a year when this digital asset trades in the $0.50-$0.60 range. If they are correct, the token will be worth at least $1 in 2025, and the 5-year forecast shows a price of over $1.30.
GOV Capital has even more faith in Theta Fuel. In the next 12 months, they predict a value increase to $0.70. Their technical analysis team believes that the price of TFUEL will cross the $1 mark in March 2023. The $3 line could be breached in 2025, and a jump to $4.50 is expected to happen in 2027.
How to Buy and Trade THETA and TFUEL?
Both tokens can be traded on a plethora of cryptocurrency exchanges and stored in software and hardware wallets. Let's mention some of the most recommended options available right now.
THETA and TFUEL Wallets
If you want 1st class privacy and security for your crypto, we suggest storing your Theta coins in non-custodial wallets such as the NOW Wallet. NOW Wallet is a mobile app available for iOS and Android devices. It facilitates instant crypto swaps and allows you to purchase cryptocurrencies with a credit card or bank account.
Theta's official wallet is the Theta Wallet. It's an online and mobile wallet that can be connected with popular hardware wallets. Ledger and Trezor support Theta tokens, but just one asset each. TFUEL can be stored on a Trezor, while THETA is supported by Ledger devices.
Some other wallet manufacturers where you can store your coins include Guarda Wallet and Trust Wallet.
THETA and TFUEL Crypto Exchanges
Both THETA and TFUEL can be purchased or swapped on the always reliable ChangeNOW instant exchange platform for other cryptocurrencies. Furthermore, users can activate the fixed rate flow by clicking on the lock icon while performing their exchange. This feature freezes the exchange rate for 2 minutes, allowing you to stay protected from market volatility and perform a fast and risk-free swap.
THETA and TFUEL are listed on several other cryptocurrency exchanges. The most recognized ones include Binance, KuCoin, Huobi Global, Crypto.com, Gate.io, and Bithumb.
Theta (THETA) Summary
Theta has plenty of good features that cause justified optimism in the crypto community. The developers have successfully created a decentralized streaming and video content provider, which is censorship-resistant at its core. The platform awards network participants with TFUELs and allows them to stake their tokens for additional benefits.
Thanks to the Theta World Cache, people who live in rural and undeveloped areas can enjoy a better streaming experience. This network pays you to watch videos and provide others with quality content. We shouldn't forget that it has smart contract functionalities, is compatible with Ethereum, and supports NFT tokens.