Terra (LUNA) Review 2021
Terra (LUNA) is one of the favorite assets among crypto investors in 2021 — the coin has demonstrated a blazing 40x growth since the beginning of the year.
Let's see what's unique about Terra and how it manages to show such outstanding results.
About Terra (LUNA)
The problem
In South Korea, Mongolia, and the USA businesses run on local fiat currencies. But some US enterprises need to operate with the South Korean won, whereas businesses in Mongolia sometimes involve operations with the US Dollar. And this is where it becomes hard — cross-currency swaps in fiat are expensive and lengthy.
Cryptocurrency is not much better in this situation due to its volatility. There are stablecoins — but most of them are pegged to the US Dollar and rarely Euro, whereas other fiat currencies are neglected.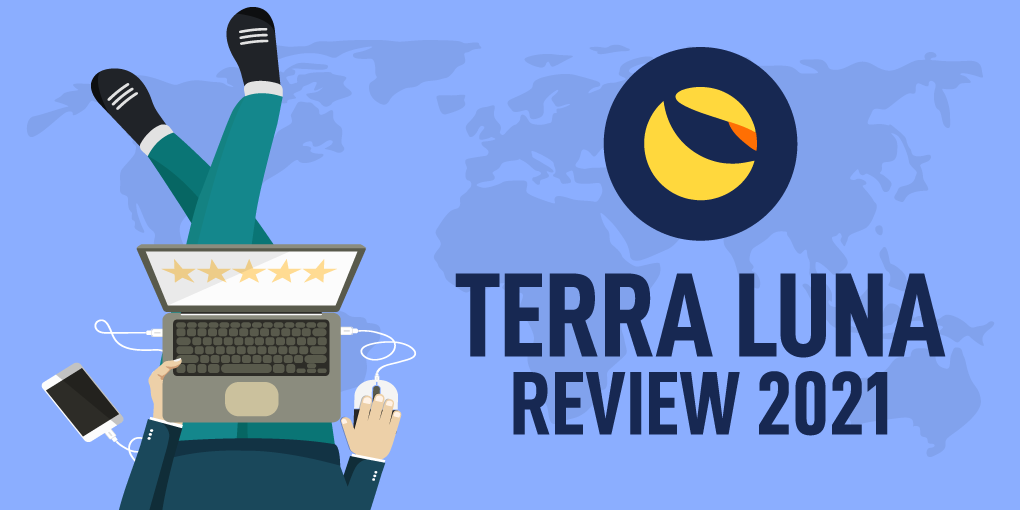 Terra's solution
This is where Terra comes into play. The platform offers several stablecoins pegged to local currencies: today, there are UST pegged to USD, KRT pegged to the South Korean won, and MNT for Mongolian tugrik. These stablecoins are extremely easy to pay with — anyone can send them anywhere in the world with low fees (0.5% to 2%) without bank limits, and this takes seconds.
If your America-based business needs to work with an enterprise in South Korea, you can swap UST for KRT and send it via Terra blockchain. No middlemen and hidden costs are involved. You can hold any amount of stablecoins without withdrawal limits and other rules inherent to fiat currencies.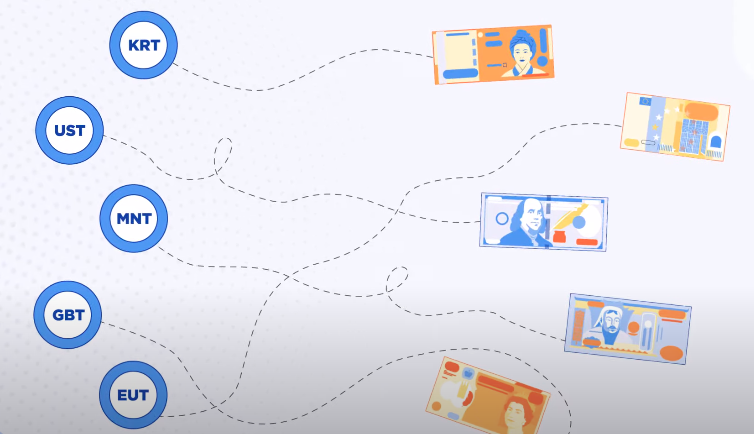 How is Terra used today?
Terra was conceived in early 2018, and its mainnet was launched in April 2019. Today, in South Korea alone, hundreds of businesses including 14 banks leverage Terra, and 2 million users pay $1 billion worth of KRT yearly for books, furniture, clothes, and much more. 40,000 Mongolians use Terra-based tugrik.
All this is possible thanks to local payment dApps built on Terra. Besides payments, you can use Terra to store and profit from your UST: a savings platform Anchor offers up to 10% APR.
Terra (LUNA) Network
All Terra-based stablecoins remain stable thanks to Terra's staking token — LUNA. From every stablecoin transaction, a small fee goes to LUNA stakeholders.
The more people use Terra-based stablecoins, savings services, and other dApps, the more fees LUNA stakeholders will receive making the token more valuable. You can become a part of this by staking LUNA — the tokens will be delegated to validator nodes who then distribute the reward. We will provide the detailed guide for LUNA staking below.
LUNA holders also control the decentralized economy of Terra. They propose and vote for changes in the monetary policy and technical upgrades. New stablecoins can be issued on Terra as a result of community voting.
Terra-Based Stablecoins And the LUNA Token
UST and other Terra-based assets are algorithmic stablecoins backed by the LUNA token.
The price of 1 TerraUSD (UST) is determined by its supply and demand. If more people transact UST, its price grows, so new UST has to be minted to dilute the supply. LUNA holders do this: whenever UST costs more than $1, they can swap $1 worth of LUNA for $1 worth of UST, and then sell this UST for more than a dollar to make a profit. This is how new UST are minted. New tokens raise the UST supply and bring its price back to $1. And by selling LUNA, users make it more scarce and valuable.
In the opposite situation, when 1 UST goes below $1, every UST holder can profit from selling it for LUNA. That reduces the UST supply and brings its price back to $1.
LUNA stabilizes Terra's stablecoins just like the Moon stabilizes the rotation of the Earth. And while the demand for UST payments grows, so does LUNA.
Terra (LUNA) Team
Terra was co-founded in 2018 by two developers and entrepreneurs from South Korea, Daniel Shin and Do Kwon. Shin had previously founded Ticket Monster — one of the country's largest e-commerce platforms, and also a startup incubator Fast Track Asia.
Do Kwon, CEO of Terraform Labs (the company behind Terra), was included in the Forbes' 30 under 30 list for his successes with Terra: he attracted $32 million of investment from Binance and Polychain Capital and 40 million users in the very first year of Terra. As a computer scientist, Kwon used to work at Apple and Google as a software engineer.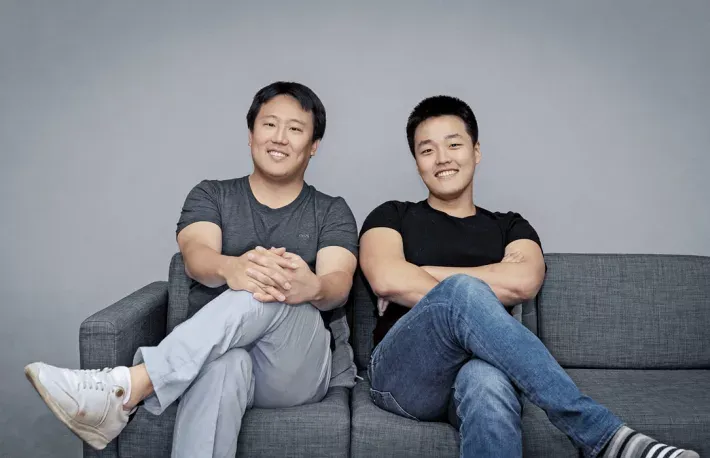 Daniel Shin and Do Kwon Image source
Terra (LUNA) Roadmap
There is no clearly outlined roadmap for Terra; however, the project evolves rapidly, and several milestones have been achieved recently.
For instance, Terra was connected to Wormhole: a decentralized cross-chain bridge and messaging protocol that allows seamless data and value exchange between previously siloed blockchains. Wormhole connects Ethereum, Solana, Binance, and Terra.
In August 2021, Terra also introduced Terra Spacecamp — "an innovative DeFi Bootcamp" that allows developers to build cutting-edge Web3 and DeFi products for mass adoption on Terra.
One major innovation that has just taken place is Columbus-5 — a Terra blockchain upgrade. This significant change allows for the release of a few new protocols, which will ensure a huge influx of new projects on Terra. Also, all swap fees will now go to LUNA stakers, instead of being burned like they were before.
Terra (LUNA) Value Data
In the recent months
Terra has shown a dramatic 39X surge since the beginning of 2021. In the first half of September, Terra was demonstrating growth despite the overall bear market and hit the all-time high of $44.34 on September 11. Two reasons for this increase were the upcoming Columbus-5 update and the listing of Wrapped LUNA and UST on Coinbase Pro, a platform for professional investors.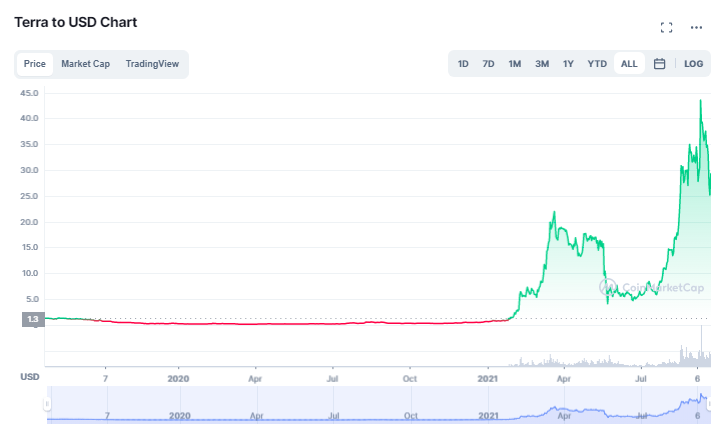 Terra (LUNA) 2021 price prediction
At the time of writing, Terra's price is $26.83. The predictions for LUNA are bullish: Wallet Investor gives it $54.5 in 1 year and $149 in 5 years, which allows the platform to consider it an "awesome" long-term investment. Longforecast expects $19.55 for Terra (LUNA) by the end of 2021, $34 by the end of 2022, and $38.6 by 2025. Digital Coin Price waits for Terra at $39.63 in 2021, $47.96 in 2022, and $95.1 in 2026.
The predictions are positive, but don't consider this investment advice. Do your own research and evaluate the risk.
How To Mine Terra (LUNA)
As mentioned above, Terra (LUNA) is a staking token, which means you can't mine it. The reward system in Terra is different. By staking LUNA, you delegate your tokens to a validator node that confirms transactions in the Terra network. The blockchain works on the Proof of Stake consensus mechanism, but rewards in LUNA are not the classic staking rewards.
Once a node has processed a transaction, it receives a small percentage of this transaction in LUNA. The more transactions a node verifies, the more it receives. If you delegate your LUNA to a node, you raise its chances to process transactions and get a share of fees proportional to your stake. LUNA staking offers you an APY of about 10%. Moreover, you will sometimes get airdrops in Terra-based stablecoins.
Terra (LUNA) Wallets
Terra Station desktop app
You can't use the web version of Terra Station to set up a wallet: the team made it impossible for security reasons. To install the desktop app, go to Terra Station, click "Connect", then "Download Terra Station". In this official wallet, you can see the history of transactions and swaps, monitor your fiat-pegged Terra stablecoins, airdrop history, and do staking.
Atomic wallet
If you want to store Terra (LUNA) together with the rest of your portfolio, Atomic Wallet is for you. 500+ supported coins, accessibility from most of the devices, and a built-in crypto swap tool make Atomic a great place to manage your crypto including Terra (LUNA).
Ledger Nano
This hardware wallet is considered one of the most secure solutions on the market. You can store 1000+ assets including LUNA on Ledger. Keep in mind that to spend your coins, you will need the physical presence of the wallet.
How Can I Buy And Trade Terra (LUNA)?
Terra (LUNA) crypto exchanges
Luna is traded on most of the major exchanges such as Binance, Huobi, Binfinex, and others. These platforms are convenient in terms of daily trading, but they may lack security: you don't own the private keys, and access to your funds may be limited at any time due to maintenance, a hack, or another reason.
Buy LUNA without registration on ChangeNOW
You can get Terra (LUNA) with 200+ other coins without registration and KYC on ChangeNOW. The whole process consists of 4 steps and will take you no more than 5-10 minutes. To buy LUNA with ChangeNOW, you need to send us some coins directly from your wallet, meaning that we don't store them and have no access to your private keys. Seamless exchange experience that we provide allowed us to get 4.7/5 stars from users on Trustpilot.
Terra (LUNA) Summary
Terra is a blockchain-based payments platform that allows for seamless remittances in stablecoins pegged to local currencies. The existing solutions for the US Dollar, South Korean won, and Mongolian tugrik have gained enormous traction in the past years, and the robust revenue model for LUNA stakeholders has made it popular among investors. All these factors allow experts to believe in the long-term value of Terra (LUNA). If you'd like to jump on the bandwagon and consider buying the token, visit ChangeNOW to see what we offer.
Also Read: