Solar (SXP) Coin Overview
Welcome to our comprehensive guide on Solar Blockchain Foundation and SXP Coin. In this article, we will take a deep dive into the features, use cases, and tokenomics of SXP Coin. We will also explore the Solar Blockchain Foundation, its goals, and how it aims to grow the Solar ecosystem. Additionally, we will provide you with a step-by-step guide on how to buy SXP coin on ChangeNOW, a reliable and user-friendly platform for crypto exchange.
What is the Solar Blockchain Foundation?
Solar Blockchain Foundation is a non-profit organization based in Estonia. Its primary aim is to develop an open-source blockchain ecosystem with community involvement and financial and technical support. The foundation seeks to increase the volume and acceptance of the Solar ecosystem by supporting projects and entities within the community.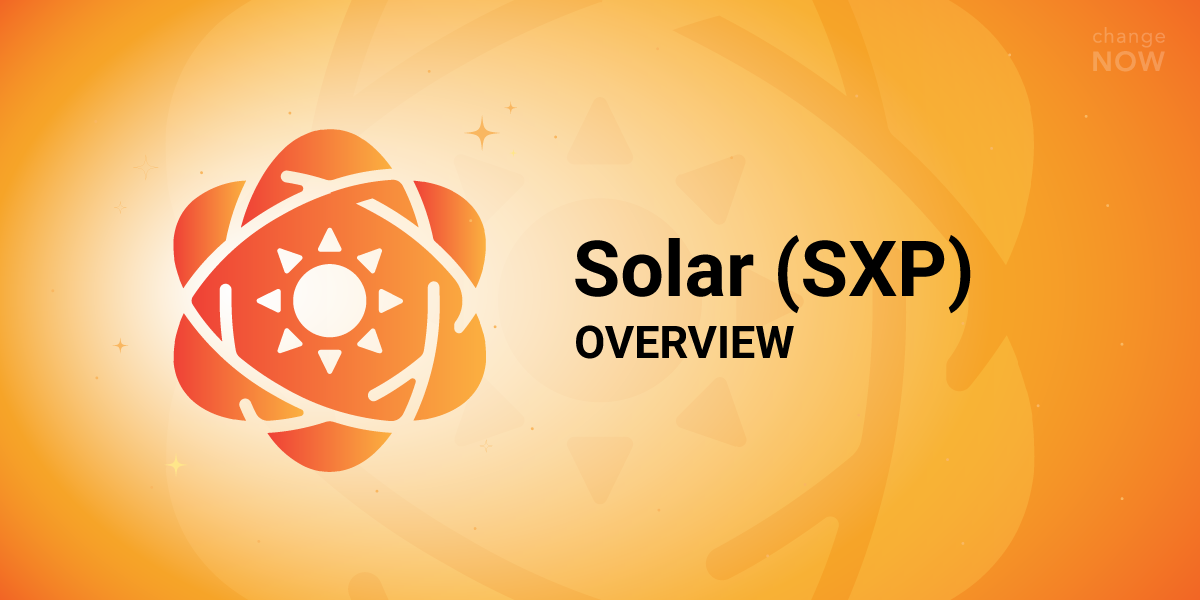 Understanding SXP Coin
SXP Coin is the native cryptocurrency of the Solar blockchain. It is used for voting on Solar block producers, transferring value, and accessing various services across the Solar ecosystem.
SXP Tokenomics
There is an unlimited supply of SXP. However, the Solar Blockchain has a built-in burn mechanism that eradicates 90% of the fees from each transaction. This started in early 2022, contributing to a continuous reduction of the circulating supply. While the Solar Blockchain incorporates multiple burning features, they are integrated by third-party entities. The Solar Blockchain Foundation neither endorses nor promotes these burning activities. This is to ensure that Solar strictly adheres to all necessary regulatory compliance.
Features of SXP Coin
Delegated Proof-of-Stake Consensus Algorithm: The Solar blockchain uses a Delegated Proof-of-Stake consensus algorithm (DPoS) in which 53 elected block producers validate transactions. This consensus mechanism is fast, secure, sustainable, and energy-efficient. It ensures that the blockchain is maintained through block creation and witnessing, voting on governance issues, and validating transactions.

Fast Transaction Speeds: The Solar blockchain is incredibly fast, with transactions typically taking just 8 seconds to process. This makes it ideal for use cases that require quick transaction times, such as peer-to-peer payments.

Metaverse and District 53: District 53 is a voxel-based Metaverse game, forked from Minetest, that uses the Solar (SXP) Blockchain and shares gameplay elements with Minecraft.It is a game that combines innovation, engagement and has limitless potential. Players can purchase virtual land, hire contractors with building skills or build their own dreamland on their own property within District 53. They can interact with other players and join them on missions and quests, participate in events, and compete against each other.

Solar Launchpad: The Solar Launchpad will offer several features that benefit token holders and fledgling projects. It will charge a listing fee for each new decentralized application, ranging from 10 SXP to 1,000 SXP. The Launchpad will also provide optional KYC and audits of new projects. Transaction fees and listing fees on the Solar Launchpad will be burned, which will contribute to the deflationary dynamic of the ecosystem.
The Innovative Solar Card: Revolutionizing the Way We Use Crypto
In addition to its core features, Solar has introduced a groundbreaking innovation known as the Solar Card. This payment solution opens up new avenues for using cryptocurrencies in everyday transactions.
The Solar Card bridges the gap between the crypto and traditional finance worlds, enabling users to seamlessly spend their digital assets at millions of merchants worldwide. By leveraging SXP as the underlying currency, the Solar Card ensures quick and secure transactions while offering users the convenience of traditional payment methods. With a sleek design and user-friendly interface, the Solar Card brings the power of SXP into the palm of your hand.
Furthermore, the Solar Card supports various cryptocurrencies, allowing users to spend their preferred digital assets effortlessly. This flexibility empowers individuals to embrace the benefits of decentralized finance while maintaining financial autonomy.
Use Cases for SXP Coin
Voting for Solar Block Producers
SXP Coin holders can vote for Solar block producers using the Solar Desktop Wallet. Voting is straightforward, and token holders can vote for one or more block producers. Block producers may reward their voters with a percentage of block rewards. The amount and payout time vary with each block producer.
Trading on Exchanges
SXP Coin is listed on over 40 exchanges and can be traded in 250+ spot trading pairs. This makes it easy for users to buy, sell, and swap SXP Coin.
Paying for Goods and Services
SXP Coin can be used to pay for goods and services on many third-party services. Additionally, the launch of the NFT marketplace and metaverse will open up new opportunities for SXP Coin usage.
How to Buy SXP on ChangeNOW
ChangeNOW is a reliable and user-friendly platform for crypto exchange. It allows users to buy, sell, and exchange cryptocurrencies with ease. Here's how you can buy SXP coin on ChangeNOW:
Go to the ChangeNOW website and select SXP in the 'You Send' field.
Choose the cryptocurrency you want to exchange for SXP in the 'You Get' field.
Enter the amount of cryptocurrency you want to exchange and click 'Exchange'.
Enter your SXP wallet address and click 'Next'.
Check the order details and click 'Confirm'.
Send the cryptocurrency you want to exchange to the provided address.
Wait for the exchange to complete and receive your SXP coins in your wallet.
Conclusion
In conclusion, SXP Coin is a promising cryptocurrency with a robust governance system and a range of features that make it suitable for various use cases. And with ChangeNOW as the go-to platform for buying and swapping cryptocurrencies, acquiring SXP has never been easier. So, don't miss out on the Solar (SXP) journey—explore the possibilities and buy SXP on ChangeNOW today!