Stellar XLM Review 2022
Stellar was created to allow users to trade all forms of money under a single open network, without the need for high transaction fees.
As cryptocurrency trading and exchange platforms continue to grow in 2022, an increasing number of crypto investors are seeking out secure and seamless ways to store and move their money. One major disadvantage of many platforms is their limit on the number of coins they support. Some even come with high transaction fees that make it difficult for individuals with small businesses or startups to afford. Stellar (with its digital currency, XLM), met these challenges and raised the bar.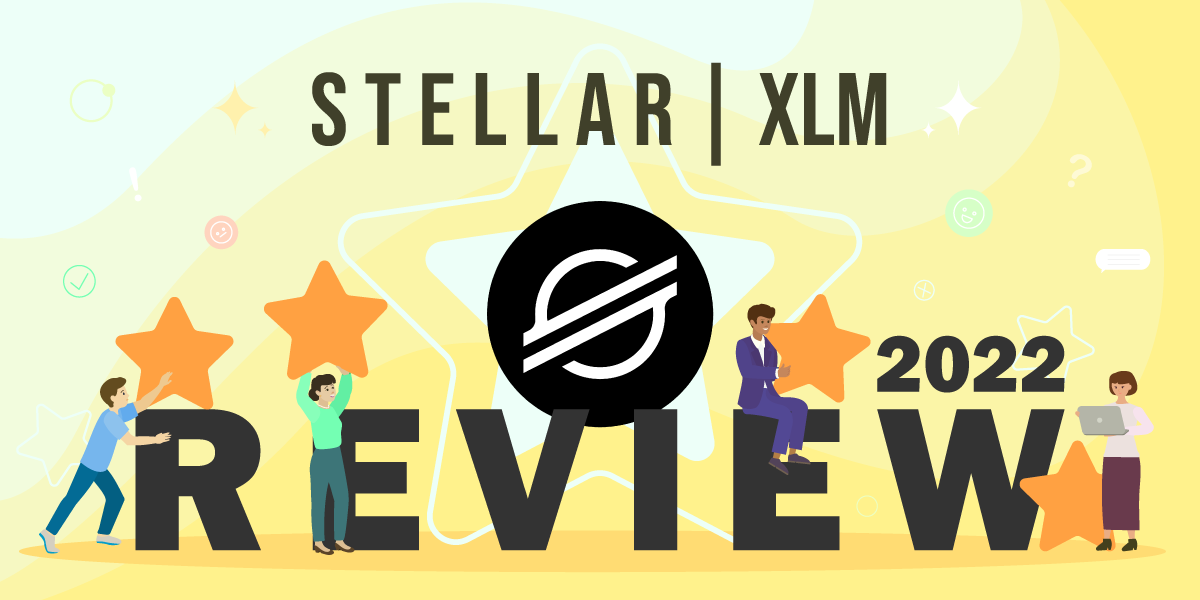 Stellar in 2022
According to their website, Stellar is designed to allow the world's financial systems to work together under a single network. The importance of a single decentralized network like this is that it gives businesses the ability to connect to a global network exchange — giving them the power to grow and possibly help startup businesses get off the ground. With over 6.5 million individual accounts trading XLM under its platform, Stellar has proven to be vital in allowing even small businesses to access global markets.
Let's take a look at what Stellar is all about and the impact it's having on crypto and businesses alike.
About Stellar
The Stellar project was founded in 2014 by Jed McCaleb and Joyce Kim. It is a fork of the Ripple protocol, of which McCaleb is also a co-founder. Ripple is a blockchain digital payment network with its own cryptocurrency, XRP. It is used mainly by banks and financial institutions to confirm transactions. Stellar was created to be an open-source network that goes beyond banking institutions. The network focuses on providing individuals with a quick and affordable way of receiving cross-border payments and transfers.
With Stellar, users can trade numerous forms of digital currency; it allows them to turn dollars and euros into tokens that can be used to trade around the world. The Stellar network has its own digital currency called Lumens.
Other features of Stellar include:
● Instant global payments
● No pre-funding requirement
● Currency support
● Travel rule compliance
● Open source developer tools
● Reaches new geographies and users
● Low, flat fees
● XLM is for sale on all popular exchange platforms, for instance, ChangeNOW
Since its launch Stellar has processed more than 2 billion transactions worldwide. Stellar is said to operate over 1,000 transactions per second. As an open source network, it is not governed by any institution or agency and allows secure access and transfers. The network follows a blockchain system that allows for quick, energy-efficient, and seamless transactions with lower fees than most networks.
Stellar's value increases due to its numerous applications for institutions and investments, including:
Stellar for Fintech applications
Stellar provides Fintech companies with reliable and affordable global payment systems. It's designed to make payments with international currency easier for all individuals involved. The platform offers features to these companies such as global access to USDC and other stablecoins, easy onboarding for wallets, new cash-out destinations, and access to additional financial products to help small businesses.
Stellar for remittances
Stellar's design makes it simple to send quick and affordable cross-border payments. This helps businesses expand their reach and access the global financial system. When a company becomes an anchor or uses an existing anchor, it'll benefit from the speed that comes with using Stellar, real-time transactions, and currency support.
Stellar Team
Stellar was created by a team of expert developers. The brilliant minds behind Stellar include co-founder and chief scientist David Mazières and Jed McCaleb, who created the network as an inclusive global marketplace for individuals and institutions around the world.
Stellar software checks ledgers to ensure that the correct balances are reflected in accounts and that each individual confirms the transactions. The reason behind this approach is that Stellar remains committed to being independent of third-party interference.
The Stellar Network
The Stellar network operates using its digital currency XLM, and you'll need a few to open your account and start trading. Stellar provides end-users with a fast and efficient network for trading and spending digital forms of money including euros, Bitcoin, dollars, Mexican pesos. The open financial infrastructure was created by developers so that no special permissions or applications are needed to access it. Issuers simply deposit or redeem tokens. It also allows financial institutions to issue tokens without the need for third-party applications or associations.
Stellar uses a monetary policy, much similar to Ripple for producing XLM. The network initially minted 100 billion XLM tokens at the network's launch. A small portion of those tokens was then distributed to the public via various giveaways such as airdrops. New XLM is issued via a 1 percent annual inflation rate that accrues proportional to participation in the inflation voting process. The current circulating supply of XLM is just over 19 billion, and the total supply is just under 105 billion.
How to Mine Stellar
Stellar does not use the Proof-of-Work model which means it cannot be mined like Bitcoin. As of July 2021, around 20 billion XLM are held by users in the network. The other 30 billion are retained by the Stellar Foundation to help them to develop and promote the network. Stellar's currency, however, entered the market for users to purchase.
Stellar 2022 Price Prediction
Stellar is predicted to do well in 2022 even with market fluctuations, due to the increase in crypto users, and the many benefits it brings. The Stellar price is predicted to reach $0.29, with the anticipated high being around $0.30.
Wallet Investor predicts Stellar to be a profitable investment option for the year. Stellar Lumens can go up from $0.233 USD to $0.351 within a year. They predict a long-term increase, along with a 5-year investment with the revenue that is expected to be around +249.36%.
Trading Beast sees similar profitable outcomes for those looking to invest. The Stellar price on the website is forecasted to reach $0.3055824 by September 2022. While Gov Capital predicts a lower profit of $0.50238922446108 after a year.
How Can I Buy and Trade Stellar?
Stellar Lumens can be traded on several cryptocurrency exchanges and stored in software and hardware wallets. Here are some popular platform suggestions to buy and trade stellar:
Stellar Wallets
There are numerous third parties that have apps that help you interact with the Stellar network.
Atomic Wallet – an advanced and secure cryptocurrency wallet to store XLM
Trust Wallet – a mobile wallet app that is compatible with various blockchains
NOW Wallet – safe non-custodial mobile wallet with 400+ available assets
Stellar Crypto Exchanges
Stellar Lumens can be purchased from the secure and reliable ChangeNOW instant exchange platform, along with a wide range of digital cryptocurrencies. Users can purchase XLM through a fixed rate flow while performing their exchange, which allows quick effortless crypto swaps that protect users against market volatility.
There are many other cryptocurrency platforms available for XLM. Some of these platforms include Binance, Crypto.com, Gate.io, and Bithumb.
Stellar Summary
Thanks to Stellar's open-source and affordable trading rates, users across the world have access to fast and secure methods of transactions and cross-border payments. It has forever changed the crypto community and given access to start-ups and those from rural and undeveloped areas with fair and affordable access to digital payments. With the Stellar market expected to rise within 2022, it is no doubt that this is the best time to start investing and trading with Stellar.