From Scandals to Solutions: South Korea's Milestone Crypto Bill Passes into Law
The world of cryptocurrencies is constantly evolving, and regulations play a crucial role in shaping its future. Recently, South Korea took a significant step forward by passing the Virtual Asset User Protection Act, marking a milestone in the country's journey towards building a comprehensive legal framework for virtual assets. This article explores the implications of this new legislation and its impact on the crypto community.
Understanding the Virtual Asset User Protection Act
The Virtual Asset User Protection Act, a compilation of 19 proposals from lawmakers, aims to establish safeguards for investors and regulate the crypto industry in South Korea. The legislation defines digital assets and outlines penalties for unfair transactions, including the use of nonpublic information, market manipulation, and unfair trading practices.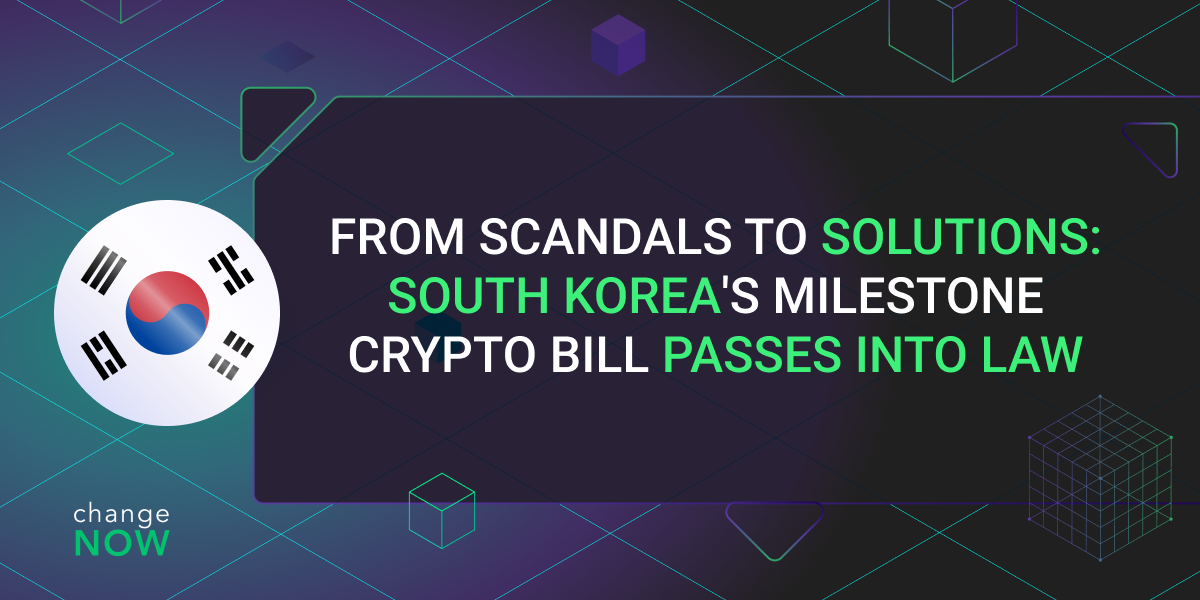 Under the new law, crypto service providers are required to implement measures to protect user assets. These measures include segregating user assets, implementing insurance coverage, maintaining reserves in cold wallets, and keeping comprehensive records of all transactions. By enforcing these measures, the legislation aims to enhance investor protection and promote transparency within the crypto ecosystem.
Strengthening Oversight and Investor Protection
The Financial Services Commission (FSC) will play a pivotal role in overseeing and inspecting crypto service providers to ensure compliance with the new regulations. Additionally, the Bank of Korea now has the authority to request data from these service providers, enabling a more comprehensive understanding of the crypto market and its potential impact on financial stability.
The legislation also addresses the issue of market manipulation by imposing penalties on individuals or entities involved in price manipulation or false promotion of crypto assets. These penalties may include imprisonment or hefty fines, emphasizing the government's commitment to maintaining fair and transparent markets.
The Journey Towards Crypto Regulation
The need for crypto regulation in South Korea became evident following a series of high-profile incidents, including a government scandal involving the cryptocurrency holdings of National Assembly members and the collapse of Terraform Labs. These incidents highlighted the importance of establishing a legal framework to protect investors and prevent fraudulent activities within the crypto industry.
By passing the Virtual Asset User Protection Act, South Korea has taken a significant step towards creating a safer and more reliable market for cryptocurrencies. The legislation focuses on investor protection as its initial priority, with further regulations expected to address token issuance and information disclosure by local companies.
Implications for Crypto Adoption
The passage of the Virtual Asset User Protection Act is a positive development for the crypto community in South Korea and beyond. By introducing regulations that protect investors and promote transparency, the legislation helps to build trust in the crypto industry, making it more attractive to both individual and institutional investors.
As South Korea embraces crypto regulation, it sends a powerful message to other jurisdictions around the world. The country's proactive approach demonstrates a commitment to fostering innovation while ensuring the integrity of the market. This could inspire other countries to follow suit and implement their own regulatory frameworks, ultimately contributing to the wider adoption of cryptocurrencies globally.
ChangeNOW: Empowering Crypto Users
In the ever-growing landscape of crypto exchanges, ChangeNOW stands out as a reliable and user-friendly platform for buying and exchanging cryptocurrencies. With a focus on simplicity and security, ChangeNOW empowers users to seamlessly navigate the world of crypto.
ChangeNOW offers a wide range of cryptocurrencies for users to buy and exchange, including Bitcoin (BTC), Ethereum (ETH), and many others. The platform's intuitive interface and fast transaction processing make it an ideal choice for both beginners and experienced crypto enthusiasts.
One of the standout features of ChangeNOW is its commitment to transparency. The platform provides real-time exchange rates and ensures that users receive the exact amount of cryptocurrency they expect, without any hidden fees or surprises. This dedication to transparency aligns with the principles of the Virtual Asset User Protection Act, further enhancing the trustworthiness of ChangeNOW as a reliable crypto exchange.
Step-by-Step Guide: Exchanging Crypto on ChangeNOW
Getting started with ChangeNOW is quick and easy. Follow these simple steps to exchange your crypto without the need for an account:
Visit the ChangeNOW website and select the cryptocurrencies you wish to exchange.
Enter the amount you want to exchange and review the estimated conversion rate.
Provide the recipient address for the exchanged cryptocurrency.
Double-check the transaction details and confirm the exchange.
Send the original cryptocurrency to the provided address within the given timeframe.
Wait for the transaction to be processed, and voila! You've successfully exchanged your crypto on ChangeNOW.
With its user-friendly interface, transparent pricing, and commitment to security, ChangeNOW is the go-to platform for crypto enthusiasts looking to buy and exchange cryptocurrencies with ease.
Embracing a New Era of Crypto Regulation
The passage of South Korea's Virtual Asset User Protection Act marks a significant milestone for the crypto community. This comprehensive legislation sets the stage for enhanced investor protection, increased transparency, and the wider adoption of cryptocurrencies. As countries around the world continue to grapple with crypto regulation, South Korea's proactive approach serves as an inspiration for others to follow suit.
ChangeNOW, with its user-centric approach and commitment to transparency, aligns perfectly with the principles of the Virtual Asset User Protection Act. By providing a reliable and secure platform for buying and exchanging cryptocurrencies, ChangeNOW empowers users to navigate the crypto landscape with confidence.
Ready to embark on your crypto journey? Visit ChangeNOW today and experience the future of crypto exchange without the need for an account. Exchange crypto seamlessly, securely, and with peace of mind.
Disclaimer: This article is for informational purposes only and should not be considered financial or investment advice. Always conduct thorough research and consult with a professional before engaging in any cryptocurrency transactions.