Sotheby's to Accept ETH Bids in Real-time for Banksy Paintings
Famous auction house Sotheby's says it will be the first to accept real-time payments in crypto for physical art auctions.
Sotheby's Opens Door to ETH Bids
The real-time auction on the 18th of November of a Banksy art piece will allow users to bid with Ethereum (ETH) if they wish. The announcement was confirmed by Sotheby's on Friday.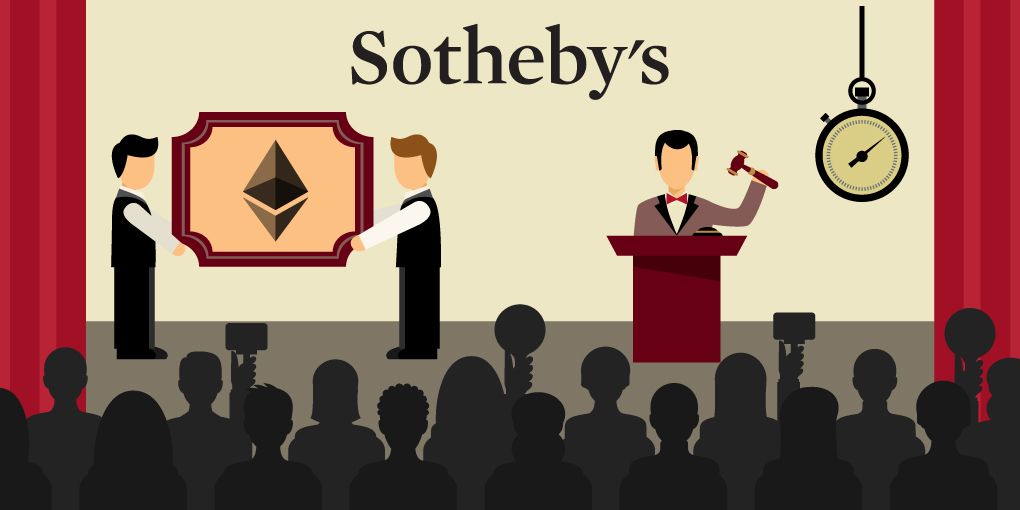 The auction sale, which will feature real-time bids in top crypto coins, will be entitled The Now Evening Auction. The evening's display would showcase Banksy's Trolley Hunters and Love in the Air.
Three payment options will be offered for the works of the popular anonymous creator: Ethereum (ETH), Bitcoin (BTC), and USD Coin. However, all bid costs shall be declared in Ethereum (ETH). This is not the first time an auction house would be receiving digital tokens as payments, and surely not the first time Sotheby is as well. Several Sotheby's auctions have begun taking Bitcoin and Ethereum as acceptable payment forms since May.
It also provided financial support to other NFT projects, including the successful NFT platform, Mojito. While being the most active auction house in the blockchain and cryptocurrency space, Sotheby's is not the only one involved.
Christie's claimed in May that it was the first auction house to accept payments in ETH in its CryptoPunks auction. Christie's auction house was also the one to sell the famous Beeple piece The First 5000 Days for about $69 million, thus etching its name in the history books forever.
Philipps house also auctioned one of Banksy's pieces, Laugh Now Panel A, which was sold for more than $3 million last June in ETH and BTC. Beeple's digital NFT art and Banksy's physical art auctions, are proof that the crypto industry might just already be in mainstream culture.
NFTs appear to be flourishing in a time when digital and physical lines are blurring. There is a lot of debate on whether art belongs in physical or online galleries, or whether it belongs in the virtual metaverse. This debate will continue as the flow of ideas into space increases. But it does not stop the quick traction cryptocurrencies are having in artistic spaces, as well as in entertainment circles.
Ethereum (ETH) currently trades at $4,822.
You can buy or trade any of your preferred tokens on ChangeNOW for Ethereum (ETH) without any registration.
Welcome to the NOW experience! The ChangeNOW team presents you with the new community-inspired crypto wallet – NOW Wallet.