Solana (SOL) Price Prediction 2023
In the quick-moving crypto landscape, Solana (SOL) has emerged as a standout player. With its focus on scalability, transaction speed, and low fees, Solana has gained significant attention from both investors and developers. As we look towards the future, it's only natural to wonder what lies ahead for Solana and its price. In this article, we will explore the potential of Solana's price prediction for 2023 and beyond.
Solana: A Blockchain Built for Mass Adoption
Founded in 2017 by Anatoly Yakovenko, Solana aims to tackle the issues of scalability and transaction costs that have plagued many other blockchains. With its fast and composable architecture, Solana has positioned itself as a blockchain built for mass adoption. The platform's unique hybrid consensus mechanism, combining Proof-of-Stake with Proof-of-History, enables high throughput and low transaction fees.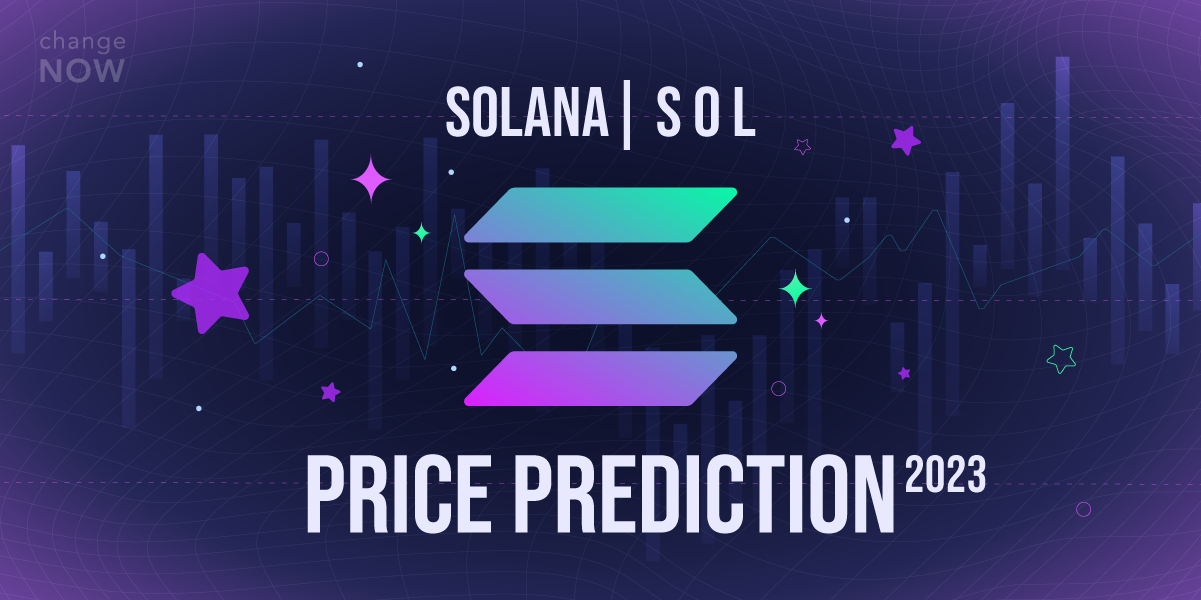 Solana's blockchain is designed to support smart contracts and decentralized applications (dApps), making it an attractive platform for developers in the decentralized finance (DeFi) and non-fungible token (NFT) sectors. Since its Mainnet launch in 2020, Solana has gained significant traction and has become a popular choice for developers and users alike.
SOL's Trajectory: A Rollercoaster Ride
Like many cryptocurrencies, SOL experienced a remarkable bull run in 2021, with its price soaring by over 13,000%. It reached an all-time high (ATH) of $258.93 on November 6th, capturing the attention of both retail and institutional investors. However, the bear market of 2022 has presented some challenges for SOL, with the recent hack on its blockchain leading to losses for many users.
Despite these setbacks, Solana remains an attractive investment option due to its strong fundamentals and growing ecosystem. Institutional investors have shown confidence in SOL, as evidenced by CoinShares's report, which indicates that they have held onto their holdings even in the current market conditions.
Solana's Ecosystem: Catalysts for Future Growth
To analyze the potential for SOL price to breach the $50-mark and beyond, let's take a closer look at some key developments and hurdles within Solana's ecosystem.
Solana Pay: Redefining Digital Payments
Solana Pay is a digital payments platform that leverages the power of the Solana network to offer instantaneous and cost-effective transactions. It enables businesses and customers to transact with digital dollar currencies, such as USDC, with minimal fees and immediate settlement. By providing a faster and more affordable alternative to traditional payment networks, Solana Pay has the potential to drive increased adoption of Solana's blockchain and, subsequently, boost the utility and demand for SOL.
Blockchain Gaming: Powering the Future of Gaming
The blockchain gaming industry has been experiencing rapid growth, and Solana is positioning itself as a key player in this space. With its high throughput and low fees, Solana offers an ideal environment for game developers to create decentralized games with web 2 speeds. The platform's recent collaboration with Solana Ventures and the Solana Foundation to establish a $100-million fund for NFT, blockchain gaming, and DeFi projects in South Korea demonstrates its commitment to fostering innovation in this sector. As blockchain gaming continues to gain popularity, Solana's blockchain could see increased usage, driving up demand for SOL.
NFT Sales: A Growing Market on Solana
Solana has witnessed a significant increase in NFT sales volume, positioning itself as a formidable competitor in this space. In the last 30 days, Solana has seen a month-on-month increase of over 18% in total NFT sales volume, while Ethereum has experienced a decline of 23.75% during the same period. The growth of NFT projects on Solana's blockchain signifies the increasing demand for NFTs and the underlying strength of Solana's ecosystem. Partnerships with platforms like Meta to include Solana-based NFTs on Instagram further solidify Solana's position in the NFT market.
Solana Price Prediction: Looking Ahead to 2030
Now, let's delve into what the future holds for Solana's price. While it's important to note that cryptocurrency price predictions are speculative in nature and subject to market volatility, analysts and experts have provided some insights into Solana's potential trajectory.
Solana Price Prediction for 2023
According to DigitalCoinPrice's analysts, Solana's price could surge as high as $34.20 by the end of 2023. However, if the network faces challenges and delays in implementing its Mainnet Beta version, the price could settle at around $13.99. A balance between buying and selling pressures could potentially land the price at $29.68.
Solana Price Prediction for 2024
By the end of 2024, SOL price could reach a maximum of $38.90, driven by the attraction of many projects to its network and the growth of NFT marketplaces. However, the growing competition and the emergence of new rivals might exert downward pressure on the price, potentially capping it at approximately $33.35, while a more balanced market could see the price stabilize at $37.49.
Solana Price Prediction for 2025
If Solana continues to attract newer startups and outpaces Ethereum in the coming years, its price could potentially reach a maximum of $56.77 by the end of 2025. However, regulatory changes and market forces could lead to a possible low, with the price potentially pulling back to around $45.92.
Solana Price Prediction for 2026-2030
Looking further ahead, the long-term price predictions for Solana are even more promising. By 2030, SOL price could range from $151.62 to $161.38. These projections indicate a positive outlook for Solana's future growth and highlight its potential as a valuable investment option.
| | | | |
| --- | --- | --- | --- |
| Year | Potential Low | Average Price | Potential High |
| 2026 | $59.89 | $69.34 | $71.07 |
| 2027 | $65.11 | $72.17 | $77.19 |
| 2028 | $73.83 | $79.46 | $84.09 |
| 2029 | $104.99 | $113.80 | $116.12 |
| 2030 | $151.62 | $154.49 | $161.38 |
Conclusion
As we look ahead to 2030, Solana's future appears bright. With its focus on scalability, low fees, and a growing ecosystem, Solana has positioned itself as a formidable player in the cryptocurrency market. While price predictions are speculative, the projections for SOL price suggest a positive outlook for long-term investors.
It's important to note that investing in cryptocurrencies carries risks, and it's crucial to conduct thorough research and due diligence before making any investment decisions. However, if you want to buy or exchange SOL, ChangeNOW offers a seamless and secure platform to do so. With competitive rates and a user-friendly interface, ChangeNOW ensures a reliable and convenient experience for cryptocurrency enthusiasts.
Disclaimer: Please remember to DYOR and consult with financial advisors before making any investment decisions. Cryptocurrencies are highly volatile, and their prices can fluctuate significantly.