Scammer vs. ChangeNOW: Real-Life Case of Fraudster Exposure
Scammers are the bane of the crypto market. All they want is to get into the pockets of their victims and pick them clean.
The scammers operate in every industry of the decentralized sector and have developed numerous devious methods of approaching their victims. Users must be wary when receiving suspicious emails offering too much, and must always conduct checks.
Scammers often attack users with some very simple tricks. More advanced malefactors deploy elaborate schemes and apply specifically devised algorithms to seem legitimate before pulling the reins and making off with users' funds. Whatever the methods, the result is always the same – lost personal assets that nary have a chance of ever being seen again.
From time to time, even ChangeNOW becomes a target of attack on the part of the scammers. Though the platform is a tough nut to crack from the technical point of view, and not all attackers have the resources to do it. As such, the scammers are aiming at the most vulnerable part of the platform – the users themselves.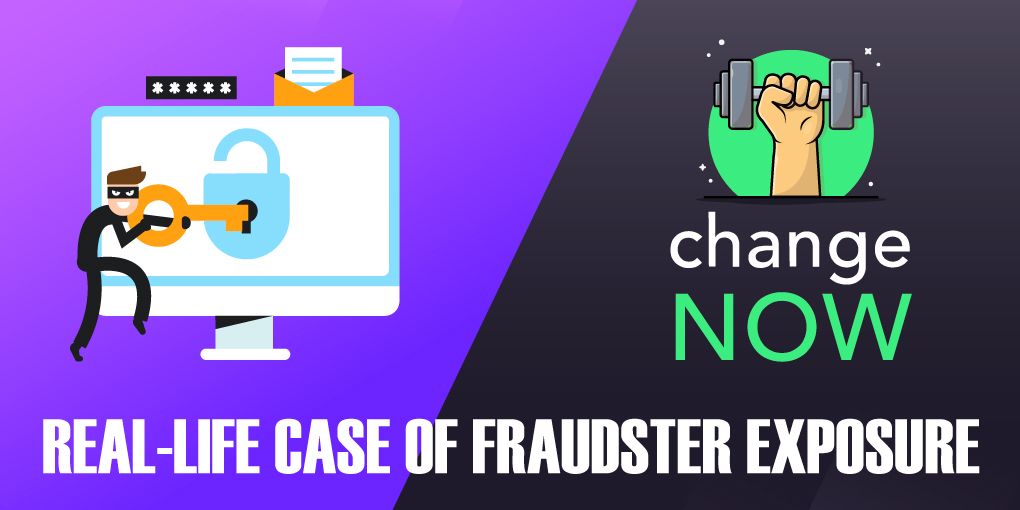 Social Engineering Hacking
Social engineering is all about finding vulnerabilities in the behavior and characters of people, not the underlying technical solutions they are using. It may seem like a foolproof approach, since only a basic level of knowledge of the operation of a particular business is required to attain a malignant goal. The fact is that most of the scammer's dirty work is done by the matching of predetermined patterns based on the application of human psychology.
At its core, social engineering is the oldest means of hacking and fraud known to man, because to trick someone, one must first understand how they think and find a vulnerability in wariness to attain trust. It is also one of the most common types of hacking, despite having some disadvantages by being both labor intensive and requiring the direct participation of the attacker in the entire process. Due to its lengthy nature, scammers often try to get the most out of their success, implying that social hacking will be employed only when returns for the efforts expended will be higher than average.
Real-Life Case
Descriptions of social hacking and the methods employed by scammers are only as good as the real-life cases backing them. As such, let us examine a real case that happened with ChangeNOW in which a scammer tried to impersonate a famous personality from the crypto industry. But something went wrong in the chain of communication and disguise, resulting in the betrayal of the fraudster.
The fraudster tried to impersonate XXX – a relative of a noteworthy individual who is renowned in the digital assets industry for his stance on decentralization as a proponent of cryptocurrencies and a major investor in Bitcoin. The real individual is the founder of a large foundation that is engaged not only in investments, but also in charity work across the world. A good name to try and impersonate if crypto industry scams are involved.
When hiding behind the name of a famous person, the scammers are always trying to immediately raise the stakes, since the risks must be worth the payoff. XXX's name means a lot in the financial sector in general and in cryptocurrencies in particular, as he is one of the most famous and influential crypto-optimists and cooperation with their foundation is a major boost for any company seeking prominence or legitimacy.
Cross-Checking
The first thing we do when we receive a letter from such an addressee is check the email for proper writing and destination. Usually, fraudsters replace letters with numbers imitating the real address. There are also mistakes in the writing, which can be mistaken for typos by an inexperienced eye. Some extra characters can often be between the last name and the first name to mask the deceit. It was clear from that point onwards that we were dealing with an outright scammer, since the address had discrepancies compared to the original, which we had in our database.
The fraudster then outlined the possibilities of further cooperation. An attempt to play on the interests of business is one of the textbook approaches these scammers employ to continue the conversation. The communication usually involves mentions of considerable amounts of capital in an attempt to hook up the victim with potential benefits and to impress and instill a sense of legitimacy.
The Asking Starts
But the jig usually floats rather quickly as evidenced from the ensuing conversation in the email chain. The fraudster's claims are indicating the full amount that they are counting on receiving as a donation for continued cooperation. That in itself is a blatant violation of common sense and business conduct, a sort of ransom, or bribe. In our case, the fake XXX was asking for just a modest 1.2 Bitcoins for their continued cooperation.
In order for the request to sound more convincing, the fraudster backed up their statement with threats. After making their threats, the scammers set a clear timeline for their request to be satisfied. To keep the converser engaged, the scammer then stated that they are still interested in fruitful cooperation.
Obviously, if one is threatened with legal prosecution, while not having been shown any evidence that would indicate any legal services are really involved, this should immediately raise some questions. Another important bell of caution is the immediate provision of a shady Bitcoin address for transfer of a donation as a gesture of goodwill. It is not normal business practice to ask for donations for cooperation. People usually donate at will, not as a request.
The given chain of correspondence, if shown to a legal expert, would immediately not only result in termination of communication, but also in legal action against XXX for a number of reasons. Social engineering is at its best here, playing on the key vulnerabilities of virtually all users and businesses – greed, fear for reputational risks, and the desire to advance business through connections.
There is none to be had here, since the scammer has no real leverage over their victim, they are only playing on fear in the short-run, hoping to get at least a meager 1.2 Bitcoins before shutting down their email address account and vanishing without a trace.
A Personal Connection
Sometimes, to seem more legitimate, the scammer can use a reference to acquaintances their victims have lost contact with. As in our case, the contact of the "former CEO of ChangeNOW" is mentioned. This is usually done in order to establish a sense of rapport. A great way to deal with such cameras is to contact this person directly and cross-check the information. If such contact is no longer possible, one of the best defences is to honestly admit that you do not know anything about such connections or have no way of verifying the information.
Though it is entertaining to engage in conversation with scammers, especially blatant ones, the best you can do is ignore them. Do not waste your time on such gibberish, there is nothing to be had at the end. We cannot afford such luxury. So, we answered honestly by stating that since we only act as a gateway for users' funds, we cannot transfer any amount anywhere.
Takeaways
Be wary when emails from celebrities suddenly arrive with promises of cooperation. Chances of that happening are close to nil. But the chances that a scammer is hiding behind the faceless email are quite real. Do not let yourselves be deceived, always double-triple check every email and put common sense into overdrive for the sake of keeping your funds safe. But at the same time don't forget that not everything that you think is a scam is actually a scam. So, always DYOR.
That said, we remind you that swapping crypto with ChangeNOW is safe, hassle-free, and overall a smooth and secure process.