RichQUACK (QUACK) Token Overview
Are you interested in diving into the world of RichQUACK (QUACK) and exploring its potential? We've got you covered! In this comprehensive article, we will take a deep dive into the RichQUACK ecosystem, including the QUACK token and its various use cases. We will also discuss why ChangeNOW is the best platform where you can exchange or buy QUACK, ensuring you get the best rates on the market. So, let's quack on and explore the fascinating world of RichQUACK!
RichQUACK: A Meme Token with a Twist
RichQUACK (QUACK) is a unique meme token built on the Binance Smart Chain (BSC). With its hyper-deflationary model, RichQUACK aims to generate rewards for its holders through frictionless yield generation. But what sets RichQUACK apart from other meme tokens? Let's explore its key features.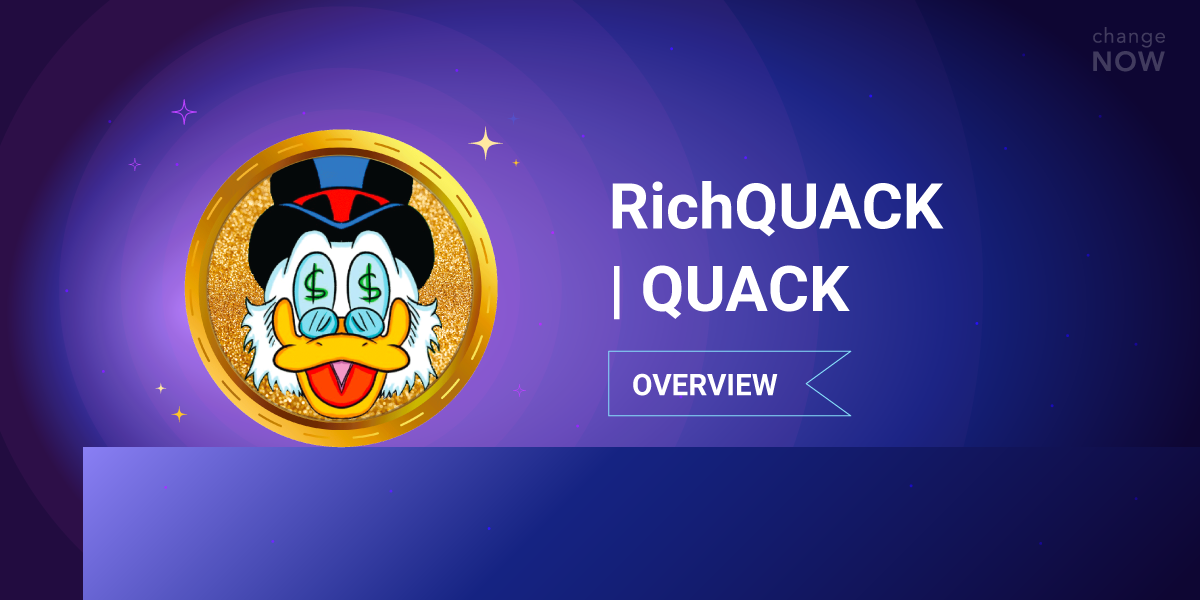 Automatic Liquidity and Frictionless Yield Generation
One of the standout features of RichQUACK is its automatic liquidity mechanism. By imposing a 12% transaction fee on each trade, RichQUACK ensures that liquidity is constantly generated and distributed among its holders. This means that simply by holding QUACK tokens in your wallet, you have the potential to earn more QUACK over time.
Jackpot Raffle and Lottery Platform
RichQUACK goes beyond the traditional meme token model by offering a jackpot raffle and lottery platform. Holders of QUACK tokens have the chance to participate in the "Quackpot" raffle and win exciting prizes. Additionally, RichQUACK hosts a lottery game that pays out rewards on an hourly, daily, weekly, and monthly basis. These unique features provide an additional layer of excitement and engagement for the RichQUACK community.
Anti-Whale Mechanism for a Fair Distribution
To ensure a fair distribution of QUACK tokens, RichQUACK has implemented an anti-whale mechanism. No wallet can hold more than 1% of the total token supply, and sells are restricted to less than 1% of the total supply. This mechanism prevents market manipulation and promotes a more equitable distribution of tokens among the community.
What about QUACKONOMICS?
QUACKonomics refers to the tokenomics of the QUACK token. Understanding tokenomics is crucial for investors and potential buyers. Here are the key aspects of QUACKonomics:
Total Supply: The total supply of QUACK tokens is 100 quadrillion.
Burn Mechanism: 50% of the QUACK supply has already been burned, resulting in a faster burn rate and a reduction in the total supply.
Transaction Fee: Each transaction incurs a 12% fee. This fee is divided as follows: 4% for holder rewards, 4% for automatic liquidity, 2% for the Quack pump and burn wallet, and 2% for marketing and development.
Ecosystem Rewards: 3% of each transaction is allocated as ecosystem rewards. 1% goes to the deployer wallet, and 2% is locked in Team.Finance for airdrops and staking rewards.
Anti-Whale Feature: RichQuack has implemented an anti-whale feature, limiting wallet holdings to less than 1% of the token supply. This helps prevent market manipulation and ensures a more equitable distribution of tokens.
Use Cases and Benefits of RichQUACK (QUACK)
Now that we have explored the key features and tokenomics of RichQUACK, let's discuss its use cases and the benefits it offers to users.
Investment Opportunity: RichQUACK presents an investment opportunity for those looking to enter the cryptocurrency market. With its hyper-deflationary model, the potential for token value appreciation is significant. By buying and holding QUACK tokens, you have the opportunity to earn rewards and potentially see your investment grow over time.

Participation in the RichQUACK Ecosystem: By holding QUACK tokens, you become an integral part of the RichQUACK ecosystem. You have the chance to participate in exciting events such as the Quackpot raffle and the lottery game. These activities not only provide entertainment but also offer the potential to win valuable prizes and rewards.

Community Engagement and Networking: RichQUACK fosters a vibrant and engaged community of like-minded individuals. By joining the RichQUACK community, you can connect with fellow crypto enthusiasts, share insights, and collaborate on various projects. The community aspect of RichQUACK adds a social element to your crypto journey, making it a more enjoyable and rewarding experience.
Where to Buy QUACK: ChangeNOW, Your Gateway to RichQUACK
Now that you're excited about the potential of RichQUACK and its unique ecosystem, you're probably wondering where you can buy QUACK tokens. Look no further than ChangeNOW! As a trusted and reliable cryptocurrency exchange platform, ChangeNOW offers a seamless and secure way to buy QUACK and other cryptocurrencies.
By choosing ChangeNOW, you can enjoy the following benefits:
Competitive Rates and Low Fees
ChangeNOW provides competitive rates for buying QUACK tokens, ensuring that you get the best value for your investment. Additionally, the platform charges low fees, allowing you to maximize your returns.
Fast and Secure Transactions
ChangeNOW prioritizes the speed and security of transactions. With its advanced technology and robust security measures, you can rest assured that your QUACK purchases will be executed swiftly and securely.
Wide Range of Supported Cryptocurrencies
ChangeNOW supports more than 850 assets, including QUACK. This allows you to diversify your portfolio and explore other investment opportunities within the crypto space.
User-Friendly Interface and Excellent Customer Support
ChangeNOW's user-friendly interface makes it easy for both beginners and experienced traders to navigate the platform. Additionally, the platform provides excellent customer support, ensuring that any questions or concerns you may have are addressed promptly.
So, what are you waiting for? Head over to ChangeNOW and start your RichQUACK journey today!
Embrace the QUACKtastic World of RichQUACK
Attention all QUACK lovers! We're thrilled to announce an exciting contest just for you. Find 5 hidden QUACK tokens in the picture below and reply on our Twitter with your discoveries for a chance to win the prize. Good luck and happy hunting!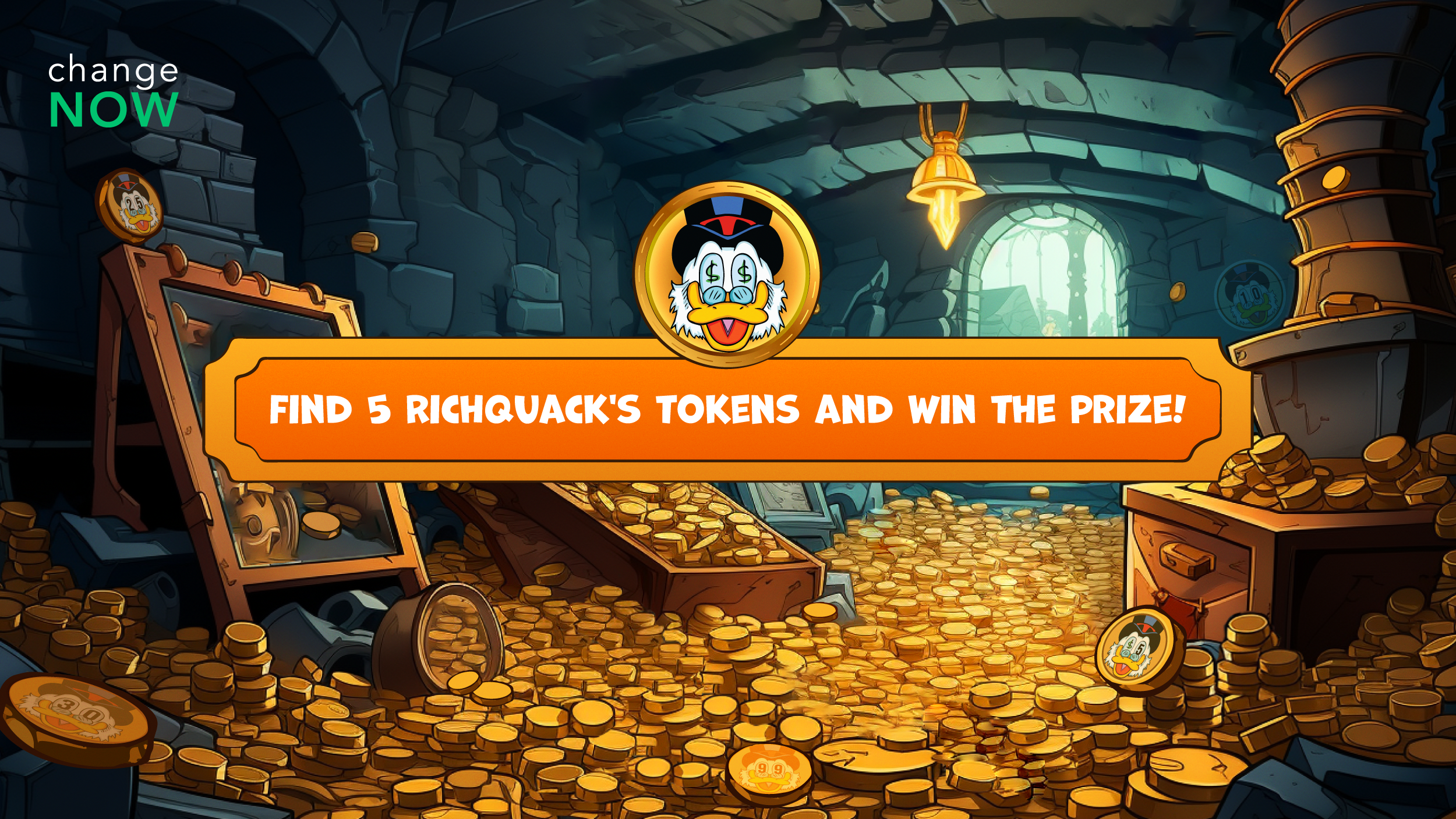 In conclusion, RichQUACK offers a unique and exciting ecosystem for crypto enthusiasts. With its hyper-deflationary model, frictionless yield generation, and engaging features such as the Quackpot raffle and lottery game, RichQUACK provides ample opportunities for holders to earn rewards and actively participate in the community. By choosing ChangeNOW as your preferred platform for buying and exchanging QUACK, you can enjoy competitive rates, fast transactions, and a secure crypto environment.
Quack your way to success with RichQuack and ChangeNOW!
Disclaimer: This article is for informational purposes only and should not be considered financial advice. Always DYOR before making any investment decisions.