Ravencoin (RVN) Review 2022
Ravencoin is a Bitcoin fork that focuses on the creation and management of digital assets, their secure instant transfer, and fair mining.
The RVN blockchain was launched in January 2018 on the 9th anniversary of Bitcoin's launch. Its name refers to The Game of Thrones series: in its fantasy world of Westeros, ravens carry statements of truth, and Ravencoin serves to carry statements of truth about asset owners.
Raven is considered one of the most promising Proof of Work blockchains, and the RVN price movements seem to prove this: from January 2021 to early 2022, the coin has surged 8X. Let's see what value there is behind Ravencoin, what the price predictions are, and where you can buy and store RVN.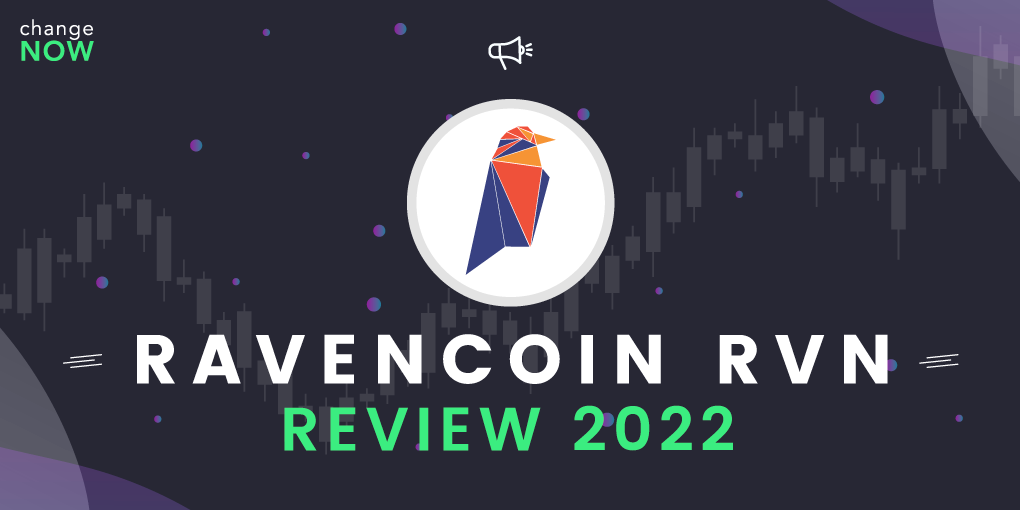 About Ravencoin (RVN)
Ravencoin is an open-source digital peer-to-peer network launched in early 2018. Its main focus is to facilitate global peer-to-peer asset transfers. However, these transfers are not limited to the platform's native coin, RVN.
In Ravencoin, users can issue and manage custom digital assets. Developers can create and track customized utility, game, security, and non-fungible tokens. These can be named, limited in supply, and issued as collectibles. Also, the platform allows for tokens' secure peer-to-peer transfer.
One of the core components of Ravencoin's philosophy is a fair distribution of tokens:
Fair launch. When the RVN mainnet went live, everyone had an equal opportunity to invest in Ravencoin or mine it. There were no ICO, pre-mining, token sales, rewards for developers and founders.
Fair mining. Ravencoin addresses the problem of the centralization of mining – it reduces the barrier to entry for individual miners. The protocol changes the hashing algorithm from time to time (there have been 2 updates since 2018) and alternates between different hash functions from block to block, which prevents ASICs from adapting to them. Thus, mining RVN with a simple GPU is profitable, so many regular users can afford it. This decentralizes Ravencoin mining and makes its reward distribution fairer.
Ravencoin (RVN) Team
Ravencoin was founded by businessman Bruce Fenton and developer Tron Black. The latter is now a lead developer of Ravencoin. When RVN went live, its core team was funded by Medici Ventures, an Overstock.com subsidiary. Tron Black was the lead dev in Medici Ventures. Later, in 2020, the community launched the Ravencoin Foundation to further guide the blockchain.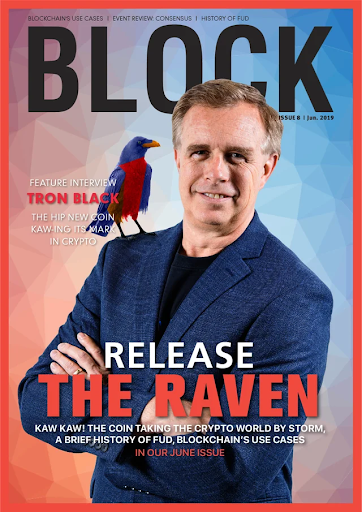 Tron Black on the cover of BLOCK Magazine in June 2019. Image source
Ravencoin doesn't feature the team on the official website – it's an open-source project with a public lead developer and the Ravencoin Foundation that does all the job related to maintaining and developing Ravencoin.
Ravencoin (RVN) Roadmap
The Ravencoin roadmap is published on the official platform's GitHub page and features 9 phases. The first few of them had been completed as of March 2021 (that's when the latest commit to the GitHub post was made). They include the RVN mainnet launch, creation and management of assets, ASIC resistance, and messaging.
Phase 8 and 9 have also been completed: they allow for easier backup with a seed phrase and the restricted asset feature. Phase 6 (voting) and Phase 7 (improved compatibility of newly created assets) were in progress as of 2022.
Ravencoin (RVN) Network
Ravencoin is a fork of the Bitcoin code with four main changes:
Increased max supply. It's 21 billion in Ravencoin compared to Bitcoin's 21 million.
Increased block reward. While a Bitcoin miner receives 6.25 BTC per block, their Ravencoin counterpart gets 2,500 RVN. Just like Bitcoin, Ravencoin undergoes halving every 4 years. The first one took place in January 2022 and reduced the 5,000 RVN reward by half.
Reduced block time. A Ravencoin block is issued every 1 minute, compared to Bitcoin's 10 minutes.
Another hashing algorithm. Ravencoin is a Proof of Work currency, meaning there's a competition of miners whose consensus is needed to validate blocks. While Bitcoin uses the SHA-256 hash function, Ravencoin leverages the KAWPOW algorithm.
Previously, RVN ran on X16R and X16Rv2 hash functions, but the team abandoned them so that ASICs don't adjust to Ravencoin mining. RVN stays ASIC-resistant to date and is mined on affordable GPUs.
How to Mine Ravencoin
Get mining hardware. For RVN mining, you need a GPU with at least 4 GB of RAM. Such graphic units as AMD or Nvidia's 1070 Ti fit.
Set up an RVN wallet. We will list the available options in a dedicated paragraph below, but what definitely works for mining is the Raven Core wallet.
Get software that is compatible with Raven's KAWPOW hashing algorithm. For NVIDIA units, you can leverage the open-source Kawpowminer and also T-Rex Miner or Gminer that charge a 1% and 2% developer fee, respectively. For AMD cards, you can use TeamRedMiner (2% fee). For both AMD and NVIDIA, Nanominer and NBMiner fit (1% and 2% fee, respectively).
Select a mining pool. You can choose one by the frequency of mined blocks and the reward model. In this article, we reviewed the pros and cons of each model.
Ravencoin Value
Ravencoin was showing a moderate price dynamic in the period since its launch and until January 2021. The coin experienced three major price peaks and returned to its basic $0.01-0.02 level. In early 2021, RVN surged more than 11X in less than a month, hitting an all-time high of $0.285. This happened against a backdrop of a major crypto bull run and the GameStop stocks frenzy. As of January 21, 2022, the coin is trading at roughly $0.08.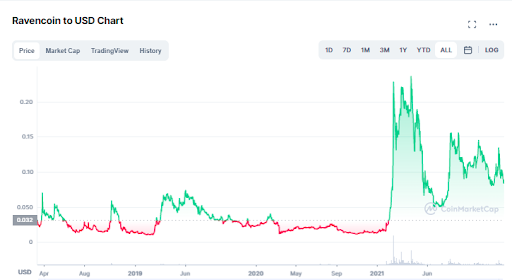 Ravencoin Price Prediction
Most Ravencoin price predictions are bullish in the long term. The platform's possibility to issue security tokens and its fair mining attract new users, raise the demand for Ravencoin, and push its price up. What's more, the blockchain went through halving in January 2022 — this event is often bullish for PoW coins in the long term.
Wallet Investor expects RVN to hit $0.16 in 1 year and $0.44 in 5 years. Digital Coin Price gives Ravencoin about $0.13 in January 2023. Please keep in mind that these predictions have been made by AI models based on technical analysis only. Do your research to make informed investment decisions.
How Can I Buy and Trade Ravencoin (RVN)?
Ravencoin is traded on centralized exchanges (Binance and others) and non-custodial services such as ChangeNOW.
To buy Ravencoin on a centralized exchange, you need to register and, in most cases, complete the identity check. Once that is done, you can buy RVN with a credit card or cryptocurrencies.
No signup is needed on ChangeNOW to buy Ravencoin. You can get RVN with one of 350+ coins of 60+ fiat currencies in a few steps, and the whole process will take you just a few minutes.
Ravencoin Wallets
Raven Core. This is the official open-source wallet for Ravencoin. It has been developed by the RVN team and allows for making the most of the Raven ecosystem: sending and receiving payments in all RVN-based tokens, creating and managing all possible kinds of digital assets.
NOW Wallet, the brainchild of ChangeNOW, was developed following years of our crypto exchange experience and inspired by the community. As a non-custodial wallet, NOW stores private keys locally on your device so no one but you can access them. No private data is collected. In NOW Wallet, you can swap crypto right in the app with no extra fees, buy Ravencoin and other assets for 50+ fiat currencies, and simply enjoy managing your assets in a user-friendly interface.
Atomic Wallet. This one is officially recommended by the Ravencoin team as a third-party wallet. Besides RVN, you can store and manage over 500 cryptocurrencies in Atomic Wallet, which means you can access all your portfolio at once from any device. The wallet is decentralized, meaning that you own the private keys, hence your crypto.
Ravencoin (RVN) Summary
Ravencoin is a Proof of Work blockchain where users can create, manage, and transfer tokens that serve as securities, utility assets, or collectibles. RVN is a Bitcoin fork with a faster block creation and a different hashing algorithm that makes Ravencoin ASIC-resistant and more affordable for individual miners. These features explain the coin's increasing popularity, its price increase in 2021, and the bullish predictions for the future.