Qubit Finance Hacked for $80 Million in Latest DeFi Breach
Qubit is the latest DeFi initiative to fall victim to hackers, losing about $80 million in the final hours of Thursday, in what has become the seventh biggest crypto hack in history.
Qubit Hit Hard
Unknown hackers gained access to the Binance Smart Chain lending system Qubit Finance and stole 206,809 ($80 million) BNB tokens. On 27 January, at about 9:36 PM UTC, a hacker took advantage of a weakness in the Qubit Bridge, a cross-chain connection between Ethereum and Bitcoin. This bridge enables users to deposit WETH from the Ethereum mainnet into Qubit's BSC-based smart contract in order to generate xETH for use as lending collateral on the protocol.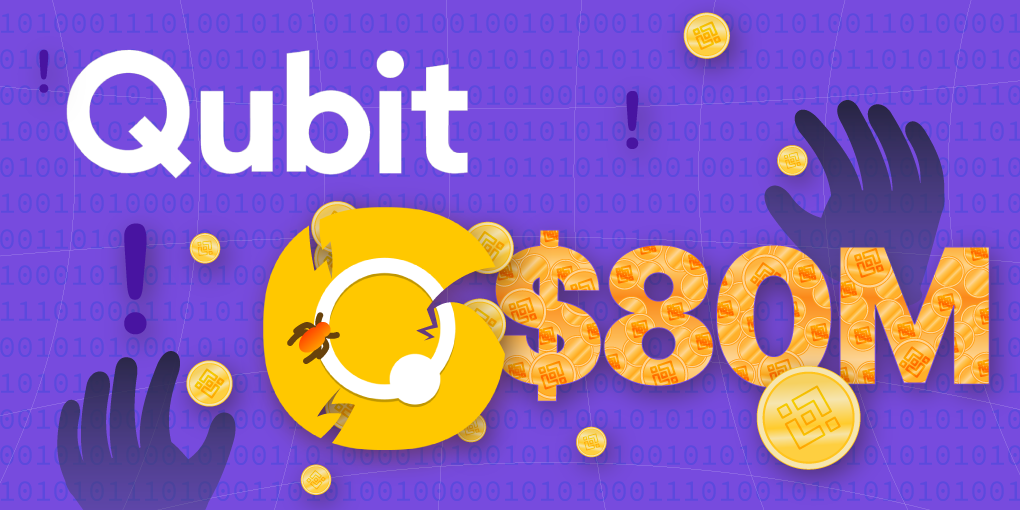 Due to a fundamental flaw in the bridge's smart contracts, the hacker was able to mint xETH without depositing any WETH, granting them access to Qubit's pools for leveraged loans indefinitely.
The team said in a Twitter post reporting the bug that the hacker "minted infinite xETH to borrow on BSC." The hacker then used the xETH as collateral to steal 206,809 BNB from Qubit Finance, which was valued around $80 million at the time. The stolen wealth is visible in the hacker's address.
Tracking the Hacker
The Qubit team has offered the hacker a $250,000 prize in exchange for the stolen cash, as part of the protocol's continuing bug bounty programs with ethical hacking platform Immunefi. Additionally, the Qubit team attempted to contact the hacker in another post in order to negotiate. According to statistics from DeFi Yield, the Qubit Finance vulnerability looks to be the seventh-largest DeFi protocol theft in terms of stolen cash.
Since its launch late 2020, the BSC chain has gradually become infamous for the number of successful attacks on the platform. Aside from spotted vulnerabilities, there have also been cases of tokens that were completely rug pulled weeks after launch. Qubit Finance is a lending protocol that has been developed to provide lending as a service for the Binance Smart Chain. Its native QBT token has fallen 33.4% in the last 24 hours to an all-time low of $0.004, down 99.1 percent from its September all-time high of $0.58.
The Qubit team has issued a statement that until further notice, a number of functionalities on the platform would be unavailable until the hacker is contacted, and the impact of stolen assets is evaluated.
You can buy or trade any of your preferred tokens on ChangeNOW without any registration.
Welcome to the NOW experience! The ChangeNOW team presents you with the new community-inspired crypto wallet – NOW Wallet. For safe and efficient asset tracking, try our crypto portfolio tracking app – NOW Tracker.