Private Keys Export Feature Added to NOW Wallet
Users can now export private keys with the new version of NOW Wallet.
Signing transactions and proving ownership of blockchain addresses require private keys. Private keys are an integral part of cryptocurrencies because they protect users from theft and unauthorized access to their funds.
NOW Wallet now lets you export your private keys for accessing your coins in another wallet. The new wallet will manage the imported address, and your digital assets from NOW Wallet will be added to its balance.
If lost, private keys cannot be recovered. Therefore, securing your private keys is critical.
NOW Wallet generates and binds all private keys to a 12-word phrase. These words will help you recover your funds in case your NOW Wallet crashes or if you cannot access it for some other reason. Write them down and keep them offline where they are safe. If you lose or forget these, you will lose access to your crypto assets.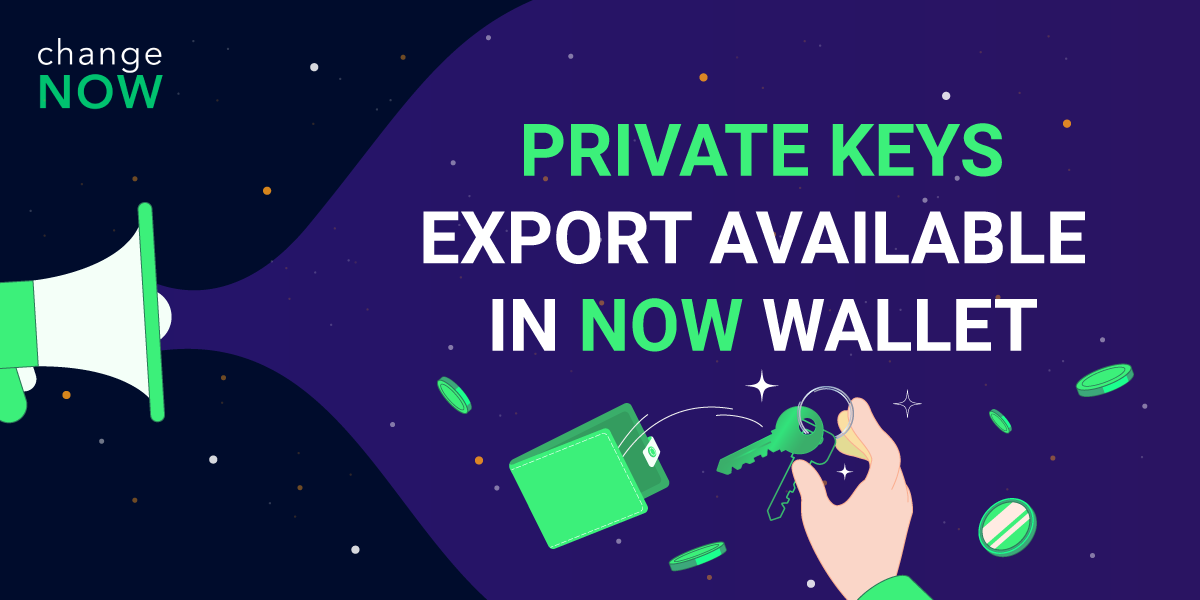 Not Your Keys, Not Your Coins
You cannot be guaranteed ownership of your crypto assets if you keep them on a centralized exchange or with third-party custodians.
Using custodial services, users aren't concerned about storing their private keys as the wallet provider can handle this for them. Unfortunately, they are often hacked or phished; their account can even be seized and frozen by authorities.
Meanwhile, non-custodial crypto wallets like NOW Wallet are safer because they do not store private keys and are therefore not targeted by bad actors.
It is never a good idea to give anyone your recovery phrase or private keys. Those who have access to the details can take your funds without your permission.
Be safe, store private keys wisely, and have a smooth crypto experience with ChangeNOW!