President Biden to Regulate Bitcoin and the DeFi Sector
US President Joe Biden has set plans in motion to regulate Bitcoin and other cryptocurrencies in a bid to bring stability and standardization to decentralized finance.
Biden Plans for Regulation
President Joe Biden wants federal agencies to regulate cryptocurrencies, digital assets, and Bitcoin. As the Federal Reserve said it would start raising interest rates to stop inflation, the crypto sector and the stock market are having a rough time, losing a lot of value. Biden's eyes aren't only on Bitcoin but also on other key niches like NFTs and stablecoins.
The Biden administration will work with regulators like the Securities and Exchange Commission (SEC) in its grand plans for the crypto space. Other regulatory bodies like the Commodity Futures Trading Commission, the Internal Revenue Service, and the Financial Industry Regulatory Authority, are also known to have roles to play.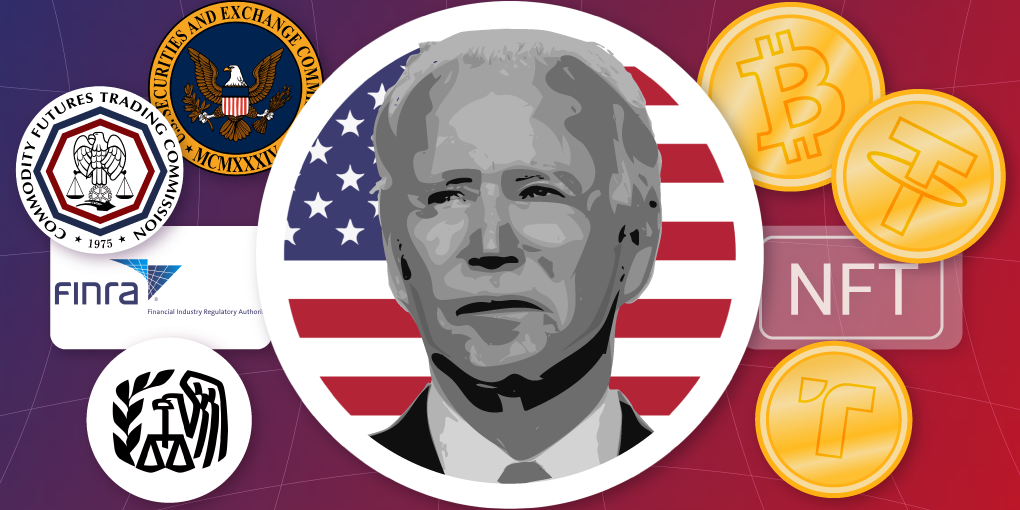 Regulators are expected to look in detail into tokens for legal inconsistencies, semblances of ponzi schemes, and illegal transactions. SEC in particular will investigate whether or not tokens should be classified as securities. Should Biden be intense with his probe of the crypto industry, several crypto entities and tokens might end up registering with the government.
When there is a lot of concern about a part of the financial industry, the regulatory bodies usually perform extra-intrusive examinations and audits. Discussions will be held with key people running crypto platforms and brokerages that let people buy, sell, and trade securities.
Implications of Regulation on Bitcoin, NFTs, and Altcoins
While Bitcoin and other cryptocurrencies aren't deemed securities yet, authorities will look into money laundering, pump-and-dump schemes, unscrupulous business practices, wash sales, and market manipulations. There are concerns about the US government's motives.
The outrageous pool of money flowing around in the crypto industry is suggested to be an underlying, unstated cause for Biden's sudden interest. The SEC and other financial regulators, like the Commodity Futures Trading Commission, Office of the Comptroller of the Currency, Consumer Financial Protection Bureau, Federal Reserve Bank, and FINRA, are likely to ask and receive funding from President Joe Biden's administration. This is even more possible considering Senator Elizabeth Warren and Senator Bernie Sanders have been very expressive about their dislike and distrust of Wall Street.
It is sensible to expect a hiring spree at the Securities and Exchange Commission and other regulatory agencies soon. The crypto outfits and exchange platforms based in the US will be subjected to rigorous examinations, audits, and reviews. There may be a significant surge in the employment of compliance, risk, audit, legal, and regulatory specialists to keep banks and financial institutions safe and out of the regulatory sights.
You can buy or trade any of your preferred tokens for Bitcoin (BTC) on ChangeNOW without any registration.
Welcome to the NOW experience! The ChangeNOW team presents you with the new community-inspired crypto wallet – NOW Wallet. For safe and efficient asset tracking, try our crypto portfolio tracking app – NOW Tracker.