Pitbull (PIT) Review 2022
Pitbull is one of the largest meme coins by market cap, and it managed to create a vibrant community and ecosystem in slightly more than a year since launch. Its unique reward system automatically sends a share from every PIT transaction to every token holder, and part of supply is constantly burned, ensuring a robust incentive system for investors. Let's review the Pitbull ecosystem and the team behind it.
About Pitbull (PIT)
Pitbull is a dog-themed meme coin launched by anonymous developers on Binance Smart Chain in April 2022. PIT ranks 7th on the CoinMarketCap's meme coins list. What makes Pitbull different from other dog tokens?
Investor rewards. One of the main perks of Pitbull is auto-staking: all token holders automatically receive a share from all PIT transactions made by other users. The rewards for holding Pitbull are continually dropped directly to investors' wallets.
Deflationary tokenomics. A share from every PIT transaction is sent to the "black hole", meaning that it gets burned. 50% of token supply was also transferred to the dead address upon token's creation.
Renounced ownership. Pitbull developers don't own any significant stake in the token's supply. The project had a fair launch with no presale.
Fully community-driven. All development, marketing, data analysis, and design are done by volunteers only, which allowed Pitbull to "grow into an inspirational model of community-driven success." All PIT investors are involved in voting for fund allocation, they also choose exchanges for token listing and shelters for donations.
Enhanced security. It's impossible to modify Pitbull's smart contract or pull liquidity from it. The platform has undergone an audit by TechRate that hasn't found any security issues. The PIT community wallet is protected by a multisig solution.
Charity. PIT partners with dog shelters across the globe and donates to organizations that help pitbulls.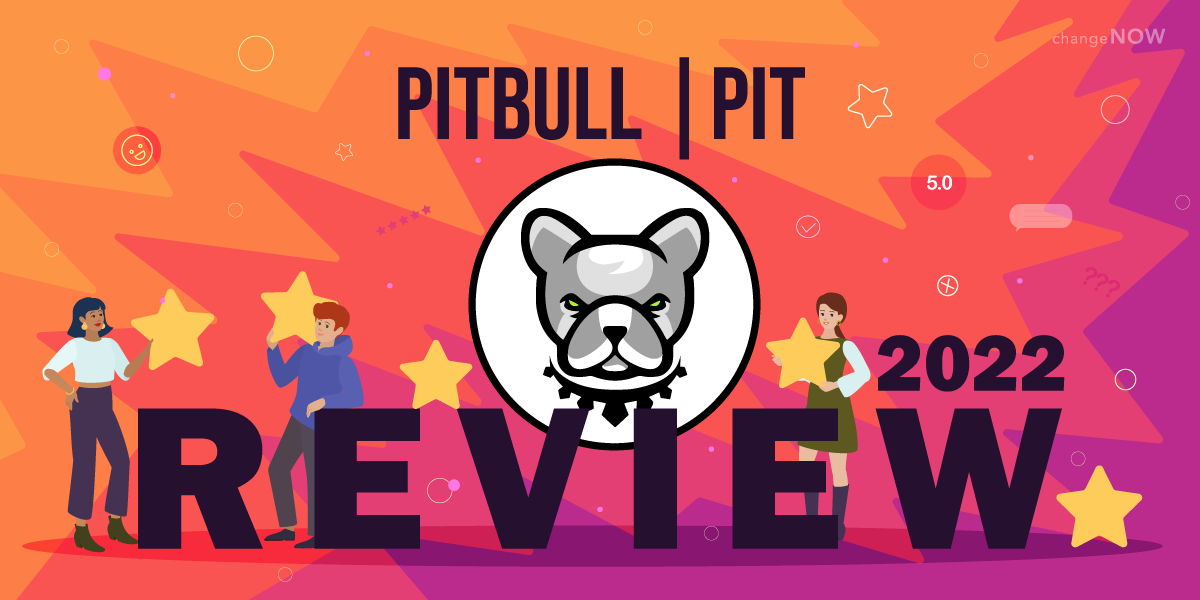 Pitbull (PIT) Team
Pitbull was launched by anonymous developers who have renounced their ownership of the project. According to the whitepaper, the Pitbull team is completely made of volunteers.
The document and the Pitbull website list several community volunteer leads: for instance, @Jackiboi (Jack) is a software engineer responsible for development, and @SevenDigitz (Jari) is a communication manager. You can find them as members of the Pitbull's official Telegram group.
The volunteer team of Pitbull is organized into several groups:
Administration coordinates the project and proposes new PIT use cases.
Marketing optimizes social outreach and manages Pitbull social media.
Media is responsible for creation of images, videos, and music that help promote Pitbull.
Software/Web Development build apps in the Pitbull ecosystem.
Other groups do communications, writing/translation, moderation, and support.
The volunteer team of Pitbull is constantly growing as the project reaches wider audiences.
Pitbull (PIT) Roadmap
The Pitbull community has accomplished a lot in slightly more than a year. The project was listed on several exchanges, participated in charity, created some NFT collections, and launched ecosystem products that we will discuss below – PitStop, PitFarm, PitSwap, and the others.
According to the official roadmap, here's what the team will focus on in the near future:
Development of PitSafe – a Binance Smart Chain DeFi asset manager that any PIT holder can use for free. It allows researching various BSC tokens, providing liquidity to pools, and even launching custom tokens. The more PIT a user holds the more features are unlocked for them.
Developing PitGames and integrating it to the metaverse. Pitbull will launch in-browser play-to-earn games, including a card trading game.
Listings on Tier-1 crypto exchanges.
Launch of PitDAO, a platform for community proposals and voting.
New Pitbull NFT collaborations.
The introduction of PIT payment options will allow using Pitbull as a real-world currency and for shopping with a credit card.
Performance upgrades for all existing Pitbull ecosystem products.
PitBurn events scheduled to increase deflationary pressure on the token. The share of PIT supply sent to the blackhole will reach 60%.
Pitbull (PIT) Network
The Pitbull community has created an ecosystem of products running on Binance Smart Chain including an asset & price tracker, decentralized exchange, NFT, crypto magazine, and more. All of them were developed by the Pitbull volunteer team.
Pitbull ecosystem
PitStop is a platform where users can follow the Pitbull token: Tracker allows watching how much PIT auto-staking rewards accrued, and Charts lets users keep track of the Pitbull price dynamic as well as other BSC-based tokens. There is also Lottery where everyone can win some free PIT.
PitFarm allows you to farm your Pitbull token in order to win NFT Points. These can be redeemed for Pitbull NFTs that are sold at a marketplace right here. You can also buy PIT collectibles straight out, and the proceeds will be directed to the community fund, PIT liquidity pool, and charity.
PitSwap is a decentralized exchange – an automated market maker where investors can get PIT for BNB, BUSC, or other cryptocurrencies based on BSC originally or in wrapped format.
PitMag. A regular magazine and the first communication media created by a token community tells about Pitbull milestones and the crypto industry in general. It's available in English, Turkish, and Spanish.
PitStore is a platform where you can buy some official Pitbull merch for USD. It is planned to integrate PIT payments to this website. The money raised goes to Pitbull development and charity.
Tokenomics
According to the Pitbull smart contract, all holders receive a distribution of 2% from each PIT transaction made by users. The team describes this feature as a unique reward for investors who don't have to stake or farm PIT on any platform to receive passive gains. This is not only user-friendly but helps Pitbull investors save on gas fees. The size of the reward is increasing as PIT attracts new users and the transaction volume grows.
The initial total supply of Pitbull was 100 quadrillion, of which 50% were burned prior to the release of the token. Besides that, 2% from every PIT sell trade is also sent to the dead address to push the Pitbull value up. At the time of writing, 59.83% of the total PIT supply was located in that dead address subbed as the blackhole. The Pitbull team constantly updates the statistics on its website.
According to BscScan, there are over 509,000 wallets holding Pitbull. The largest one keeps 6% of the supply, and only 4 addresses keep more than 1%.
How to Mine Pitbull (PIT)
Pitbull is a BEP-20 cryptocurrency running on Binance Smart Chain, so you can't mine it like other Proof of Work coins. Here are some other ways of how you can get Pitbull:
Simply hold some PIT in your wallet, and more tokens will be regularly dropped to your wallet as an auto-staking reward.
Buy Pitbull in a crypto exchange service.
Pitbull (PIT) Value Data
As of August 18, 2022, Pitbull is trading at 0,000000000818. This is about the average price that the token has maintained since the beginning of 2022. The current circulating supply of PIT is about 40.2 quadrillion, while another 59.8 quadrillion have been locked in the dead address. The Pitbull market cap is $32.8 million, the token is ranked 505th on CoinMarketCap.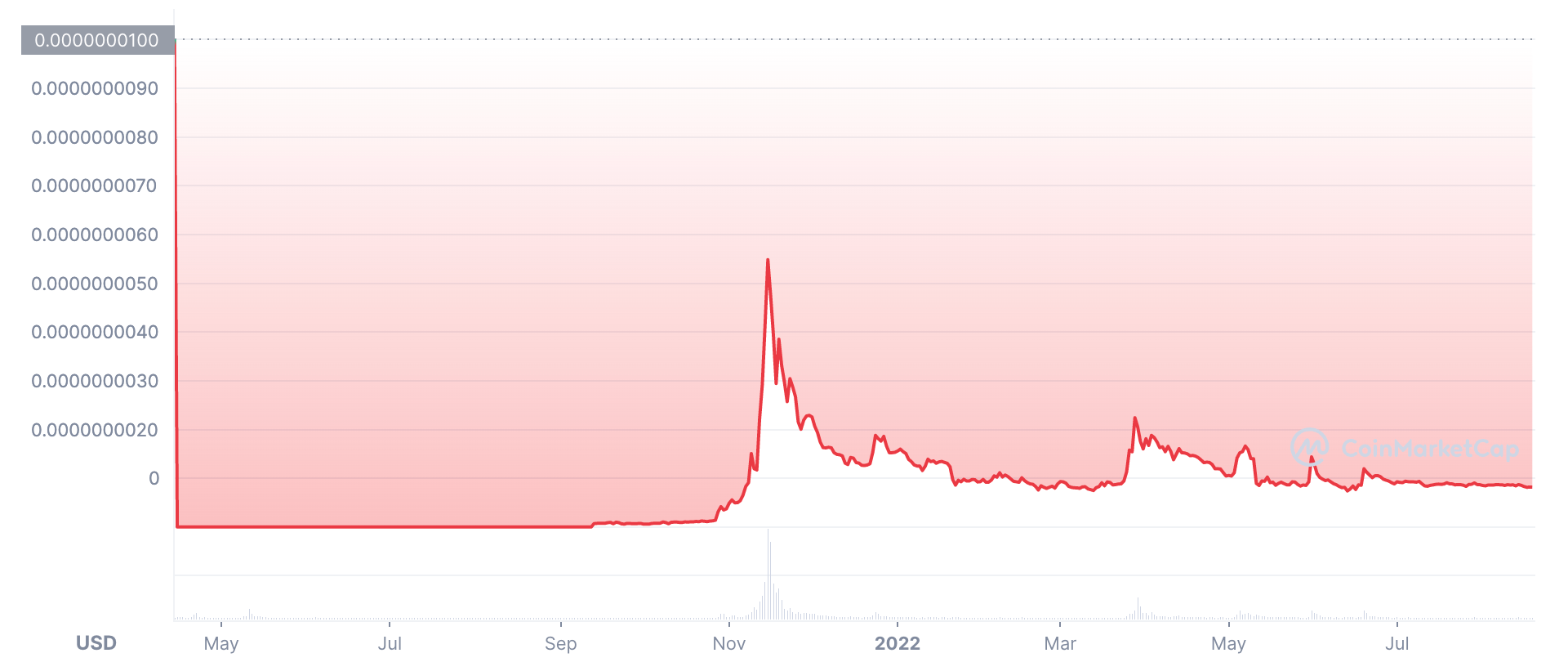 Pitbull (PIT) 2022 Price Prediction
The Pitbull price hasn't experienced any significant drops this year even given the current market turmoil. The PIT team is active on social media where it updates the community about constant achievements in accordance with the roadmap. These are the positive signs for the future of Pitbull.
Price prediction services confirm this point of view. WalletInvestor considers PIT an "awesome" one-year investment, claiming that the token will hit $0.000000002 by July 2023 (that's a +55% change). According to DigitalCoinPrice, the maximum PIT price will be $0.00000000123 this year (+27%), and the average price of the token in 2023 will be about $0.00000000133.
How Can I Buy and Trade Pitbull (PIT)?
Pitbull has contributed tens of thousands of dollars from the community wallet to exchange listings: the token is now trading at WhiteBit, MEXC, CoinTiger, IndoEx, Gate.io, and a dozen more centralized platforms. As for decentralized exchanges, PIT can be found on 1inch and PancakeSwap. To get Pitbull instantly without registration and hidden fees, use ChangeNOW crypto exchange service.
Pitbull (PIT) Wallets
Pitbull is a BEP-20 token, so you can store it in any Web3 wallet such as MetaMask, Trust Wallet, and NOW Wallet.
NOW Wallet was developed by ChangeNOW following years of our experience in the crypto exchange niche. We've built a solution for those who value privacy and usability equally high. NOW Wallet is non-custodial, hence the private keys are completely under your control; the interface is so intuitive that you'll find it comfortable at first sight. The wallet allows you to store 400+ cryptocurrencies including Pitbull. You can exchange, buy and sell the token right in the app, and you can use any Pitbull product with NOW Wallet using the WalletConnect feature.
Pitbull (PIT) Crypto Exchanges
ChangeNOW crypto exchange service allows you to swap PIT in a matter of minutes. There is no obligatory signup: simply set the surrencies and the amounts, specify your Pitbull address, and deposit cryptocurrency that you want to swap for PIT. We charge no hidden fees: all commissions are already included in the estimated rate that you see in the exchange widget. On ChangeNOW, you can also buy Pitbull for fiat: there are 60+ currencies that you can purchase PIT with using your debit or credit card.