Pauline Shangett Reviews Crypto Regulations for Brave New Coin
Our team members love sharing their corporate insights with a broad crypto audience.
Our team members love sharing their corporate insights with a broad crypto audience. That's why ChangeNOW's op-eds often get published in various prominent financial media outlets.
Since this week is the last one before the holiday season, our CBDO Pauline Shangett has written something special. In her latest op-ed for Brave New Coin, she reviewed all the major crypto regulation news of 2021 and shared her expectations from the next year.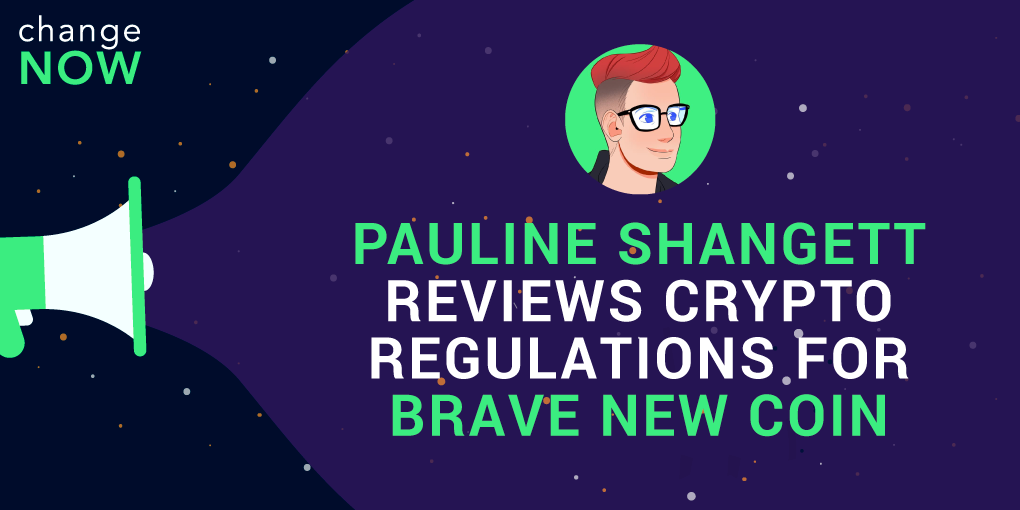 Pauline starts her article by analyzing the general yearly statistics on crypto adoption:
"Whatever your feelings toward cryptocurrencies might be, their acceptance is growing rapidly, with global crypto-asset capitalization exceeding $2 trillion amid increased institutional demand and new uses of technology.
According to Chainalysis' data, global adoption has increased by more than 2,300% since 2019 and over 881% in 2020."
Next, our CBDO discusses how crypto is currently regulated (or unregulated) in different countries. Here, she gives examples of El Salvador making Bitcoin its legal tender this year, China's ban on cryptocurrencies, Brazil's bill regulating BTC and other coins, as well the situation in Canada, the UK, the EU, and the US.
In the end, Pauline draws conclusions from the overview and anticipates what changes in terms of regulation cryptocurrencies might await in the near future. She ends the article with these words:
"To engage in crypto, institutions would have to comply with strict requirements, including limitations on their exposure to digital assets. While waiting for that to happen, every country has an array of regulatory and compliance frameworks, some carefully developed and some implemented hurriedly. However, there's no denying that the growing prominence of cryptocurrencies will have an impact on decision-making in governments and regulators going forward."
To check out the 2021 crypto regulation wrap in more detail, read the whole op-ed here.
Merry Christmas and Happy New Year,
ChangeNOW team