NOWTracker Review
NOWTracker is the ChangeNOW team's сrypto tracking solution. It is a convenient crypto portfolio tracking app that makes it extremely easy to manage your crypto assets.
Having digital money distributed between multiple accounts, it might not be an easy task to track currency updates. The more in demand it becomes for a service that allows timely monitoring changes of the market and currency transactions, simplifying control over one's finances.
The response to such a request is NOWTracker – the app that provides users with needed tools to stay up to date with their assets in real time.
What Is NOWTracker?
Despite its simplicity, the idea of having at hand a single tool for tracking the exchange rate of cryptocurrencies, trading on exchanges and managing their assets was not fully implemented until NOWTracker was developed.
NOWTracker is designed for monitoring crypto assets on multiple exchange accounts and wallets, providing an opportunity to make a quick decision on buying, trading or transaction. You can track the necessary data from the public addresses of all your wallets – hot and cold on one screen.
The app is acceptable both for those who make their first steps in crypto, and highly experienced market participants due to its understandable and user-friendly interface. The sorting, filtering, and information feed functions are configured automatically, but also can be tuned manually. App's features are regularly improved in view of users' feedback.
NOWTracker doesn't require any registration or a sign-up. It means the app doesn't collect or store any of its users' personal data. All sensitive information stays on your device. The statistics or assets data are not shared with any third parties and are protected by Advanced Encryption Standard (AES). All this makes NOWTracker completely safe to use just like all the other products of the ChangeNOW ecosystem.
The app is available for no pay in the App Store and Google Play.
Central Features
Any Crypto Asset Can Be Tracked
The app provides tracking of all the accounts and managing your digital finances, kept in different wallets. Nevermind of how many accounts you use – NOWTracker works with both hot and cold wallets, so all of them are displayed and tracked.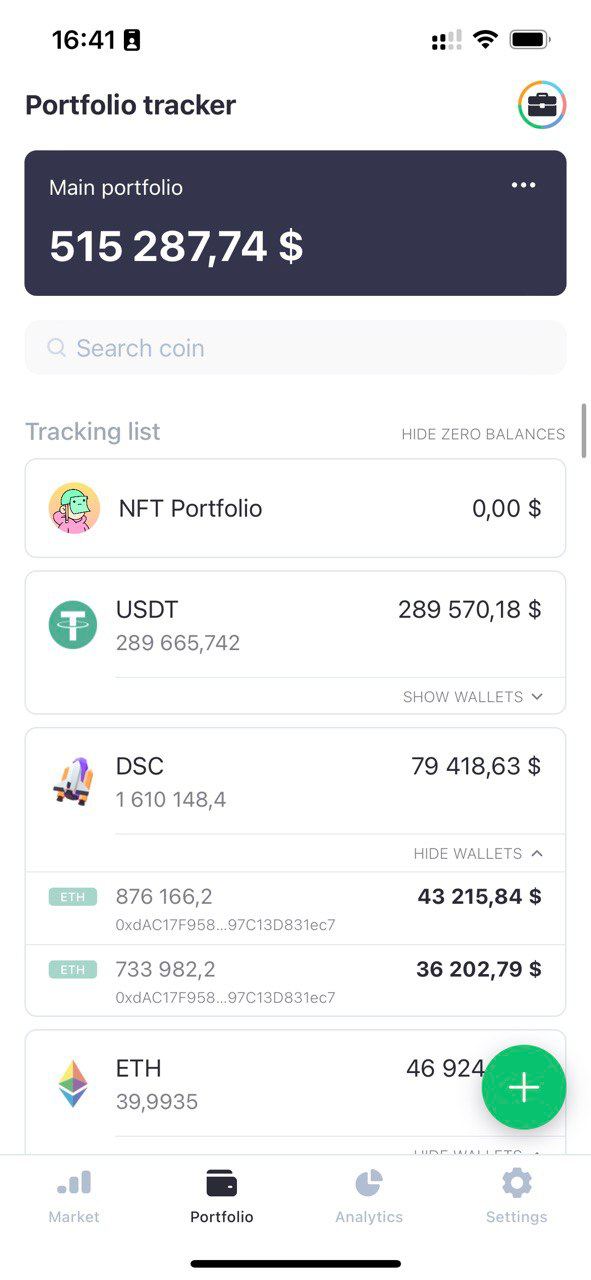 Manual Tracking
If you need to track not one, but several portfolios with various purposes, this feature is to help you. Just add all your portfolios to the account and track them separately, moving one asset to another portfolio, if necessary. The best part is that using the manual tracking function, you can build a portfolio of your dreams allowing you to monitor its efficiency before making a decision of buying it.
Market Capitalization Data Of Top-200 Cryptos
NOWTracker selects the top 200 coins and ERC-20 Tokens displaying them on the first page of the app in a row by market capitalization volume. The app allows you to track the latest changes of the market, popular currencies price and fluctuations of crypto during the last 24 hours.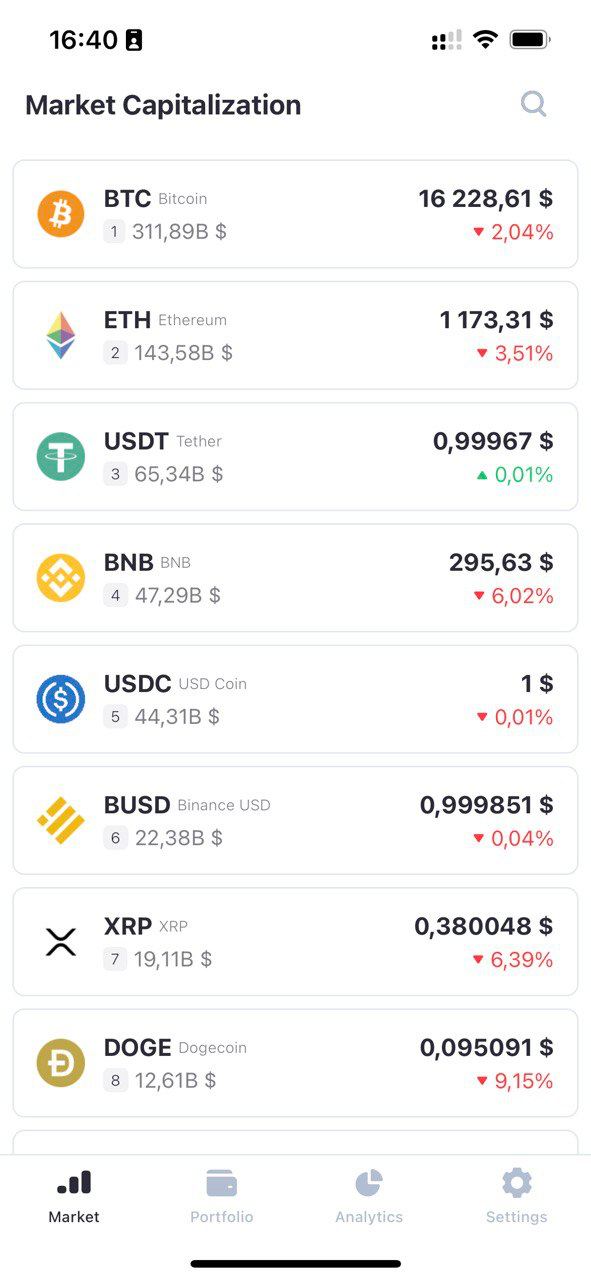 7000+ Tokens Available To Track
Except the top coins and Ethereum-based tokens value it is convenient and so much easy to track Bitcoin, Ethereum, Cardano, Solana, Tether and more than 7000 different tokens supported by the app.
Balances In Different Fiat Currencies
NOWTracker makes you see your portfolio wallet balance converted into one of 23 fiat currencies the app supports. Choose default currency from USD, EURO, Pounds, Chinese Yuan, Yen, Swedish Krona, Swiss Franc, Australian dollar and others to track the value of your finances in fiat currency you want.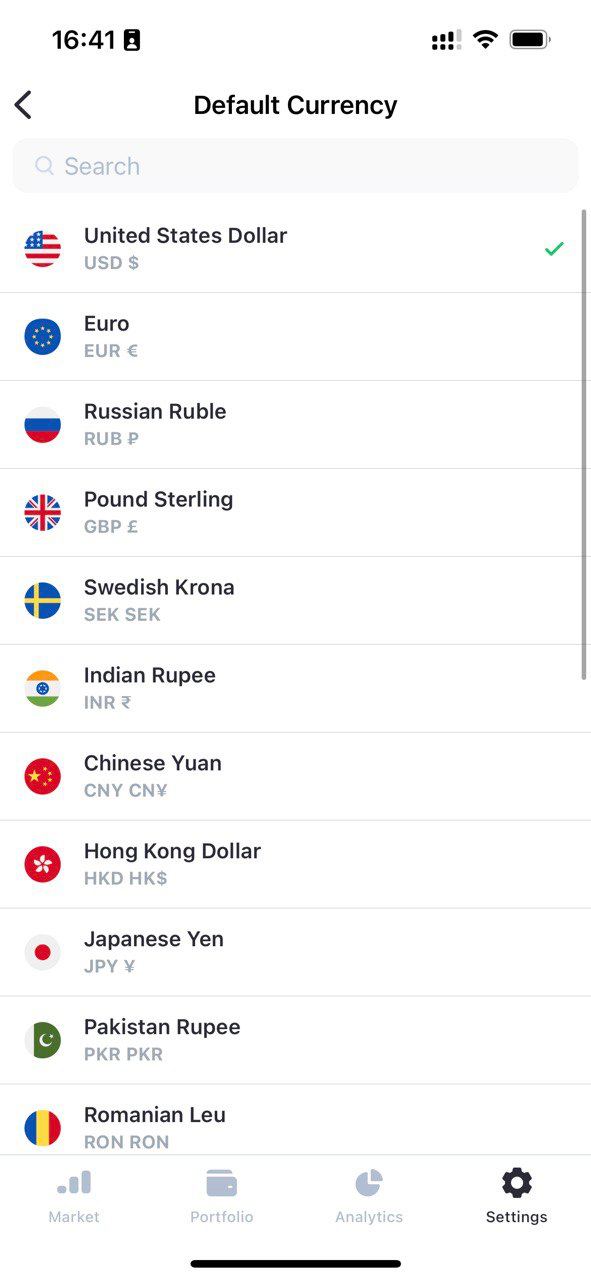 Crypto Portfolio Composition Displayed In A Pie Chart
A pie chart implemented into the app shows the analytics of all your crypto wallets in a graph. You can filter your balance statistics by tickers or by networks in order to make tracking crypto assets and incoming profits even more convenient.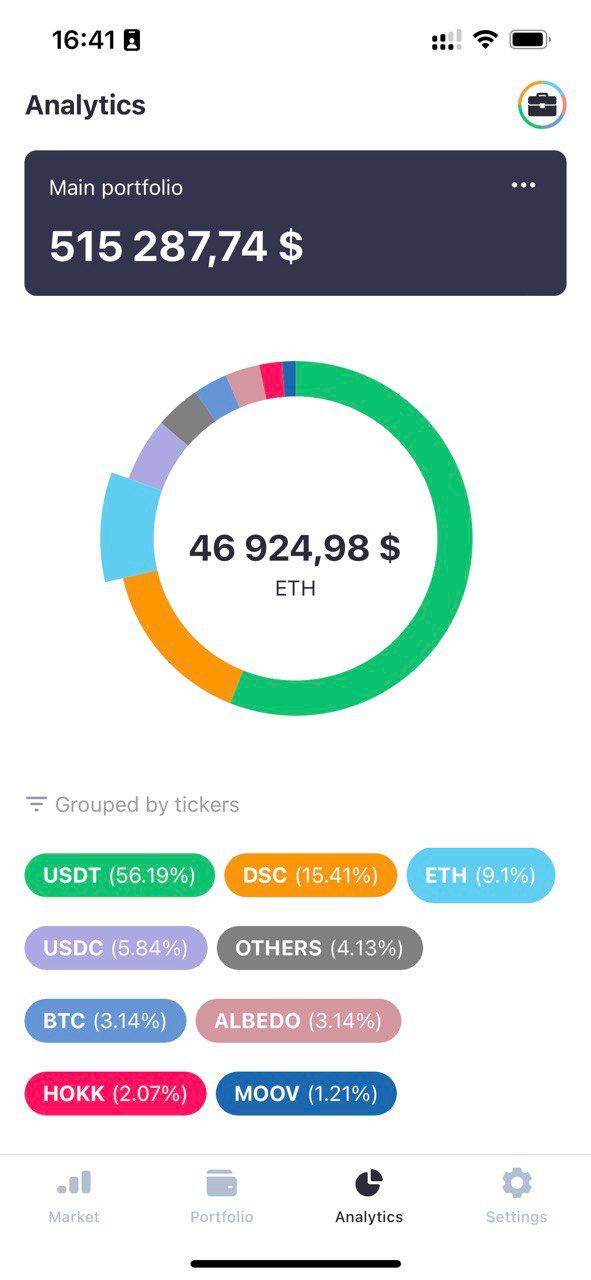 Backup
Due to the portfolio backup feature you can share your portfolio with another user, or view it on a different device. This feature also guarantees your data safety in case the phone gets damaged or stolen. Just create a copy of your portfolio data at any time you want and then restore the information in the app on the other device. The backup data is protected by AES, used by such significant entities as Facebook Messenger, WhatsApp, KeePass, GPG etc.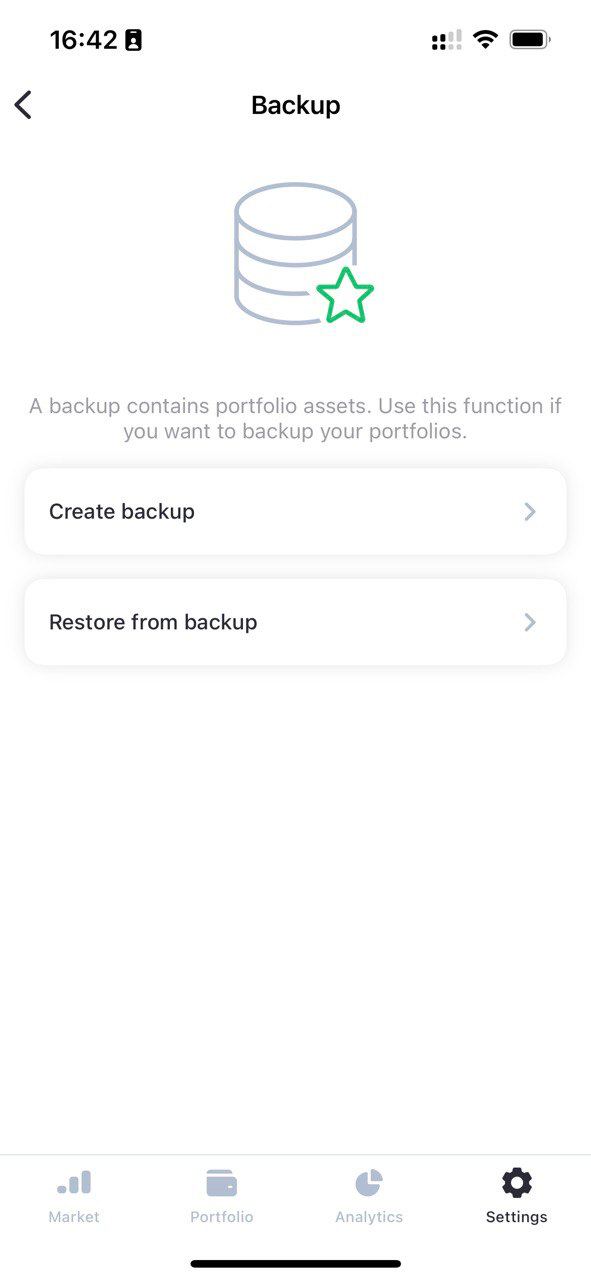 Connection Exchange
With the exchange connections feature it's possible to use your exchange data of all assets, tied it once to the app. Your crypto assets exchange data by the public address is added to the wallet by the system, getting rid of typing it manually. The app provides for all of your assets to be tracked, displayed and counted in one portfolio. You can also add tokens from wallets or fiat currencies manually.
Summing Up
NOWTracker app is completely free and is going to remain free even if it's range of features expands, aiming the app to be available to anyone who needs it.
Expanding functionality of the app will not entail complications of using. NOWTracker remains to be a convenient tool to effortless tracking for both beginning and professional crypto investors, with all necessary portfolio functions available and easy to find.
All customer reviews and actual tendencies are always carefully analyzed by the ChangeNOW team. That allows us to continuously improve ChangeNOW products, and frequently update and add services. NOWTracker supports Binance, Kraken, Coinbase, Bitfinex and Poloniex with the list of available exchange platforms planned to grow.
The key point to Change NOW Ecosystem is complete privacy and a user-friendly environment. Use our website and a mobile app, available on App Store and Google Play, to carry out crypto transactions through safe and convenient.
About ChangeNOW
Crypto exchange platform ChangeNOW enables fast cryptocurrency swaps in a transparent manner with no hidden fees. With over 70,000 swap options and almost 400 supported assets, crypto trading has never been easier.
Almost 60 fiat currencies, including USD, EUR, and GBP, can be used to buy crypto assets.
The goal of ChangeNOW is to bring crypto into the mainstream by providing a safe, secure, and user-friendly cryptocurrency environment. ChangeNOW's ecosystem meets the needs and requirements of its users in an exceptionally effective way. ChangeNOW believes every business should stick to three principles to build good karma: fairness, empathy, and trust. This is what guides ChangeNOW and helps it advance.