iGaming Made Easy with NOW Custody
In the rapidly evolving world of iGaming, businesses are constantly seeking innovative solutions to stay ahead of the competition and provide their users with seamless experiences. NOW Custody, a revolutionary service offered by ChangeNOW, emerges as the ultimate game-changer for iGaming companies looking to enhance their payment processing and funds management capabilities.
So, what exactly is NOW Custody, and how can it transform your iGaming business? Let's delve into the key features and benefits of this cutting-edge service.
NOW Custody in a Nutshell
NOW Custody is a game-changing product that empowers iGaming businesses to streamline their payment processes and manage funds with unparalleled ease. With NOW Custody, your iGaming platform can facilitate seamless transactions for your users, allowing them to effortlessly convert funds, deposit money, start playing, and withdraw their winnings without any hassle. Moreover, NOW Custody enables smooth transfers between users, adding another layer of convenience and flexibility to your iGaming ecosystem.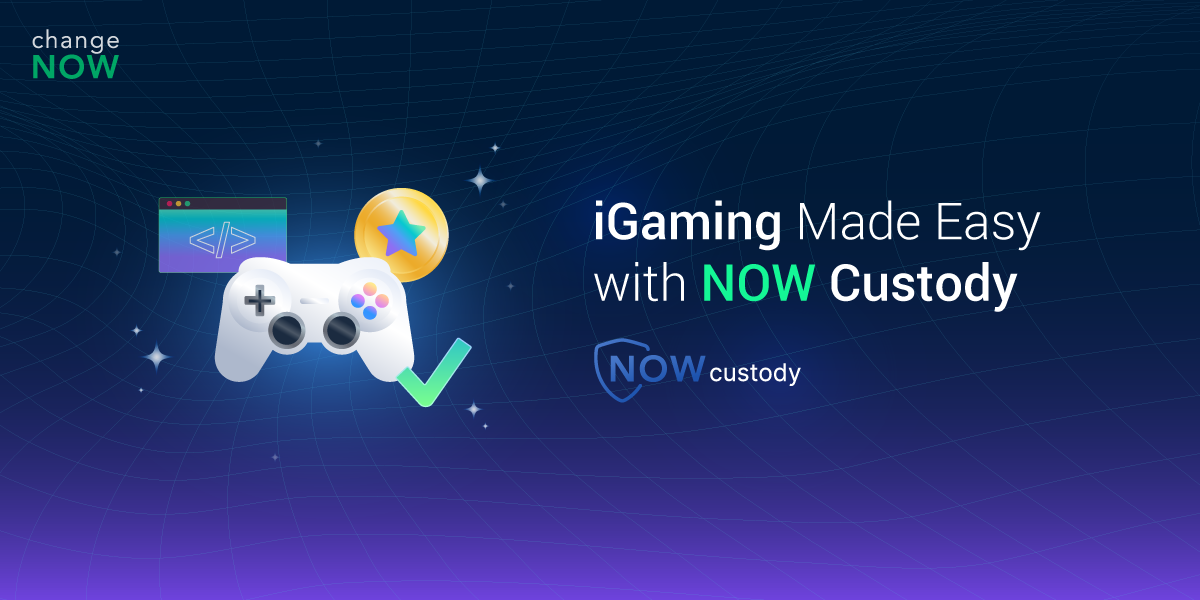 Key Features of NOW Custody
Cold Storage: NOW Custody ensures the utmost security for your funds by storing them offline in cold storage, reducing the risk of online attacks and unauthorized access.

Absolute Transparency: With NOW Custody, you have complete visibility into your operations and account balances at any given moment, providing you with the confidence to manage your funds effectively.

Multi-Level Support: ChangeNOW offers dedicated account managers and round-the-clock customer support, ensuring that your interests are always protected, and all your questions are promptly resolved.

Variety of Assets: NOW Custody supports a vast array of 900+ assets and continuously adds new ones, providing your clients with a diverse range of cryptocurrencies to choose from.

High Processing Speed: Transactions processed through NOW Custody are lightning-fast, taking an average of just 5 minutes, ensuring that your users can enjoy a smooth gaming experience.

Bulletproof Security: Security is a top priority for ChangeNOW. The service aligns its processes with international ISO 27001/SOC2 standards to guarantee the safety of your infrastructure and funds.
Why NOW Custody Is the Best Solution for Your iGaming Business
No Need to Build Your Backend: Integrating NOW Custody eliminates the need for iGaming businesses to develop their own backend systems, saving time and resources.
User-Account Management Made Easy: NOW Custody allows iGaming companies to create and maintain user-accounts, making it convenient to manage user-account balances and perform mass payouts to users.
Custom Fee Structure: Tailor the fee structure according to your business needs, with no minimum or maximum requirements, giving you the flexibility to set your desired profit.
Integration of 10 Liquidity Providers: NOW Custody offers integration with 10 liquidity providers, ensuring that your platform enjoys the best market rates for smooth operations.
How to Benefit from NOW Custody
Full Control: NOW Custody empowers you with complete control over account information, access settings, and all funds in storage, giving you the confidence to manage your operations effectively.

Ready-Made Solution: Integrate NOW Custody API seamlessly into your existing infrastructure without the need for additional development to reduce implementation time and costs.

Simple and Fast Integration: NOW Custody's user-friendly API makes integration a breeze, allowing you to get up and running quickly with minimal technical challenges.

Flexible Pricing System: Enjoy a dynamic service commission that changes based on asset turnover, and benefit from the RevShare Referral Program to earn profits from each transaction.
Take Your iGaming Business to a Whole New Level with NOW Custody
If you're ready to take your iGaming business to new heights with secure and efficient crypto solutions, NOW Custody is here to help. Our Custody API provides a seamless integration experience, allowing you to offer your users a wide range of crypto services while ensuring the security of their funds.
Schedule a demo today and learn more about how NOW Custody can empower your iGaming business. Don't miss out on the opportunity to join the growing community of iGaming businesses that have already integrated NOW Custody and are reaping the benefits. Take the leap and start earning NOW!