"NFTs are the Next Big Thing" Says ChangeNOW's Mike Ermolaev
In an exclusive interview with CryptoNewsZ, the Head of Public Relations at ChangeNOW bared his thoughts on NFTs and decentralized finance.
In his interview, Ermolaev enthused about the potential of NFTs and its possible influence in the coming years. "Non-fungible tokens are bringing together the digital and physical worlds and are certainly the next big thing," Ermolaev stated.
With the NFT industry predicted to be worth more than $80 billion in 2025, the PR executive was echoing the sentiments of several NFT creators, investors, and enthusiasts. The adoption of NFTs has exploded in the past few years, swelling to over eight times their original volume between 2018 and 2020. However, while the adoption of NFTs still appears to be on the rise, the NFT craze seems to have waned a fraction.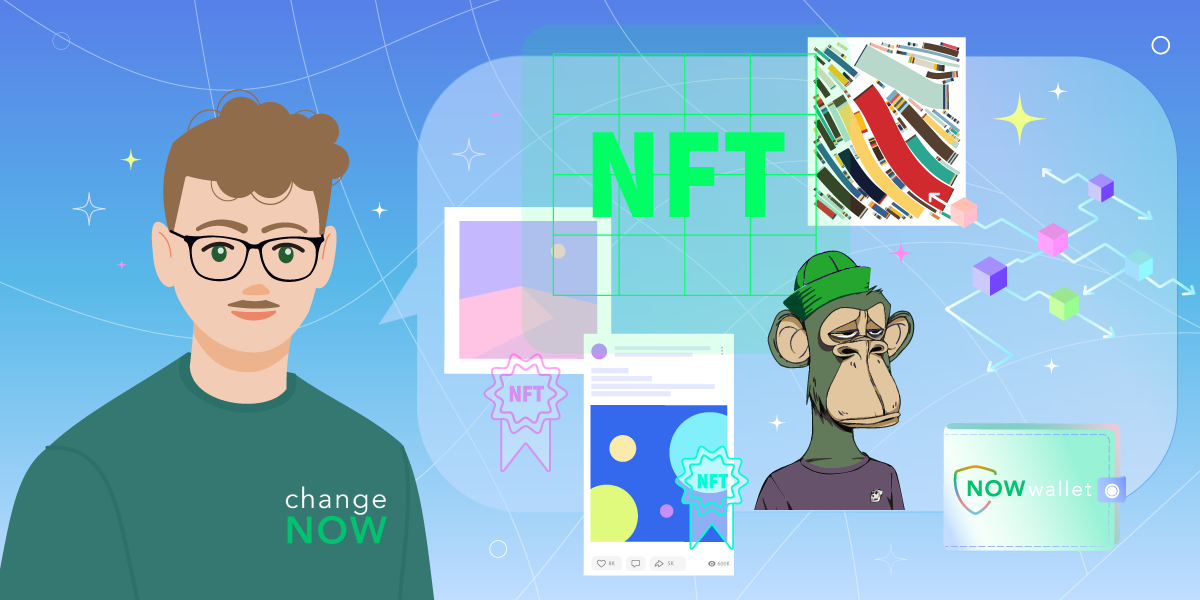 Ermolaev alludes to this much, saying, "....the initial hype has somewhat faded. According to analysts, one in three minted NFTs currently turn into dead collections with little or no trade activity. "
While it might sound like it, this does not necessarily signal the death of NFTs, according to the executive. On the contrary, the opposite is true. More and more people recognize the value of NFTs as a long-term investment, thus the urge to simply cash out using an NFT has significantly reduced. According to Ermolaev, the trends show that with time, the percentage of profitable minted NFTs will increase, while dead collections will significantly reduce. The apparent lag is just another one of NFTs' growth phases.
Approach to NFTs
ChangeNOW recognizes the potential of NFTs and is working towards being at the forefront of providing innovative solutions to rising issues in the NFT space. According to Ermolaev, ChangeNOW was one of the first platforms to list ApeCoin, a move that showed the exchange's commitment to crypto innovations.
The exchange's decision to launch an NFT functionality on the NOW Wallet is also intentional. NOW Wallet's NFT functionality allows users to browse, send, receive and store NFT collections at the touch of a button. The exchange is also working to launch NFT support on their NOW Tracker, a function that would allow users to monitor the performance of their assets.
Additionally, ChangeNOW is committed to providing optimal user experience and is dedicated to delivering maximum user satisfaction. "We sometimes give our users NFTs for free," the executive said, also noting that ChangeNOW offered freebies last Christmas. "In particular, our Christmas NFT giveaway was well received by the crypto community."
Ermolaev was also quick to point out that ChangeNOW was concerned about the cryptocurrency's high energy consumption levels. He disclosed that ChangeNOW's NFTs were minted using Tezos, which uses over two million times less energy than Ethereum.
Despite NFTs rise and popularity in the past years, the executive warned that the industry was not without its risks: "Do some research, then do some more research if you're serious about investing in NFTs. You could make a mistake in a matter of seconds."
According to him, the world of investing in digital assets can be tricky at best, so it is important to go into every investment venture with both eyes open. When asked about his thoughts on decentralized finance, Ermolaev said, "It is safe to say that DeFi is a revolution in the financial services industry, and I am confident that decentralized finance will replace most financial services companies as we know them today."
Decentralized finance is a kind of financial technology that can offer financial services without the need for a middleman, such as a bank. Many DeFi solutions are compatible with existing technologies in the cryptocurrency space, such as blockchain technology. Thus, with the adoption of NFTs and digital assets on the rise, decentralized finance solutions are slowly becoming staples in our everyday lives.
Ermolaev also mentioned that ChangeNOW was working to provide support for DeFi projects on its platform.
You can read the full version of the Q&A here.