Not Financial Advice (NFAI) Overview
In a crypto landscape filled with tokens often lacking real-world utility, NFAI stands as a symbol of innovation and purpose. It's not just another catchy-named token; NFAI pioneers a dynamic DeFi ecosystem, delivering tangible benefits. As NFA Labs native token, NFAI navigates this high-energy DeFi ecosystem, reshaping how investors navigate crypto's turbulent waters.
The Birth of NFAI
NFAi's journey began with an ambitious vision to transform decentralized finance. Launched with an initial supply of 100,000,000 tokens, NFAI has steadily burned 3.9% (3,937,168) of its supply, leaving a circulating supply of 96,062,832 tokens. This deflationary mechanism is just the beginning of what makes NFAi unique.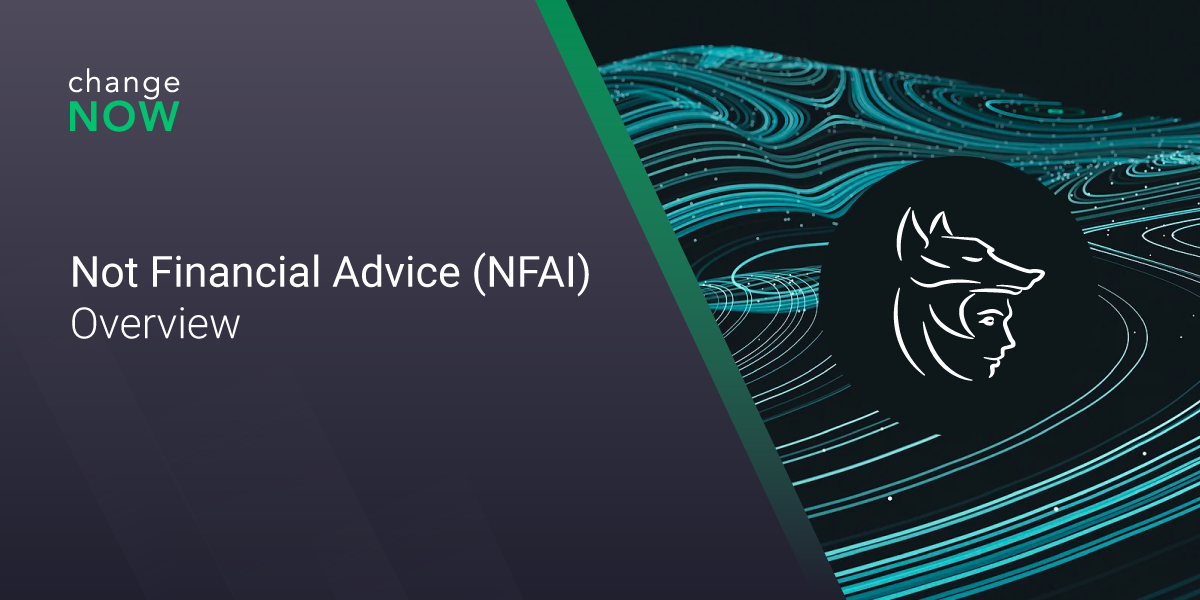 At the core of NFA Labs lies a triad of powerful components: Athena, Canis, and Hecate, each meticulously designed to bring innovation and added value to crypto enthusiasts.
AthenaGPT:
Athena's Gamma deploys a neural algorithm, seamlessly merging quantitative and qualitative inputs to analyze and capitalize on price movements.
Offering an index-focused approach, Athena trades across an extensive array of tokens and exchanges, continually learning and improving its strategies.
Athena presents a lower risk profile and lower leverage options for investors.
Canis:
Canis serves as an economic weapons testing program, leveraging deep learning AI to combat market manipulation.
Investors can benefit from Canis's variable risk profiles and medium to high leverage options, catering to a wide spectrum of trading preferences.
Hecate:
Hecate introduces a groundbreaking "definsurance" solution, extending NFAI token holders access to funds in the event of unfortunate incidents such as hacks or rug pulls.
By instilling investor confidence and protection, Hecate adds an additional layer of security to the DeFi landscape.
The NFA Labs Architecture
NFA Labs ingeniously combines Athena's intelligent algorithms, Hecate's protective shield, and Canis's robust lending protocol to forge a dynamic ecosystem. This ecosystem expertly balances high returns, risk mitigation, and liquidity, equipping investors with the tools needed to succeed in the often volatile crypto landscape.
Benefits of Canis:
Canis plays a pivotal role in accelerating the growth of the ecosystem by allowing users to leverage their holdings.
It provides NFAi token holders with price-agnostic yield, acting as a hedge against Athena's strategies.
Canis actively contributes to reducing the circulating supply of paired tokens, thereby enhancing the benefits for stakeholders.
Furthermore, Canis competes with other lending protocols, generating significant revenues while providing secure and efficient liquidity on other tokens.
Benefits of Hecate:
Hecate's definsurance system is a boon for investors, safeguarding their assets and creating a more secure investment environment.
By offering a safety net, Hecate encourages greater participation in the DeFi landscape, fostering resilience and sustainability.
The growing adoption of Hecate could potentially lead to increased demand for NFAi tokens, positively impacting token prices.
NFAi: Empowering the Future of DeFi
NFAi, as the native token of NFA Labs, underpins its decentralized finance solutions. Its value is intrinsically tied to the success of strategic business units like Athena, Canis, and Hecate. Beyond being a digital asset, NFAI promotes market equity, empowers crypto investors, and leverages supply-demand dynamics for enhanced competitiveness. Key factors contributing to its value include Athena's buyback and burn mechanism, Canis's lending protocol, and Hecate's definsurance system.
NFA Labs: Making a Difference Through Charity
NFA Labs is not solely focused on financial success. The organization actively participates in charitable initiatives, supporting relief efforts and contributing to causes that matter. This commitment to philanthropy aligns with the ethos of the crypto community and reflects a dedication to making a positive impact on the world.
Use ChangeNOW to Exchange NFAI
At ChangeNOW, we're committed to providing you with the best exchange experience:
No Registration: You don't need an account or registration to exchange NFAI on ChangeNOW. We believe in making crypto trading simple and accessible.

Lightning-Fast Transactions: Our platform offers swift and efficient transactions, ensuring you get the most out of your crypto experience.

Security First: We prioritize the security of your funds and transactions. You can trust ChangeNOW for a safe and secure exchange.
Join the NFAi Revolution
Are you ready to harness the power of NFAI and explore the dynamic ecosystem of Athena, Canis, and Hecate? The opportunity awaits. Exchange NFAI on ChangeNOW today and become a part of the DeFi revolution that not only empowers your investments but also contributes to meaningful charitable endeavors.