More Than Crypto: ChangeNOW Deploys Stock Tracking in Their NOW Tracker App
This December, we supplemented the opportunity to track stocks and fiat currencies in your portfolio. The updated version lets you see all your assets on one screen and switch between crypto, stocks, and fiat currencies in which your funds are deployed.
The ChangeNOW team strives to ensure users have a functional and simple technique to manage their funds. To do this, we continue to expand our crypto ecosystem, which already includes NOW Wallet, NOW Payments, and the instant exchange platform ChangeNOW. Next in line is NOW Tracker – our constructive and convenient application for automatically tracking all your crypto wallets and exchange accounts in one place.
ChangeNOW created a product that allows you to access all your assets. We go further and improve constantly. This December, we supplemented the application with a new feature. Now you can manually add stocks and fiat currencies to your portfolio. The updated version lets you see all your assets on one screen and switch between crypto, stocks, and fiat currencies in which your funds are deployed.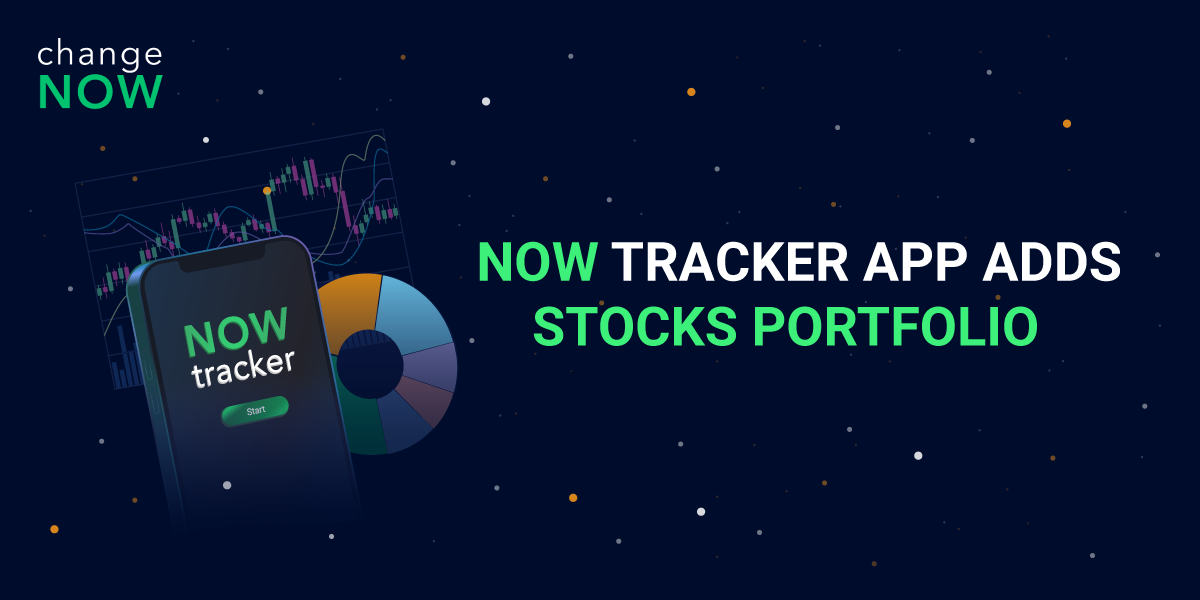 The implementation of the tracking stocks feature allows you to add stocks manually from a list of more than 8000 US securities to your portfolio. Just add the amount and value of your regular stocks, and see how they are reflected together. This will allow you to check the interaction of all your assets at any time.
The availability and usability of this feature are no less important than the ability to track your regular stocks. Our application allows users to observe the cryptocurrency and stock market simultaneously. For more convenience, the application's market screen shows assets filtered by capitalization. You can also check market statistics and historical data on crypto assets to identify patterns of changes in the market.
We have also ensured that you have a picture of all the assets in an understandable form in front of your eyes. The application displays your portfolio of cryptocurrencies and stocks using clear and handy charts in the Analytics menu. Choose a grouping of your assets by source, tickers, or networks, and check the diversification and asset ratio.
The convenience of managing your assets is achieved through the interaction of products within the NOW ecosystem. Thanks to the seamless integration of the ChangeNOW service, you can buy and sell cryptocurrency using your credit or debit card. The availability of this transaction method allows you to quickly sell or purchase assets, significantly expanding your investing functionality and increasing the chances of the best deal.
The security of our users is critical to us. For this reason, NOW Tracker is a non–custodial service that does not collect or store any of your data. All confidential information remains on your device, and you can delete it with a few taps. You can pre-create a backup copy of your portfolio data, encrypted with Advanced Encryption Standard (AES), and restore it in the app on another device in case the previous one is changed or lost.
Speaking about our plans for the future, our team will continue to develop the functionality of the NOW Tracker application further. Improvements will concern more than just the mechanisms of cryptocurrency interaction. We plan to provide investors with even greater opportunities by adding an asset alarm function about rapid market changes, more complete statistics, dark themes, and useful widgets.
The NOW Tracker application is designed to help track your accounts, monitor the market, and get the best results using a portfolio of cryptocurrencies and stocks. Become a part of the NOW ecosystem and ensure that modern portfolio management has never been so easy. Try the updated version of the NOW Tracker app for iOS. We welcome you aboard and wish you good investments!