Monero Price Prediction 2021
Monero bulls are confident that by the end of the year the Monero price will be able to retake $300 and draw closer to its ATH levels.
However given the coin's price volatility nothing is certain.
October has been a solid month for Monero (XMR) holders with the coin having risen about 10% from its starting point of about $250. That has come as a welcome relief for those still reeling after what can only be described as a troublesome September that saw XMR drop from above $300 down to an almost flat $200. Fortunately, the coin responded positively after its fall, starting an upswing that saw it end October at $274 and which is trading at around $255 currently.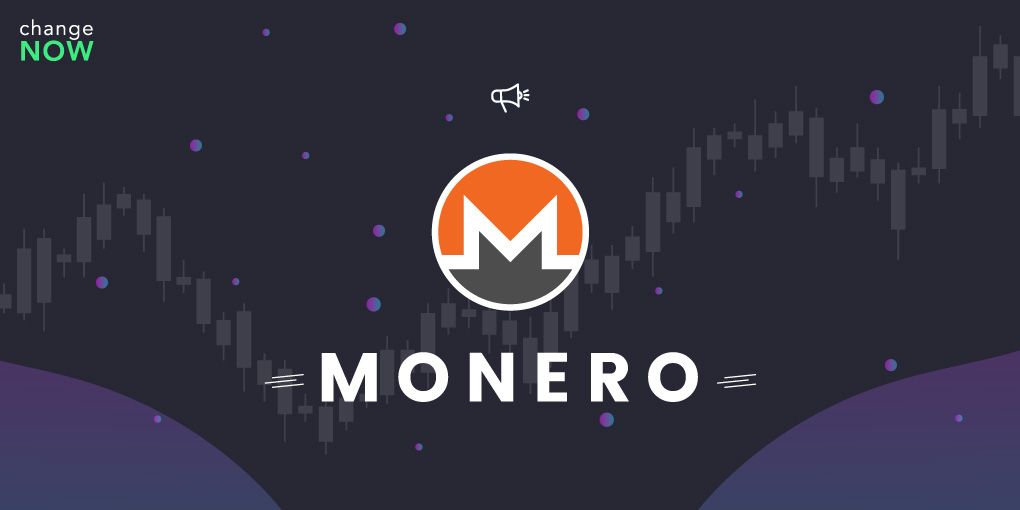 In this article, we are going to cover all the necessary background on Monero including its history and fundamentals, and then offer some of our price predictions for the rest of the year and beyond. Following the market-wide downslide that occurred earlier this year, Monero has been turning in some solid gains lately that have put wind in the sails of many XMR hodlers and prospective investors.
But before we dive into numbers, let's make sure everyone is on the same page in terms of how Monero became such a big name in cryptocurrency and what the factors are that help determine its price.
How Is the Price of Monero Determined?
Generally speaking, there are two crowds in the crypto community. The first is what I like to call the old school, stonewall crypto fam. The second crowd is what I refer to as second-generation crypto. Now, the old-school crypto fam is known for being a bit ornery and set in its ways, while next-gen crypto is much more flexible and open to expanding the industry in all possible ways. What is good for the bottom line is generally the most important thing for next-gen crypto, while the old-school tends to have a distinct idea of what a cryptocurrency should be and what role it should fulfil.
The reason that I bring this up is that, chances are, if you are a big fan of Monero, you are more likely to align yourself with old-school crypto. Old school crypto is made up of a lot of crypto purists that were early believers in the technology and have never wavered in that belief. So why would Monero appeal to those people? Because Monero is a cryptographic work of art. Monero was created back in 2014 as a fork off of Bytecoin, which many people consider to be the original privacy coin. The beauty in Monero is that, while it is an asset that can be exchanged on a public ledger via a decentralized network like Bitcoin, it can be used as a means to make virtually untraceable transactions.
By employing what is called a ring signature, all Monero transactions are scrambled in a way that makes them virtually impossible to trace. Additionally, unlike with Bitcoin and many other cryptocurrencies where once you have a person's public address you can see how much of the asset they hold on that address, Monero restricts that information and keeps all of its users' information private.
Understandably, these kinds of features have generated a lot of enthusiasm for Monero over the years, especially among old-school crypto purists. However, these features have also, understandably, led the coin to gaining a lot of traction as a means of conducting illicit trade on the dark web. Depending on personal philosophy, politics, religion or any of the other things that tend to divide us, you may feel particularly strongly about what Monero, and other coins like it, facilitates. However, one thing that is not equivocal is Monero's market performance, which has been spectacular since its launch.
What Drives the Price of Monero?
The price of Monero has been affected by a number of different factors over the years. If you check Reddit, /biz/, or any of the other major hubs of crypto discussion you will notice that Monero has managed to attract a kind of cult following. The people who love Monero really love Monero, and its ability to inspire that kind of connection has had a big impact on its price performance.
The Monero community loves the coin for a number of different reasons, among them:
Universal access: like with Bitcoin, all you need to make Monero transactions is an internet connection and a usable address. Monero likes to position itself as Bitcoin, only better, and this is part of the reason why.
Supply mechanics: also similar to Bitcoin, Monero has a set number of coins that are available to mine, however, once that limit is reached, an emission protocol will kick into effect regulating and stabilizing the new amount of XRMs that are released each year.
Anonymity: despite Bitcoin often being portrayed as a secretive and untraceable way of paying for goods, the opposite is actually true. Bitcoin transactions are recorded on a public ledger where sending and receiving addresses and transaction amounts are visible for everyone to see. Monero, on the other hand, is much closer to that incorrect perception people have of Bitcoin. With Monero, the transactions that you make are virtually untraceable and cannot be seen by anyone except you and the other transactor.
Complete control: In addition to its anonymity features, Monero offers the same upside that many users of other cryptocurrencies have come to love, namely, complete financial control. With XMR, however, that control is even greater with Monero than it is with most other cryptocurrencies.
Monero News Cycle
This year has had an unusually volatile news cycle that has wreaked havoc on the cryptocurrency market and Monero is no exception. Monero started 2021 around $184: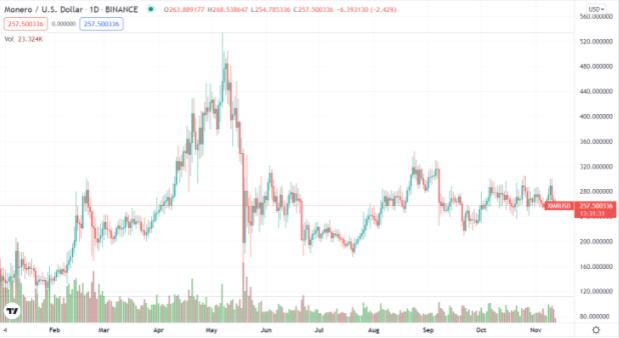 Source: TradingView
Back then, the Monero community was very happy to be at that level considering all the ground it had gained over the course of the previous year. Monero started 2020 at around $48 before tumbling down alongside the rest of the cryptocurrency market when it was rattled due to concerns over the Covid-19 pandemic. The downturn brought Monero to the low $20s before its road to recovery began, a road that saw it multiply its low-value point by nearly 9 by year-end.
This year, as the chart shows, results have been mixed. The positive run continued up until the end of Spring when Monero dropped nearly half of its value from its all-time high of over $500. The value loss occurred in conjunction with the rest of the cryptocurrency market when many started worrying about the regulatory shutdown in China and the potential damage Bitcoin mining was doing to the environment.
Due to Monero's fairly widespread use on the dark web as a means of procuring illegal goods and services, when regulatory concerns are in the air, they can have a pronounced impact on the coin's market performance. Following the crypto ban in China and with the rumors of a regulatory heat up around the corner in Washington, these next few months will be absolutely crucial to XMR's trajectory moving forward.
XMR Price Prediction 2021
The way XMR performs over the next few months will be indicative of what we can expect in 2022. Currently, experts say that if the privacy coin can rise above $265 and move closer towards $300 as November progresses, all signs will point to a healthy start to 2022 and another run up the charts towards $500 and rarefied all-time high territory.
A lot of people in the Monero community, and the cryptocurrency community at large, are very bullish about XMR's prospects as 2021 winds down, with many confident that it will be able to hit $300 and move much higher. While we think that there is a strong possibility the coin will be able to achieve $300 this year, it is likely to be at the tail end of the year:
| | | | |
| --- | --- | --- | --- |
| Month | Minimum Price | Average Price | Maximum Price |
| November 2021 | $250 | $260 | $288 |
| December 2021 | $265 | $285 | $305 |
| January 2022 | $280 | $300 | $320 |
| February 2022 | $285 | $310 | $340 |
| March 2022 | $300 | $325 | $365 |
Monero Price Prediction 2025
Given all the volatility in the market, it is almost impossible to predict what the price of Monero will be in 2025. We do expect the price of XMR to continue its upward trend though, and while we do not share the ebullience of those who see it jumping up to $5,000, we cautiously expect it to be around $1,500.
Where to Get Monero
You can acquire Monero at most major cryptocurrency exchanges in operation, including right here on ChangeNOW. Thanks to our convenient exchange experience and the plethora of helpful tools we offer users, you can easily get started on your Monero investment journey in just a few minutes.