Memecoin on ChangeNOW: Get Ready!
Are you ready for some exciting news? ChangeNOW is thrilled to announce that Memecoin (MEME) swaps will soon be available on our platform! That's right, the popular meme coin that's making big waves in the crypto community will be integrated into ChangeNOW, giving you the opportunity to exchange MEME with over 900 other crypto assets.
Get ready for a wild ride as we dive into the world of Memecoin and why ChangeNOW is the perfect platform for MEME and its enthusiastic community.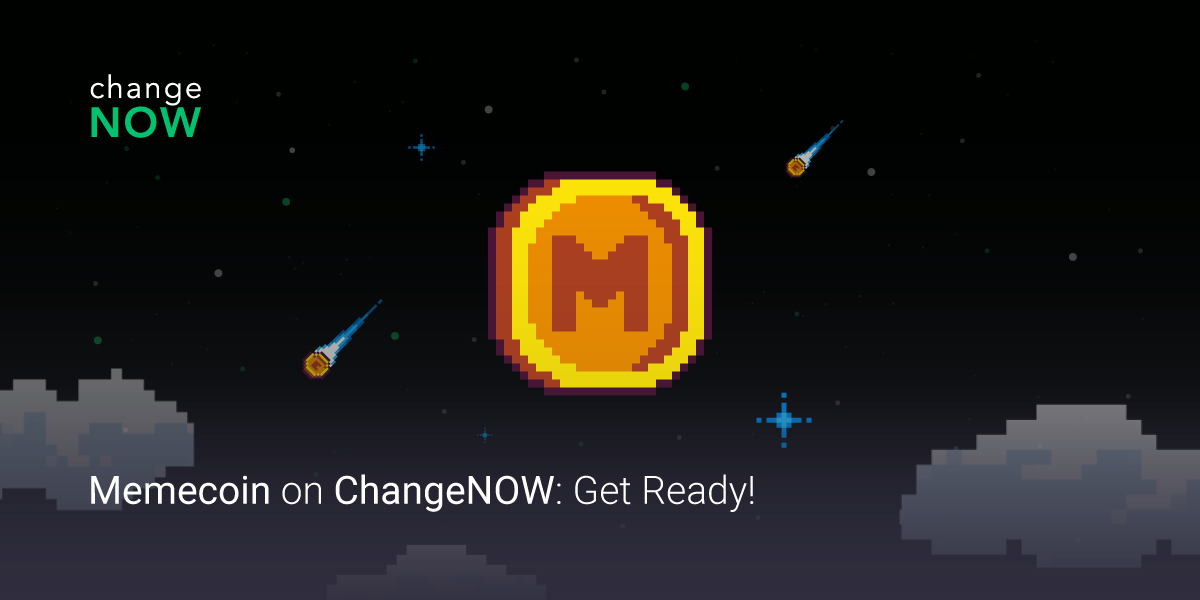 Memecoin: The Meme Coin Craze
Memecoin has taken the crypto world by storm with its unique approach to meme coins. It has quickly become a fan favorite and gained a loyal following since its launch. But what makes Memecoin so special? Let's explore its tokenomics, rise to market dominance, and why ChangeNOW is the ideal platform for MEME swaps.
Memecoin's Unique Tokenomics and Distribution
Memecoin's tokenomics are designed to create a sustainable and inclusive community-driven token on the blockchain. With a total supply of 69,000,000,000 MEME tokens, the distribution has been carefully planned to ensure a fair launch and ongoing engagement within the community.
Here's a breakdown of Memecoin's token distribution:
Presale holders: 50% of the tokens were distributed to participants in the presale, rewarding them proportionally to the amount of crypto assets they provided. The presale was open to the public, allowing anyone to participate and be a part of the MEME revolution.

Initial liquidity: 40% of the tokens were deposited into the decentralized exchange (DEX) as initial liquidity along with the proceeds from the presale. The LP tokens are stored in a multisig wallet for added security.

Airdrops: 2% of the tokens are allocated for memes, contests, community events, and more. This percentage will be distributed within the first week, creating excitement and engagement within the community.

Utility: 5% of the tokens are reserved for farming, small partnerships, project developments, and innovations, ensuring that Memecoin has a purpose beyond being a meme coin.

Reserved: 3% of the tokens are set aside for listing requirements on centralized exchanges (CEX), expansion opportunities, large partnerships, and other miscellaneous purposes.
$MEME contract address: 0xb131f4A55907B10d1F0A50d8ab8FA09EC342cd74
Memecoin's Rise to Market Dominance
Since its launch, Memecoin has shown impressive growth and market dominance. It currently has a fully diluted market cap of $69,000,000 and has quickly climbed the ranks to become one of the most popular meme coins in the market. Its trading volume has also been steadily increasing, with a 24-hour volume of $2,250,949. Memecoin's price has experienced fluctuations, reaching highs and lows, but its consistent popularity among traders and investors speaks to its potential and appeal.
ChangeNOW: The Perfect Platform for MEME Swaps
Now that we've covered the basics of Memecoin, let's explore why ChangeNOW is the ideal platform for MEME swaps. ChangeNOW is a popular cryptocurrency exchange known for its user-friendly interface, fast transactions, and top-notch security features. Here's why MEME and ChangeNOW are a match made in crypto heaven:
Security and Trust
ChangeNOW takes security seriously. We understand the importance of safeguarding your assets, which is why we employ industry-leading security measures to protect your funds. Our platform is built with cutting-edge technology and undergoes regular audits to ensure the highest level of security for our users. When you exchange MEME on ChangeNOW, you can have peace of mind knowing that your assets are safe and secure.
Easy and Intuitive User Experience
Whether you're new to the world of crypto or an experienced trader, ChangeNOW provides an easy and intuitive user experience. Our platform is designed to be user-friendly, allowing you to buy, exchange, and store your crypto assets with just a few clicks. Say goodbye to complicated processes and hello to a seamless trading experience. We believe that buying and exchanging crypto should be accessible to everyone, and we strive to make it as simple as possible.
Extensive Range of Supported Cryptocurrencies
ChangeNOW supports more than 900 crypto assets, making it the perfect platform for exploring and diversifying your crypto portfolio. When MEME becomes available on ChangeNOW, you'll have even more options to choose from when it comes to trading and investing. Whether you're looking to swap MEME for Bitcoin, Ethereum, or any other supported crypto, ChangeNOW has got you covered.
Join the MEME Revolution on ChangeNOW
Don't miss out on the exciting opportunity to swap Memecoin on ChangeNOW. After this exciting integration, users will have the chance to exchange MEME with over 900 other crypto assets, allowing you to diversify your portfolio and explore new investment opportunities. Whether you're a seasoned crypto enthusiast or just getting started, ChangeNOW is the perfect platform for buying and exchanging crypto.
ChangeNOW is a trusted and reliable crypto exchange platform that prioritizes security, user experience, and a wide range of supported cryptocurrencies. We believe in the power of cryptocurrencies to revolutionize the financial industry, and we're committed to providing a seamless and secure trading experience for our users. Join us on ChangeNOW and be a part of the MEME revolution today!
Disclaimer: MEME is a meme coin and does not make any promises or expectations of financial return. Keep in mind that investing in cryptocurrencies carries risks, and you should always do your own research before making any investment decisions.