McDonald's China Issues First-Ever NFTs
In celebration of the 31st anniversary of its expansion into the Chinese mainland market, McDonald's China has released its first non-fungible token.
The event was announced by 8BTC media, a news outlet that covers information regarding cryptocurrency and blockchain in China.
The NFT, which was named "Big Mac Rubik's Cube", is the first of 188 tokens the fast-food franchise intends to present to staff members and patrons.
According to the announcement, the NFT release also commemorates the official opening of the new office headquarters located on the west bank of Shanghai.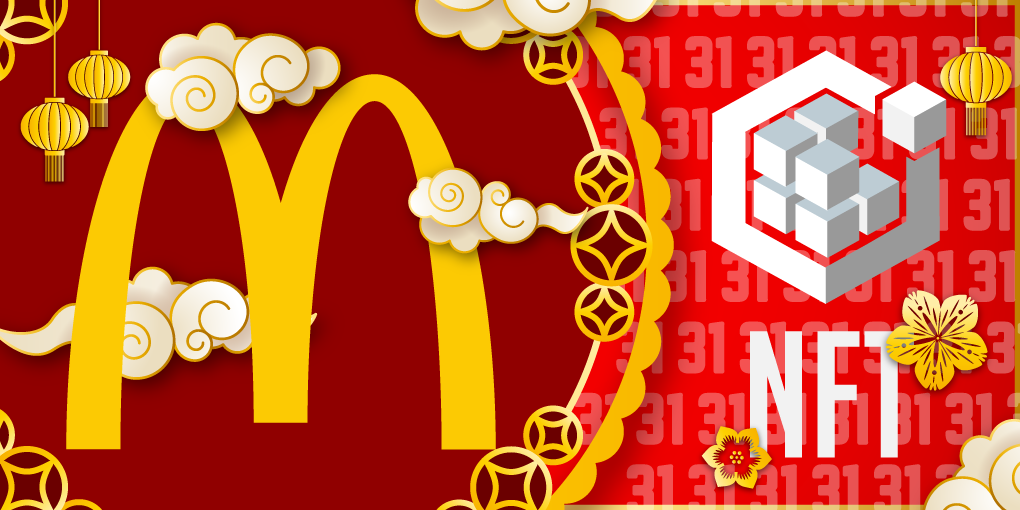 Big Mac Rubik's Cube Represents Brand's Values
The token itself is a 3-dimensional model of the building's infrastructure. Extending to McDonald's red, orange, and yellow color scheme, it is said to have been inspired by the spirit of the brand.
According to the McDonald's China official website, the NFT was designed to represent its values ​​of service — tolerance, integrity, community, and family. It was also meant to capture semblances of love, technology, and "trends".
Zhang Jiayin, CEO of McDonald's China stated during the announcement that he was happy with this move. He was also "quite proud" that the company has become the first domestic restaurant chain to release its NFT.
Furthermore, he said that McDonald's has always considered innovative and futuristic technology, as well as the latest trends, to be of particular importance.
NFTs Trending In Food And Beverage Circles
In 2021, NFTs are becoming a familiar phenomenon as they sweep through the internet. Earlier this year, beverage chain Budweiser and US-based fast-food chain Taco Bell also hopped on the NFT train.
It became public knowledge that Taco Bell joined the NFT craze after they made the Taco-themed gifs and pictures available for sale on an NFT marketplace called Rarible.
In August, the profile photo of Budweiser's official Twitter account was changed to an NFT displaying a hand-drawn beer rocket. The company was said to have purchased the token for 8 ETH, an amount roughly equal to 26,000 USD when the transaction took place.
In addition, Burger King, one of McDonald's biggest rivals, launched an NFT campaign alongside influencers Nelly, Anita, and Lil Buddy. The campaign was dubbed "Keep It Real Meals" and the products were auctioned on NFT marketplace, Sweet.
You can buy or trade any of your preferred tokens on ChangeNOW without any hidden fees.
Welcome to the NOW experience! The ChangeNOW team presents you with the new community-inspired crypto wallet – NOW Wallet.