MasterCard's Partnership to Boost Ethereum's Scalability
Blockchain company Consensys will partner with MasterCard and Cosmos to improve Ethereum's scalability.
Consensys Partners with Mastercard
Two developments enhancing the world's second-largest blockchain were unveiled this week. All these developments are necessary as the blockchain industry anticipates the introduction of Ethereum 2.0.
The new breakthrough is that Ethereum's major software developer, Consensys, has teamed up with Mastercard to launch Consensys Rollups, which will boost the Ethereum blockchain's scalability for both mainnet and private use.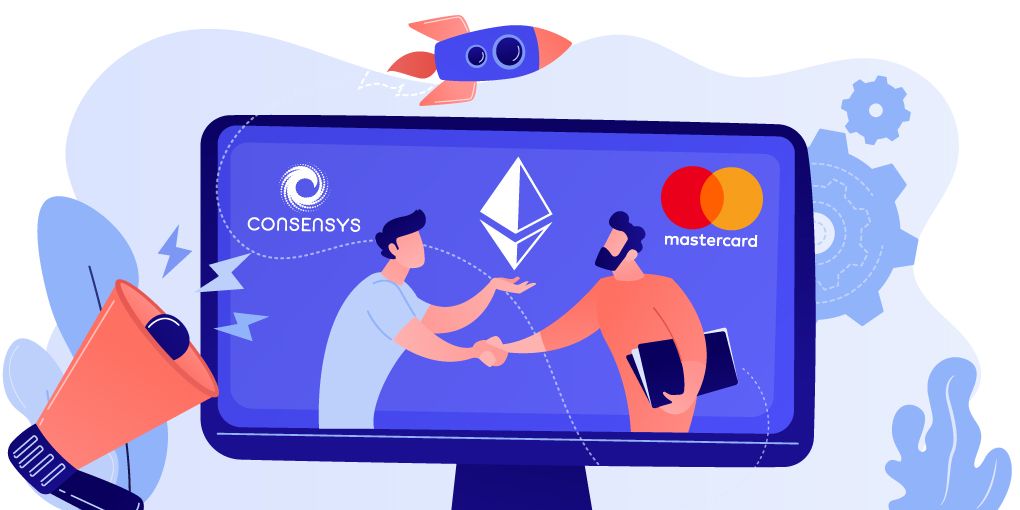 Rollups are a layer-2 solution that enhances Ethereum's scalability by combining, or "rolling-up", and processing multiple transactions off-chain before returning the results to Ethereum for verification, minimising network congestion. On a private chain, Consensys Rollups can now reach a throughput of up to 10,000 transactions per second (TPS), compared to 300 TPS on private chains and 15 on the Ethereum mainnet.
A statement shared by Madeline Murray, Global Lead of Protocol Engineering at ConsenSys, said, "ConsenSys Rollups provide substantially more scalability in addition to robust privacy protections to both enhance solutions for existing use-cases and enable new use-cases. . .this cutting-edge solution will aid in the construction of finance's future."
Meanwhile, the blockchain company is also introducing Gravity Bridge, an Ethereum-to-Cosmos ecosystem link that will connect Ethereum to other blockchains. As more assets are able to flow across a growing number of connected chains, the bridge will open additional staking potential, unlocking greater liquidity.
Cosmos is a decentralized network of separate yet interoperable blockchains that can freely exchange tokens and information, dubbed the "internet of blockchains." Cosmos also seeks to solve scalability, as well as usage and governance, by assisting developers in creating self-contained blockchains for a range of use cases that may connect with one another.
What Next for Ethereum?
According to EtherScan, Ethereum usage is at an all-time high, with different wallet addresses recently crossing the 181 million milestone. While Ethereum's popularity grows, the network becomes congested, transactions are delayed, and gas prices — the cost of performing transactions on the network — rise. Although some modifications, such as token burning, have been made to address these concerns in the run-up to the launch of Ethereum 2.0, several companies are working on layer-2 solutions to improve the existing Ethereum network.
Despite this significant growth, ETH has plummeted in price along with the rest of the cryptocurrency market since hitting a new all-time high in mid-November, and is now trading over 22% lower at US$3,915 at press time, according to CoinMarketCap.
You can buy or trade any of your preferred tokens on ChangeNOW for Ethereum without any registration.
Welcome to the NOW experience! The ChangeNOW team presents you with the new community-inspired crypto wallet – NOW Wallet.