Market Wrap: Toncoin Gain Massively; AXS, IMX Take A Hit
As investors' faith in the crypto market continues to tank, less popular currencies like Toncoin (TON) and Stacks (STX) are sneaking into the spotlight.
It has been a bumpy ride for the crypto market since the FTX saga. And it may seem as though the storm isn't abating soon with the United States investigating major crypto exchanges. Amid these rocky scenarios, Bitcoin has managed to stay afloat and maintain dominance. Last week, the king crypto grew by 4.5%, undulating from $16,980 to $17,759. Ethereum also trod a similar path to value. It gained about 5%, climbing steadily to $1,318 from $1,255.
However, these rallies have not been met with excitement by the market. Skepticism hangs firmly in the air with Binance recording multiple withdrawals in 24 hours. Therefore, investors are keeping their fingers crossed as to the direction of the market in the coming weeks.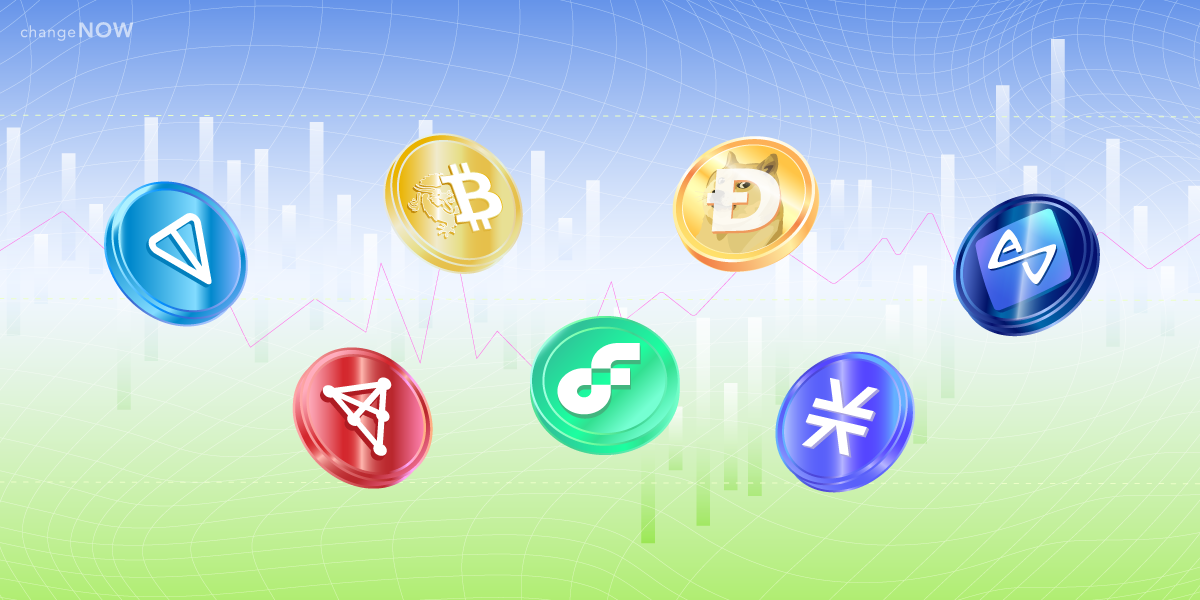 Top Gainers: BSV, OKB Show Resilience
Toncoin (TON)
The Open Network has been achieving milestones that have culminated in more value for its Toncoin (TON). Recently, the network launched virtual numbers as collectibles which allow users to create anonymous accounts on Telegram. Also, DeFiLlama, the largest TVL aggregator for DeFi, now tracks TonCoin. This means that TON investors can track the coin's performance and development.
TON responded positively to these fundamentals this past week. It gained 33.46%, moving from $1.83 at the beginning of the week to $2.45.
Stacks (STX)
STX was able to stack some gains this past week. The token, which powers the execution of smart contracts on the Stacks network, surged by 14.08%. It opened the week at $0.25, peaked at $0.36, and finally closed at around $0.28.
Bitcoin SV (BSV)
After suffering massive 51% attacks and network degradation a few months ago, it seems like BSV is beginning to find its footing again. The fork of Bitcoin Cash (BCH) found its way to the gainers' leaderboard with a gain of 10.72%. It moved steadily from $41.6 to $45.97 by the end of the week.
OKB (OKB)
OKB's price history in recent weeks has shown that the token is a resilient one despite market turmoil. And this past week was no different. The token accrued a value of 8.85% as it journeyed from $21.0 at the start of the week to $23.02, where it currently trades.
Dash (DASH)
DASH's move towards accruing value was swift and small. However, it was sufficient for it to hold a spot on the gainers' table. The coin opened the week with a market price of $47.4, and descended to $44.0, before printing a 2% gain to trade at $49.5.
BitDAO (BIT)
BIT traded at $0.30 and traded sideways for the most part of the week, moving between $0.30 and $0.31. But as the week drew to a close, the token surged to $0.33, recording an increase of 8.4%.
Top Losers: CHZ, XCN Disappoint
Flow (FLOW)
FLOW has been unable to get value to flow to it for a while now. Investors have been selling the coin massively to cut their losses and reduce their exposure to the turbulent market. Last week, FLOW traded at $1.090 at the start of the week, dropping to $1.040 where it traded for some days, before plummeting to $0.90. This price movement culminated in a 12.52% loss for the coin.
Chiliz (CHZ)
As a sport-themed cryptocurrency, many anticipated CHZ to be one of the most valuable players in the market throughout the World Cup period. This would have been the case. However, FTX's collapse blocked any chance for the coin to score some gains.
This past week, the crypto followed a price path akin to FLOW's as it lost 12.05%. It opened the week at $0.158, then dropped to $0.150. It traded around the $0.150 region for some days before making a sudden descent to $0.133.
Chain (XCN)
XCN's price movement within the first few days of the week would have made one predict that it would sit among the top gainers. The coin started the week at a market price of $0.038 and later surged above $0.040. However, there was a sudden twist as it began to slide down the foodchain. It descended gradually from $0.041 to $0.033, losing over 11%.
Dogecoin (DOGE)
DOGE is one memecoin that has enjoyed the spotlight, especially after it piqued Elon Musk's interest. When the latter acquired Twitter, DOGE soared because many expected the billionaire to incorporate the coin into the microblogging platform. However, being the favorite coin of the billionaire has not made it immune from the fear and uncertainty rocking the market. Recent weeks have seen DOGE shed its value massively; a trend which also stretched into this past week. DOGE experienced massive sell-offs, causing it to lose over 9% as it plunged to $0.088 from $0.097.
Axie Infinity (AXS)
After a bull run some weeks ago, AXS lost 12.08% of its value this past week. Its chart showed red candlesticks descending the value ladder, as the coin dropped from $8.73 to $7.67.
ImmutableX (IMX)
Like its counterpart, AXS, IMX did not have a good run this past week. The gaming token shed 7.14% of its value, crashing from $0.47 to $0.42, even plunging to $0.41.