Litecoin vs Ripple: Differences, and Everything You Need to Know
Since their creation, LTC and XRP have gained traction and prominence as top cryptocurrencies. And this is because of their utilities—some of which overlap.
An Overview
Litecoin (LTC) and Ripple (XRP) came into the crypto scene just one year apart from each other. Charlie Lee launched Litecoin in 2011, while the team of David Schwartz, Jed McCaleb, and Arthur Britto created Ripple in 2012. These two tokens have stamped their foot firmly on crypto soil and this is because of their use cases.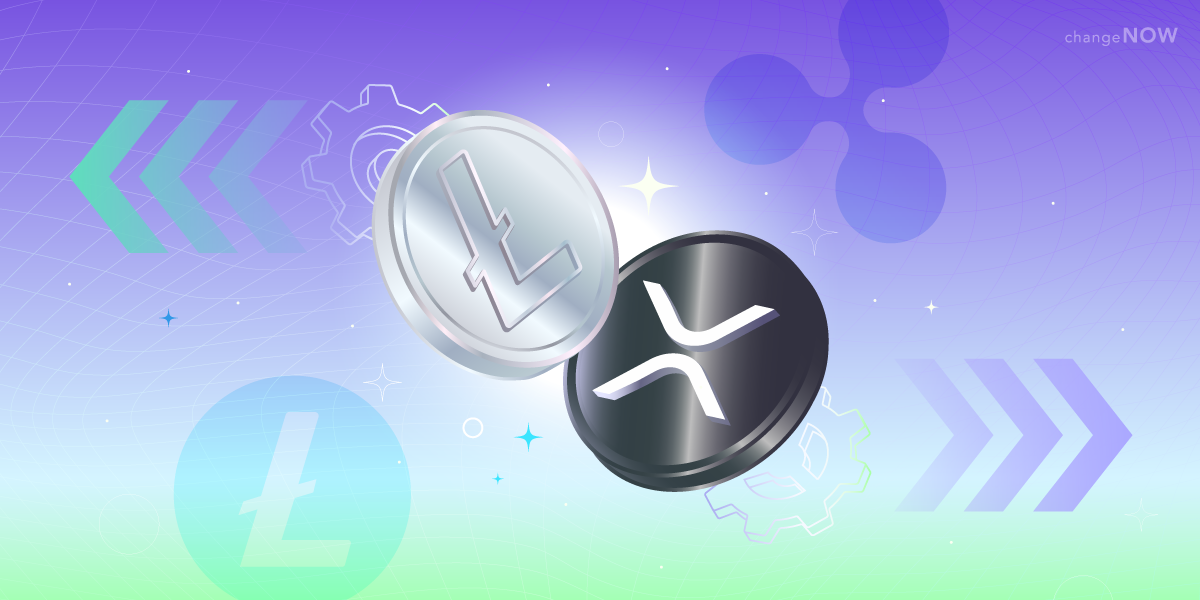 Litecoin
Litecoin enables fast and secure payments at a low cost. It was created based on Bitcoin's protocol but aims to improve Bitcoin's qualities. For instance, while bitcoin transactions take 1 to 1.5 hours to complete, Litecoin slashes the time by 87-97% with a transaction time of 2 to 8 minutes. Its transaction time—coupled with its low transaction fees—makes it appropriate for micro-transactions and point-of-sale (POS) payments.
Litecoin serves different purposes for individuals and businesses. Individuals can store their Litecoin in various crypto storage platforms such as digital wallets, hardware wallets, and online crypto banks. By storing them on any of these platforms, the user can manage and carry out Litecoin transactions.
Furthermore, Litecoin enables businesses to carry out speedy and low-cost crypto transactions without intermediaries or third parties. Because of Litecoin's fast and secure network, several businesses trade billions of dollars daily. These businesses integrate Litecoin into their payment gateways and point-of-sale terminals.
Ripple
Ripple, on the other hand, operates on its own decentralized, open-source blockchain known as XRP Ledger. The XRP Ledger is a decentralized exchange that supports cross-currency payments, micropayment gateways, multi-signing for custody and security, and other tokens that are not XRP.
Like Litecoin, Ripple also enables speedy and low-cost transactions. (Ripple transactions are usually completed within 3 to 5 seconds.) In addition to these qualities, the XRP Ledger makes XRP highly scalable (processes 1,500 per second) and energy efficient. Currently, developers in the XRP community are building smart contracts, NFT ecosystems, and sidechains.
How Do They Work
Litecoin
Since Litecoin is based on Bitcoin's protocol, it also uses the proof-of-work (PoW) consensus and undergoes halving events similar to Bitcoin's. Litecoin miners' rewards are reduced by half every four years. The last halving event took place in August 2019 and ushered in a mining reward of 12.5 LTC. At the next halving event in August 2023, miners will begin to receive 6.25 LTC. (Bitcoin's last halving happened in May 2020, with miners receiving a reward of 6.25 BTC. The next halving will be in May 2024 and miners will begin to receive 3.125 BTC.)
Though Litecoin and Bitcoin share some similarities, there are differences between the two. For instance, they differ in their hashing algorithms, that is, the way they store data. Litecoin uses Scrypt; Bitcoin uses SHA-256.
Ripple
The XRP Ledger uses a consensus mechanism known as the Ripple Protocol Consensus Algorithm (RPCA). This consensus does not make use of miners but bank-owned computers for confirming transactions.
The XRP Ledger also hosts several payment-related applications that offer use cases such as micropayments, DeFi payments, and NFT payments. Furthermore, the Ledger allows developers to build in different languages including Python, Java, and JavaScript. These applications are highly flexible and come with robust utilities. They are grouped into five classes: payments, stablecoins, tokenization, DeFi, and central bank digital currencies (CBDCs).
What Are the Numbers?
Litecoin and Ripple occupy strong positions in the crypto space. Currently, Litecoin ranks 14th, while Ripple ranks 6th, per data from Coinmarketcap. The table below compares both currencies with respect to key parameters such as price, market cap, and total supply.
| | | |
| --- | --- | --- |
| Parameter | Litecoin (LTC) | Ripple (XRP) |
| Date of creation | 2011 | 2012 |
| Rank | 14th | 6th |
| Price (USD) | 66.67 | 0.3383 |
| Average transaction time | 2 - 8 minutes | 3 - 5 seconds |
| Max supply | 84,000,000 LTC | 100,000,000,000 XRP |
| Circulating supply | 71,942,767 LTC | 50,343,500,506 XRP |
| Market cap (USD) | 4,790,708,759 | 17,026,670,298 |
| Trading volume (USD) | 319,858,044 | 769,720,540 |
How to Buy
Being popular cryptocurrencies, you can purchase Litecoin and Ripple from several centralized and decentralized exchanges. On ChangeNOW, you can purchase any of the coins in three simple steps:
Confirm the exchange details and deposit your funds in a one-time deposit address. Say you select LTC/USDT or XRP/USDT, you will send USDT to the deposit address provided.
Receive your LTC or XRP within minutes. ChangeNOW searches and selects the best possible exchange rate, swaps your USDT for LTC or XRP, and sends them to you.
How to Make Money from Litecoin and Ripple
Litecoin
The primary way to make money from Litecoin is by selling the cryptocurrency after it has added value. If fundamental and technical analyses validate an upward price trajectory, then you can buy low now and sell high later.
Also, ChangeNOW users can make money from Litecoin through ChangeNOW's crypto affiliate program. By generating and sharing your unique affiliate link, you get paid for any Litecoin exchange made through your link.
Ripple
Just like with Litecoin, you can also make money with Ripple by buying low and selling high, given market dynamics.
Other suggested ways for one to make money through XRP include:
Faucet platforms where people perform tasks and earn rewards in XRP.
Ripple ad viewing, where users earn XRP when they watch ads.
XRPTipBot: Discord, Reddit, and Twitter users tip XRP to one another using this bot.
Note: These earning methods have not been proven by Ripple, so you should conduct your due diligence before trying any of them. However, ChangeNOW offers a valid way to earn XRP.
ChangeNOW users can earn XRP commissions anytime someone exchanges XRP through their unique affiliate link.
Converting Litecoin and Ripple to Cash
You can convert LTC or XRP to cash on ChangeNOW. ChangeNOW is a platform where you can buy or sell cryptocurrencies using fiat currencies. With your Visa or MasterCard, you convert LTC or XRP to cash (and vice versa) using any supported fiat currency.