Klaytn and ChangeNOW's Asian Crypto Market Journey
Are you ready to dive into the exciting world of the Asian crypto market? Join us as we explore the latest trends, market growth, and the unique solutions offered by Klaytn and ChangeNOW.
As two prominent players in the crypto space, we have joined forces to provide innovative solutions for the ever-evolving Asian market. Whether you're an experienced crypto enthusiast or just starting your journey, there's something for everyone in this dynamic and exciting landscape.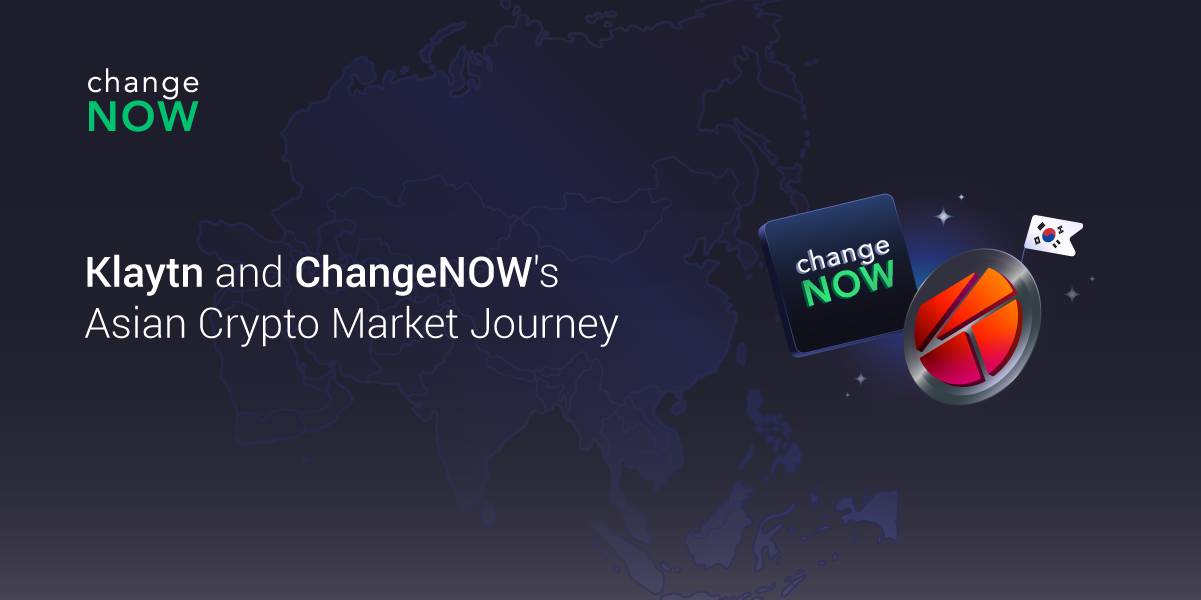 Klaytn: Empowering the Blockchain Revolution
Originating from South Korea, Klaytn has established itself as a leading blockchain platform with a mission to redefine enterprise-grade reliability within the crypto world. At its core, Klaytn's design principles are laser-focused on empowering pioneers to build applications and nurture communities in a scalable manner.
Here are some of Klaytn's notable strengths:
Lightning-Fast Transactions: Klaytn's main chain boasts an astounding one-second block time with immediate finality, positioning it as one of the fastest EVM L1s available. This ensures a user experience akin to Web2, eliminating the hassle of "transaction pending" or wait times for DApp users.

Ethereum Compatibility: Klaytn's Ethereum equivalence enables developers to harness their favorite Ethereum tooling and SDKs effortlessly. This compatibility ensures a smooth transition to Klaytn with minimal code modifications.

Affordable Gas Fees: Klaytn offers transaction fees that are more than 2500 times lower than Ethereum's, enhancing cost-effectiveness for users and developers alike.

Account Abstraction and Fee Delegation: Klaytn simplifies user onboarding through account abstraction and gas fee delegation support, streamlining the process and reducing barriers to entry.
Crucially, Klaytn never compromises on blockchain's core characteristics. It maintains stability, transparency, security, and decentralization while pursuing these enhancements.
Exploring the Asian Crypto Market Trends
The Asian crypto market has experienced significant growth and has emerged as a key player in the global cryptocurrency landscape. Let's take a closer look at the trends and developments shaping this dynamic market.
Average Daily Trading Volume
The average daily trading volume in the Asian crypto market has seen a steady increase, reflecting the growing interest and participation of individuals and institutions. The region's vibrant crypto community has contributed to the market's liquidity and volatility, making it an attractive destination for traders and investors.
General Interest in Crypto
Interest in cryptocurrencies in Asia has been on the rise, with a significant portion of the population showing curiosity and eagerness to explore this new digital frontier. Singapore and the Philippines have emerged as key players in the region, demonstrating a strong interest in crypto-related topics and activities.
South Asia's Growing Market
South Asia, including countries like India and Pakistan, has witnessed substantial growth in crypto interest and adoption. As the global crypto ecosystem expands, more individuals and businesses in South Asia are recognizing the potential and benefits of cryptocurrencies, driving the market's growth in the region.
ChangeNOW and Klaytn: A Vision for Asia
ChangeNOW and Klaytn are not merely spectators in this transformative journey; we are catalysts of change. Our shared focus on Asia underscores our commitment to revolutionizing the crypto landscape in this dynamic region.
As strategic partners, we integrate our solutions to meet the unique demands of Asian crypto enthusiasts, investors, and businesses. Together, we envision a future where blockchain technology drives financial inclusion, transparency, and innovation across Asia.
Become a ChangeNOW Partner: Shape the Future
Are you ready to be part of the crypto revolution in Asia? Every crypto project holds the potential to become a ChangeNOW partner, opening doors to a world of opportunities. Sign up today and join us in shaping the future of finance!