Jasmy Coin Price Prediction - 2023, 2025, 2030 Jasmy Forecast | ChangeNOW
Will JasmyCoin Price recover after its drop in 2022? Find out in our latest Jasmy Coin Price Prediction for 2023, 2025 and 2030 based on technical and fundamental analysis
Jasmy Coin Price Prediction — 2023, 2025, 2030 Forecast
Table of Contents
JasmyCoin is one of the most exciting cryptocurrency projects. In this article, we bring you the Jasmy Coin price prediction for 2023, 2025, and 2030.
JasmyCoin is an ERC-20 token serving as the native token of the Jasmy platform.
Bullish Jasmy price prediction for the year 2030 is a token price of $0.032.
The price prediction of JasmyCoin is bearish for 2023 and can only reach price of $0.0078 at best.
JasmyCoin Overview
JasmyCoin is ranked 134th according to its market cap on Coinmarketcap. There are a total of 50,000,000,00 Jasmy tokens with a circulating supply of 46,299,999,999. The market cap of JasmyCoin at the current price is $140,629,900. JasmyCoin is available for trading on almost all major exchanges, with ChangeNOW being one of the best places to do it.
| | | |
| --- | --- | --- |
| Year | Maximum Price | Minimum Price |
| 2023 | $0.0078 | $0.0047 |
| 2025 | $0.0200 | $0.0170 |
| 2030 | $0.0320 | $0.0250 |
What Is JasmyCoin?
Kunitake Ando created Jasmy as an organization dedicated to the Internet of Things(IoT). JasmyCoin is built on the Ethereum blockchain and uses decentralized servers for storing and computing data. Jasmy uses the InterPlanetary File System(IPFS) to decentralize the platform.
As an IoT company, Jasmy focuses on buying or selling data and connecting service providers with data users. The Jasmy platform is designed to protect and restore the individual's data sovereignty by combining IoT with blockchain technology.
Users can exchange data between IoT devices (computers, cars, mobile phones, etc.) and decentralized protocols securely using the Jasmy platform. This gives users complete control over how their data is shared and how it can be monetized.
The democratization of data gives power to the users on how the service providers use their data. The Jasmy token is a data security token and users can secure their data in a data locker on the platform. Any individual or organization that wants access to the data must pay user in JasmyCoins.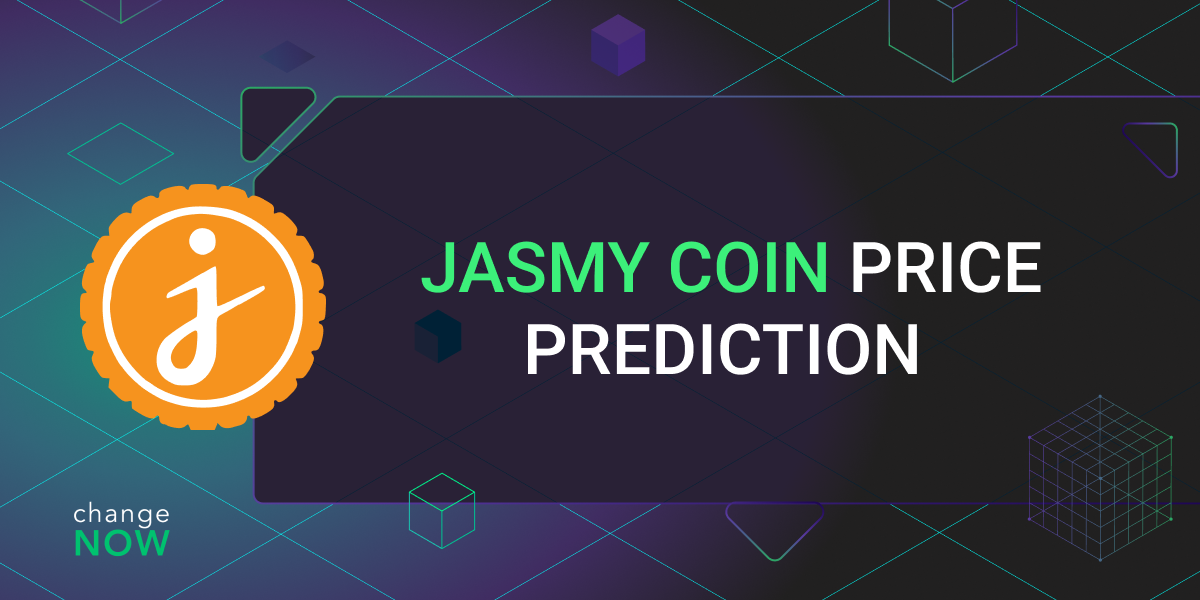 JasmyCoin Price History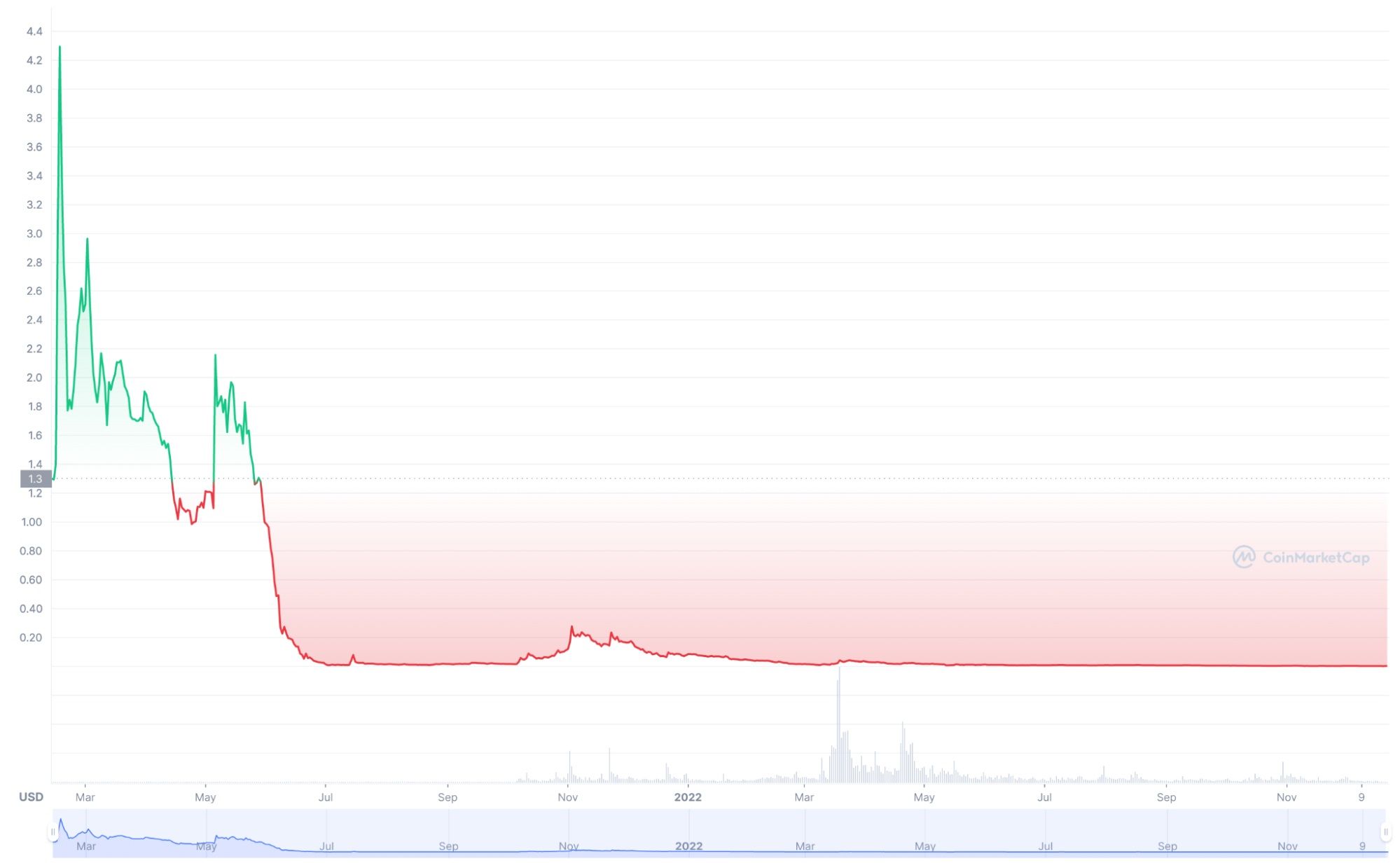 JasmyCoin Price History (Coinmarketcap)
The nature of the crypto market is such that the price action of a token in the past should not be taken to predict its future. But the past swings can give context.
JasmyCoin was launched on February 12th, 2021 at a price of $1.3 and started trading at an all-time high price of $4.99 on February, 16th, 2021, a surge of almost 300%. Since then, the JasmyCoin price has been highly volatile and JasmyCoin fell more than 64% within a week from its all-time high to a price of $1.77. For the next few months, Jasmy traded between the price of $1 and $2 before losing the support price of $1 and falling below it.
In July 2021, the price of JasmyCoin fell to $0.010 and has been taken over by market bears since then. When the crypto markets peaked during the last quarter of 2021, the Jasmy token price jumped more than 1000% and reached $0.27 due to it being listed on Coinbase.
The JasmyCoin price tumbled along with the entire crypto market in June 2022. The price of the JasmyCoin reached an all-time low of $0.00295 on December 19th, 2022.
JasmyCoin Fundamental Analysis
Since it is developed and backed by a group of senior-level executives of Sony, Jasmy has been able to forge a lot of partnerships over the years and expand its user base and digital footprint.
JasmyCoin was listed on the Bittrex crypto exchange in 2021. At the same time, Jasmy began support for Metamask and Trust Wallets. SlowMist Technology, a cyber security company working in smart contract audits, signed a deal with Jasmy in September 2021 to check the security standards and evaluation mechanics of Jasmy.
JasmyCoin also became the sponsor of the Japanese Football League top team Sagan Tosu during the same time. In October 2021 JasmyCoin got listed on Coinbase and Coinbase Pro and announced plans to expand to the Asian and North American markets.
In April 2022, Jasmy partnered with a multichain privacy software company, Mystiko Network. It will help with user authentication and provide data security, optimization, etc. Jasmy partnered with Binance in the same month and gave away a Tesla to one lucky winner.
JasmyCoin Technical Analysis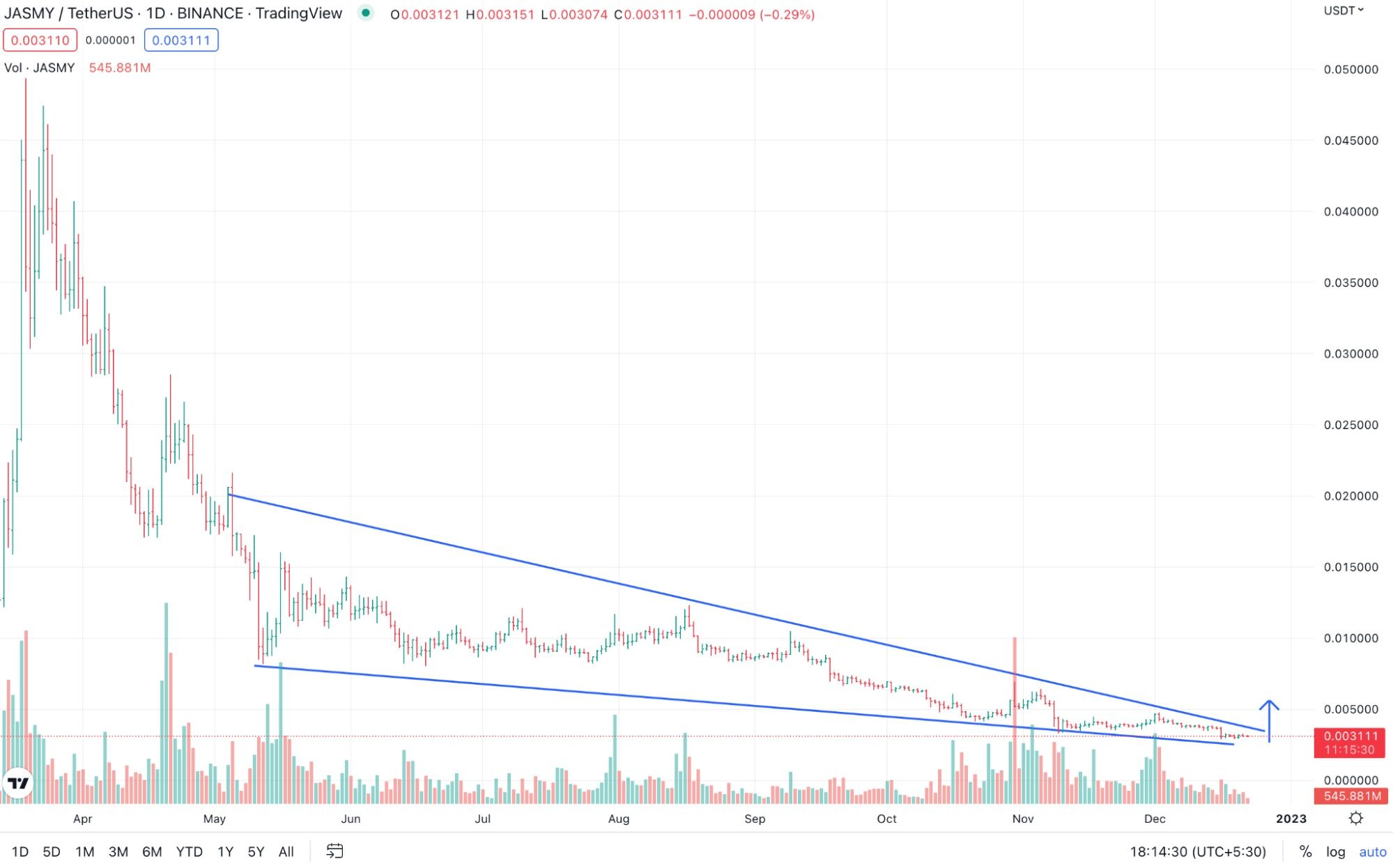 Jasmy TA (TradingView)
The price of the JasmyCoin has been hovering around its all-time low. But according to the technical analysis, the price of Jasmy is in a falling wedge. Hence, the long-term forecast for the Jasmy price is towards the upside.
Looking at the past support levels, accumulation zones, etc., Jasmy does not need to go through a lot of resistance levels to reach $1 and beyond in the future. This presents the investors with some of the best buying opportunities for JasmyCoin.
Jasmy Coin Price Prediction 2023
The global economy and the crypto market prediction for the short term is to be in a bear market phase. The Jasmy crypto price prediction for 2023 is that it will go down in the conservative zones and only reach a maximum price of $0.0078. Taking market volatility into consideration, the price of Jasmy is predicted to hover between $0.0047 and $0.0055.
Jasmy Coin Price Prediction 2024
The prediction for the world economy is that it would start recovering sometime around 2024 and as a result, the cryptocurrency markets would also see bullish movements. The Jasmy forecast for 2024 is to recover and reach a maximum price of $0.011 in 2024 and the price of JasmyCoin is expected to range between $0.0085 and $0.0094 in 2024.
Jasmy Coin Price Prediction 2025
When the markets recover in 2025 and money flows into the crypto markets, the sentiments are predicted to be bullish with a lot of cryptocurrencies reaching new all-time highs. The prediction for Jasmy in 2025 is to make an upward move and reach a maximum of $0.020 and with a lower range between $0.017 and $0.018 in 2025.
Jasmy Coin Price Prediction 2030
Making long-term predictions for assets across any sector is hard and especially for assets as volatile as cryptocurrencies. But the outlook for blockchain technology and cryptocurrencies is positive in the long run as real-world mass adoption occurs and there is more clarity about their legal status. Hence, a conservative prediction of the price of Jasmy for 2030 is a maximum of $0.03200, with the price of JasmyCoin ranging from $0.025 and $0.027.
_Disclaimer: The contents of this article should not be considered a piece of financial advice and are only meant for educational purposes. Users are advised to exercise caution before investing or trading in cryptocurrencies. _
How To Buy Jasmy
Go to the JasmyCoin exchange page and select the cryptocurrency or fiat currency that you'd like to buy JASMY with. ChangeNOW will show you an estimated rate along with the transaction fees. Click on "Exchange".

On the next page, you'll be shown the details of the entire exchange. Enter a valid JASMY wallet address where you'd like to receive them and click on "Next".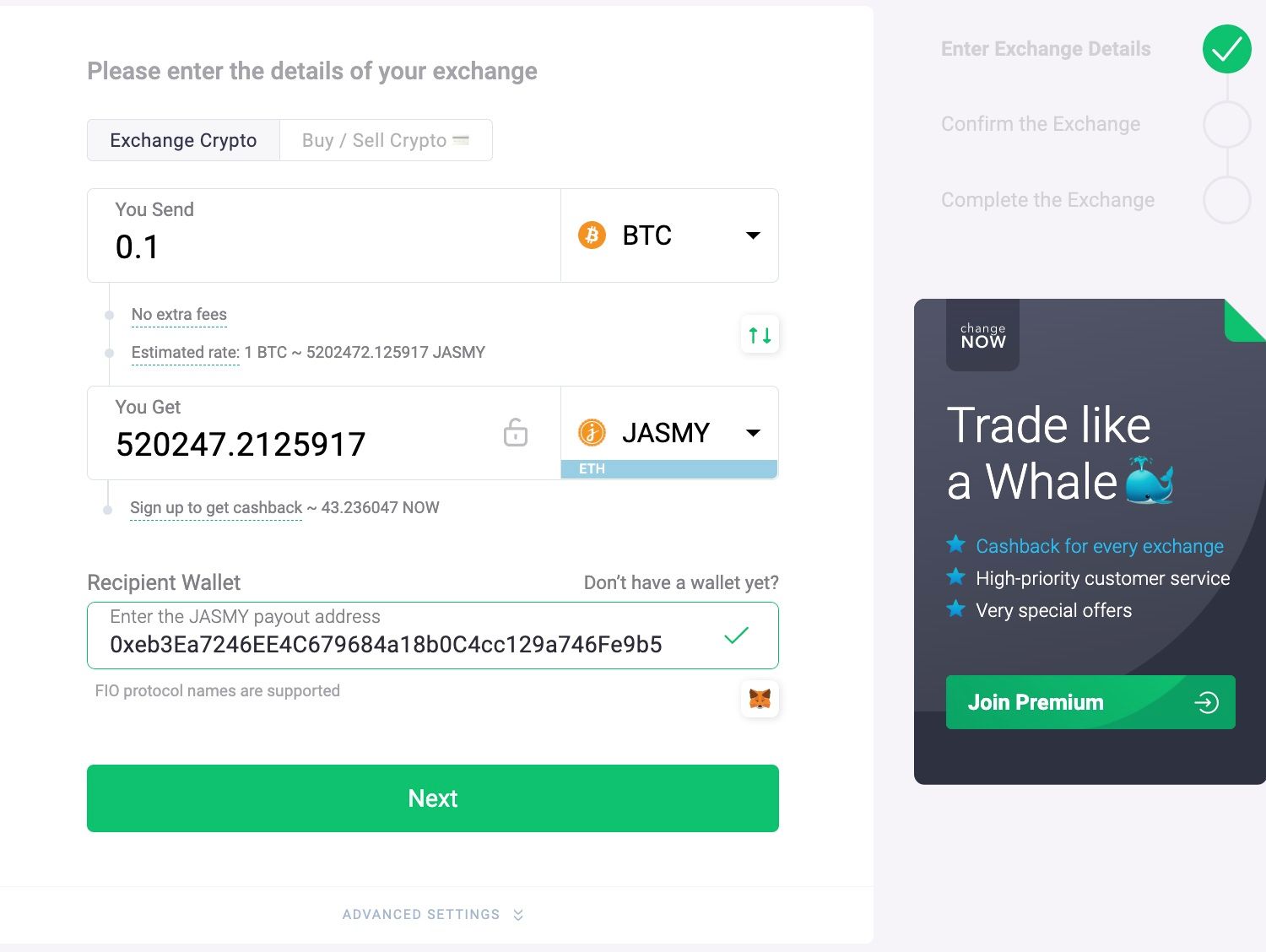 Check the details of the transaction and click "Confirm".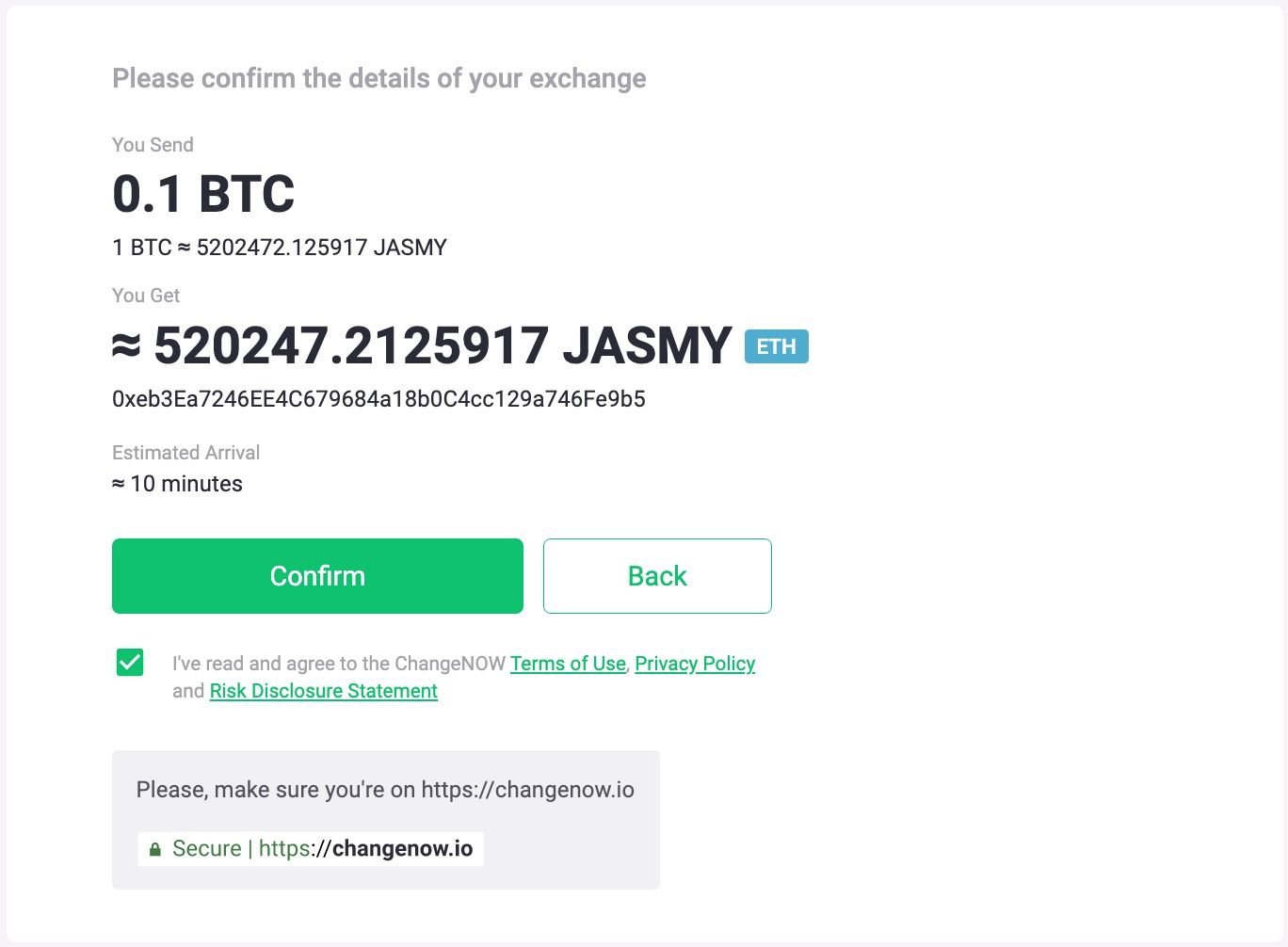 Send a deposit to the address given by ChangeNOW. Once the deposit is successful, you'll receive the JASMY tokens in your wallet.
JasmyCoin FAQ
What Will JASMY Be Worth In 2023?
The outlook for JasmyCoin and the crypto markets in 2023 is not too bullish but it is still expected to rise to a maximum price level of $0.0078 and the price of Jasmy would range between $0.0047 and $0.0055.
What Will JASMY Be Worth In 2025?
With the recovery of global financial markets and economies occurring around 2024 and 2025, the JasmyCoin prediction is to rise to a maximum price of $0.020, and the JasmyCoin price would range between $0.017 and $0.018.
What Will JASMY Be Worth In 2030?
By 2030, there is going to be mass adoption of blockchain technology and cryptocurrencies. That is expected to pump JasmyCoin to a maximum price of $0.032 and the price of JasmyCoin will range between $0.025 and $0.027.
Is Jasmy Coin Safe?
Given the state of the crypto industry right now with the collapse of LUNA and FTX recently, no crypto project is 100% safe. But since JasmyCoin is the first legal crypto according to the Japanese Financial Services Agency, Jasmy can be considered relatively safer than a lot of projects out there.
Can Jasmy Reach $1?
The outlook for JasmyCoin is very positive as it combines two of the most important technologies, namely, the Internet of Things and blockchain together. Hence, once mass adoption picks up pace, there is a very high chance that JasmyCoin will again start trading at $1 and above.
Can Jasmy Reach $100?
The total supply of JasmyCoin is 50 billion tokens and for the price to reach $100 for one JasmyCoin, the market cap of Jasmy will have to go into trillions. Hence, it is highly unlikely that Jasmy would ever hit the price of $100 per token.
How High Can Jasmy Reach?
JasmyCoin is near its all-time low price right now, so it presents a great buying opportunity as the price of JasmyCoin can definitely do anywhere between 10x to 10000x easily. If JasmyCoin does 10000x from its current price, Jasmy can reach a price of $30 per token.
When Was Jasmy All-Time High?
JasmyCoin was launched in February 2021 and within a couple of days, JasmyCoin reached its all-time high price of $4.99 on February 16th, 2021. Since then the price of JasmyCoin is down by nearly 99 percent and trading near all-time lows, therefore providing a wonderful buying opportunity.