India to Introduce Crypto Tax Alongside Digital Rupees
India will launch a CBDC and introduce significant taxes to crypto operations in the country, as it hopes to boost its economy.
India Prepares to Introduce Cryptocurrency Tax
Nirmala Sitharaman, the Finance and Corporate Affairs Minister of India, made the announcement in a speech discussing the country's budget for the year 2022. The CBDC will be launched by 2022-2023 as a way to boost the country's economy.
As the Minister announced the Union Budget fund allocation, Sitharaman emphasized the importance of digital inclusion across a wide range of business sectors. Rather than issuing bans on crypto institutions in the country, the minister suggested that appropriate levies and taxes on the crypto entities in India would serve the country well. Moreover, she argued that digital currencies could lead to more efficient and cost-effective currency management.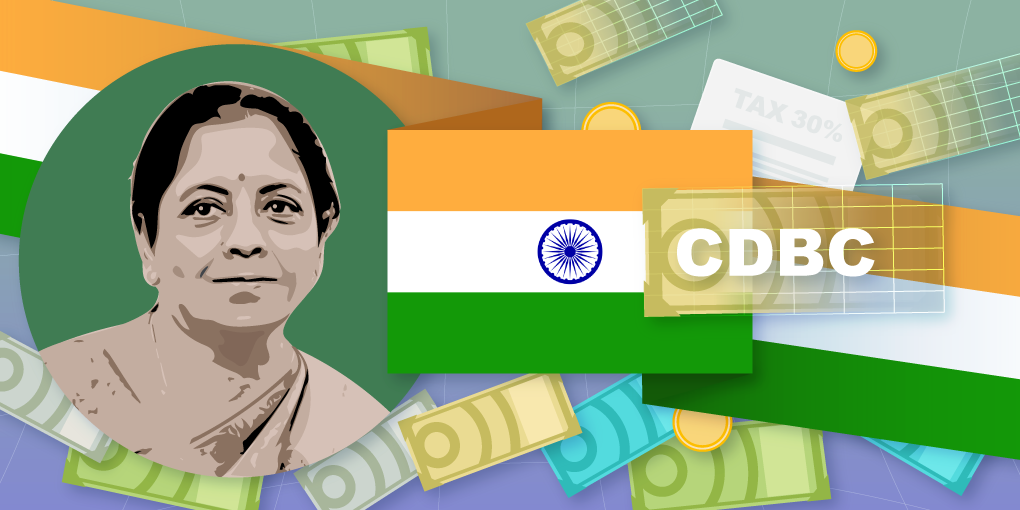 Besides introducing a digital version of the Indian Rupee digital version, Sitharaman also proposed a 30% crypto tax on all transfers of virtual digital assets.
"Any income from transfer of any virtual digital asset shall be taxed at the rate of 30%," Sitharaman said. "No deductions in respect of any expenditure or allowance shall be allowed while computing such income, except the cost of acquisition."
The minister also stated that any losses incurred while trading assets could not be used to offset any other source of income. Therefore, investors will not be able to use losses or even liabilities from crypto hacks to offset taxes on profits.
Implication for Indian Economy
According to the Finance Minister, a blockchain-based and RBI-backed Central Bank Digital Currency (CBDC) will be introduced by 2023. The move is not out of the blue and has been long coming despite India's tentative approach to cryptocurrencies. According to DVS Advisors LLP, this year was expected to bring much-needed clarity on the taxation of digital assets.
Some respondents are concerned that the government might be seeking to discourage digital asset investments by announcing a tax of 30 percent and launching its own digital currency. Some believe this will only limit access to such investments to a select group of wealthy individuals. However, there are logical suggestions that the new law is a positive one for India in all aspects.
A pronouncement of tax on crypto institutions is an acknowledgment of these entities in the first place, which in the past had not been recognized by law. Before now, the legitimacy of cryptocurrency in India has been a hot issue both in government and in the Ministry of Finance. In other words, it's an issue that's currently under consideration.
Bottom line, the Indian government is publicly keen on cryptocurrencies. Its decision to cross out any potential bill capable of banning crypto from its parliament agenda is even bigger proof of this, and a noteworthy foundation for the future of crypto in India.
You can buy or trade any of your preferred tokens for on ChangeNOW without any registration.
Welcome to the NOW experience! The ChangeNOW team presents you with the new community-inspired crypto wallet – NOW Wallet. For safe and efficient asset tracking, try our crypto portfolio tracking app – NOW Tracker.