How to Mine Zcoin?
What is Zcoin (XZC), how to mine Zcoin, what hardware and software is the best for Zcoin mining - you will find the answers for these questions here.
What is Zcoin?
Zcoin is a privacy-centered cryptocurrency that promotes anonymous transactions. The Zcoin code is based on Bitcoin and the coin was founded in 2016. It used to be dependent on the Zerocoin protocol. But, due to an incident that allowed an attacker to double spend coins, the team behind Zcoin decided to introduce a more secure protocol. As a result, the Sigma protocol was launched in July 2019. The project uses a very rare combination of TOR and Dandelion protocol integration. These protocols ensure that transactions receive an additional level of privacy, adding further to the Zcoin value. The sender's real IP address is hidden from the public that cannot even see who is connected to the network.
Zcoin uses a hybrid consensus algorithm. This dual setup means that Zcoins can be mined but staking the XZC Zcoin is also possible. XZC is the proprietary coin of the network and the ticker symbol of Zcoin. Its total supply is 21.4 Million, similar to Bitcoin. The mining algorithm is both PoW and PoS compatible. The founder of Zcoin is Poramin Insom, a security expert. His scientific adviser at the Johns Hopkins University was the developer of the Zerocoin protocol. The other team members are highly skilled security experts, developers, engineers, etc. The organization has a very active GitHub and the XZC Reddit community shares fresh content daily. More detailed information about the Zcoin team is available at Zcoin io. The present XZC coin price is just above $4. Investors who want to buy XZC can use many popular exchanges and exchange services. BitForex, ChangeNOW, Binance, Huobi, and BKEX, are just some of them. The most common trading pair is as expected: XZC BTC.
How to Mine XZC?
XZC mining was done via the Lyra2z algorithm in the past, but after a hard fork, Zcoin XZC mining is now performed using the Merkle Tree Proof or MTP mining algorithm. This new algorithm protects Zcoin mining from ASIC equipment and the centralization of mining power. The new algorithm is very complex. A Zcoin MTP miner requires powerful hardware equipment to mine XZC effectively. Here are the minimum system requirements for a stable MTP mining operation:
A computer with a minimum of 8 GB RAM.
A graphics card of at least 6 GB of memory. Preferably an Nvidia GPU.
An Intel i5 or i7 computer processor
Mining activity will depend on the processor type and amount of RAM a user has. The most obvious rule applies: bigger and more powerful components will result in better performance. The below Zcoin mining MTP guidelines are for Windows users. Linux and Mac users can use the provided information and adjust it accordingly to suit their needs. The first thing to do before starting to mine Zcoin is to download a wallet and generate an address to store XZC mining rewards. The best Zcoin wallet that is recommended by the developers is the officially supported Zcoin Core Wallet. The official wallet is available for Windows, MAC, and Linux. This is a full-node wallet.
After downloading and installing Zcoin Core, the wallet needs to synchronize with the blockchain. This process can take several hours. It is recommended to let the wallet fully sync. Another option is to create a wallet address using Ledger software. Zcoin Ledger Nano S support is available and the coin can be managed with the Electrum-XZC application. Installation and setup instructions can be obtained from Ledger support. Once the wallet is ready, it is time to find a handy MTP miner Zcoin. XZC can be mined with CPUs and GPUs. Zcoin GPU mining with Nvidia cards is much more profitable, and as a result, most miners support Nvidia graphics cards. Some are available for AMD GPUs as well. This is a list of Nvidia miners that users can choose from:
There two miners can be used with AMD GPUs:
The best Zcoin miner and the only one that has been tested and is recommended by the Zcoin development team is the official ZCoin ccminer. Many other miners are closed-source software and should only be used at your own risk. When you have made your decision, download and extract the miner you choose in a folder on your system. Next up on the agenda is to select a mining pool that is compatible with the Zcoin MTP mining algorithm. One of those is the 2Miners pool which I am going to use in this example.
How to start mining XZC
The '_.bat'_ file of your chosen mining software needs some editing. You need to modify the pool address and enter your Zcoin wallet address. That can be done from Notepad or any other installed text editor. Each miner software has a slightly different configuration file. It is important to enter the correct code depending on which miner and pool you use. This is how the string for the official Zcoin ccminer looks: ccminer.exe -a mtp -o stratum+tcp://POOLADDRESS:PORT -u WalletAddress.worker -p password "**POOLADDRESS:PORT" needs to be changed to the correct address and port number of the selected mining pool. The XZC server addresses for 2Miners are available here. "WalletAddress" should be replaced with the correct Zcoin wallet address. "worker**" can be left as it is or changed to a name that better suits the user. After all the necessary changes have been made, it is important to save the .bat file in the same folder where the rest of the extracted mining software is located. Double-clicking on the .bat file will start the mining process. A new window will open up showing the status and progress of the miner.
To check the amount of Zcoins in your wallet that originated from your mining venture, just enter your XZC wallet address on the mining pool's website that you are using. For an effective mining process, it is important to consider the profitability of it. For that purpose, we can use a mining Zcoin profitability calculator. Several of these are available online and I am going to use WhatToMine.com. The profitability will depend on a few factors such as the electricity cost, the GPUs hashrate, the power consumption, current price of the coin, etc. Zcoins can also be earned from staking. By staking a minimum of 1,000 coins, an investor can earn a Zcoin masternode reward. These masternodes are called Znodes. Owners of Znodes receive 30% of newly minted Zcoins as a reward. The current Zcoin masternode ROI is over 13% annually. A detailed Znode setup guide is available on Zcoin's website.
Best XZC Mining Hardware
Nvidia GeForce cards perform the best when it comes to mining Zcoin. Make sure you don't forget to cool your GPUs by installing fans or a ventilation system. That will prevent your hardware from overheating and extend its lifetime.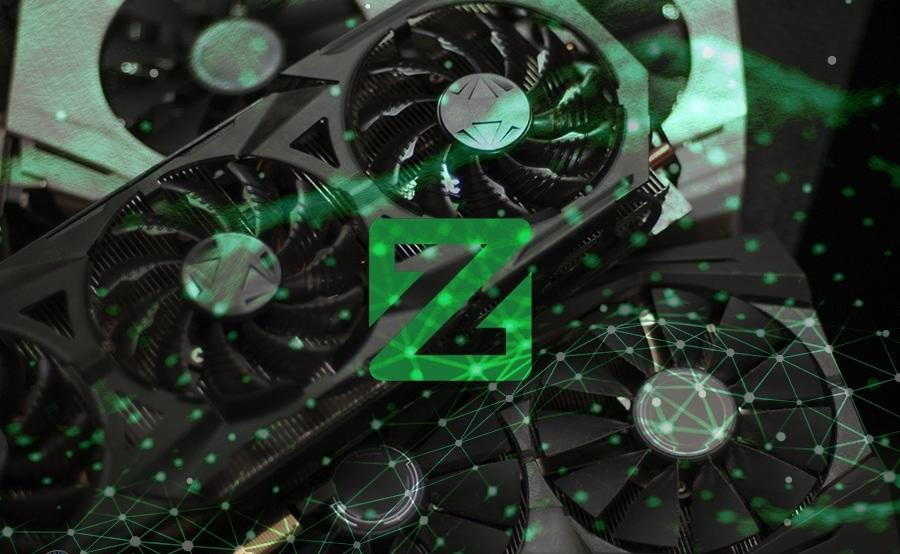 Here is a selection of the TOP 3 Nvidia cards for XZC mining and their characteristics:
Nvidia GeForce RTX 2080Ti, 11 GB
Nvidia GeForce RTX 2080 SUPER, 8 GB
Nvidia GeForce GTX 1080Ti, 11 GB
| | | |
| --- | --- | --- |
| Model | Hashrate | Power Consumption |
| Nvidia RTX 2080Ti | 4.58 MH/s | 220W |
| Nvidia RTX 2080 SUPER | 3.94 MH/s | 190W |
| Nvidia GTX 1080Ti | 3.52 MH/s | 190W |
Best XZC Mining Pools
When choosing a mining pool, it is important to pay attention to several details. There should be a server in your geographical location. The pool fees and minimum payouts should be as low as possible. The mining pool should have plenty of hashrate and a proven track record of paying out mining rewards. Here is a selection of suitable XZC mining pools in no particular order:
Conclusion
Zcoin is an encouraging privacy project with a very active development team that is working on improving the codebase and securing the network. Improved scaling solutions and a quantum-resistant blockchain, are some of the activities the team plans to evaluate in 2020. The hard fork and subsequent change to the MTP algorithm have been positive overall. Zcoin was the first cryptocurrency to adopt MTP that made all miners equal. The blockchain has become ASIC resistant, and mining has become more profitable. There are plenty of GPU miners to choose from that support the two biggest brands – Nvidia and AMD. Quality mining pools are not lacking either, with servers located all over the world. An upgrade of an outdated graphics card and more computational power will be helpful when the miner notices a positive change in the mining rewards.
Update: Later in 2020 Zcoin was rebranded and is now called FIRO. The currency is available to swap, buy, and sell at the ChangeNOW website.