How the Crypto and Gaming Industry Could Birth the New Internet
Crypto is rapidly entering the gaming space, leading to an increase in NFT adoptions, as we prepare for the inevitable era of the internet.
On January 18, Microsoft bought Activision, the popular gaming giant responsible for the best-selling Call of Duty, Candy Crush and Warcraft games, among others. The former two games alone have +300 million active monthly users. But Microsoft is not the only one making moves; 11 weeks before its record-breaking purchase, Facebook rebranded into Meta in preparation for a future of virtual reality technology.
These developments and their timing are no coincidence. Why games? What made tech giant Microsoft suddenly interested in the GameFi industry? What was so important that it was worth $78 billion? This becomes more interesting considering the takeover coincides with the flourish of blockchain-based games and play-to-earn metaverses flourishing in crypto.
Until now, popular games like Call of Duty, Among Us or even Grand Theft Auto have followed a centralized model, where developers manage the online content and all data is stored on servers.
However, blockchain-based games, which are quickly gaining in popularity, give players full control over their digital identities, accounts, and assets. Players also have freedom to interact with the game's micro-transactions to trade and cash out assets.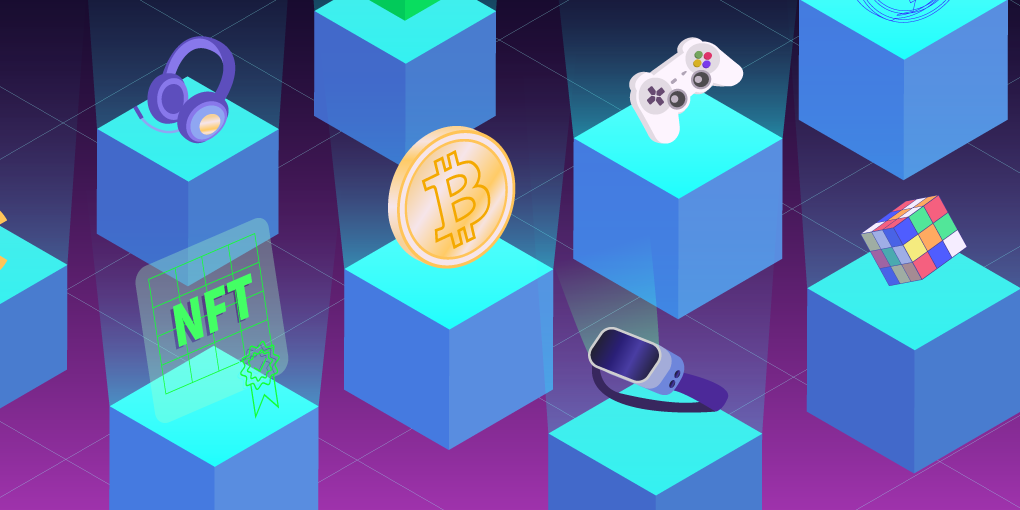 New Internet: What Exactly is It?
The combination of the gaming industry and cryptocurrencies has the potential to influence the "New Internet". But what's "new" about a future internet?
This is a term that describes the next age of the World Wide Web. Also known as Web 3, it is expected to be a decentralized version of its predecessor. Unlike the current version (web 2.0), Web 3 users will get to completely control data and information access - eliminating central servers. Web 3 will be a breath of fresh air to its outdated predecessors.
During Web 1 or the "Read Only Era", users mainly accessed the internet to consume information. Web 2 was the dawn of online identity and user profiles through Myspace, Facebook, and Google accounts — the Social Media Era.
It's been 24 years since Google's founding and 16 since Facebook's. However, lawsuits, data violations, and data monopoly make it increasingly certain that internet users would rather be served by models benefiting them.
Various companies' centralized product offerings enjoy a monopoly and influence that comes from having so much data. However, skepticism about privacy control and monopoly is increasing; it's only a matter of time before a newer, well-serving version of the internet arises. This era is generally accepted as Web 3. Its emergence is being fast-tracked by a prosperous marriage between crypto, decentralized finance, and games. This marriage of these unlikely industries is known as GameFi.
GameFi, Metaverse, and Web 3
What is GameFi? How does it relate to the metaverse and what do these concepts hold for the future internet?
GameFi is the financialization of video games. Similar to the popular crypto term DeFi or decentralized finance, GameFi is a portmanteau of the words "gaming" and "finance."
The GameFi industry, although recent, is encompassing enough to be different in structure and system. For example, some blockchain-based games incentivize players to finish in-game tasks, while others allow players to generate revenue from owned assets.
Unlike common beliefs that GameFi could involve gambling, especially considering its play-to-earn features, most blockchain games require players to leverage a mix of complex skills and strategies to generate revenue.
"GameFi" first appeared in 2019 when founders of Mix Marvel — one of the earliest blockchain-based games — spoke at the Wuzhen World Blockchain Conference in China. The speech explored how crypto and the gaming sector could revolutionize user game experiences. It has since spurned a slew of other blockchain games known as play-to-earn games or P2E metaverses.
The potential of this nascent industry has piqued Microsoft's interest so much that it's now secured full rights to one of the biggest gaming giants in the world. It also inspired Ubisoft to venture into NFTs, despite pushback from its users.
Sandbox COO Sebastien Borget told Decrypt that most gaming studios would probably be involved in blockchain and NFTs before the end of 2022, considering its recent successes.
"Every single [game] studio I know of — from the largest, top company to the smallest — will have a product, if not many, involving blockchain [in 2022]," Borget said. "This will create the fastest and most adopted business model transition that we've ever seen."
By Borget's prediction, an adoption of blockchain and NFTs in games will hasten a world of metaverses or at least, "the metaverse." Borget also explained that a realization of this inevitable development inspired Facebook's rebranding to Meta and intensified the tech giant's research into virtual reality. GameFi is a valid industry in its own rights, despite its youth. As GameFi's operations continue to diversify, its influence on the metaverse and the adoption of Web3 is increasingly telling.
How do GameFi projects work?
Most GameFi projects usually have things in common, although new features or developments are on the rise. Common features often include in-game items like avatars, costumes, weapons, terrains, gold, characters, tokens, and pets, represented as NFTs. Having these items as NFTs means users can prove they own these digital properties. Players can therefore sell their acquisitions on NFT marketplaces in exchange for fiat currency. To learn more about how NFTs work, check out NFTs What, Why, and How.
Why does this model work? The NFT experience completely changes the intimacy of the experience for many gamers; personalizing it while allowing gamers to earn revenue. NFT integration into games offers perks like preservation of old titles, history, ownership, and interoperability. The interoperability of NFTs and blockchain systems mean players can easily transition between games with their items, since they own them. It also means popular in-game purchases are not wasted – users can resell them for profit. More than anything, it makes the gaming world a sustainable ecosystem and with evolving technology, a place where everyone can work and earn.
GameFi's Influence on Metaverse and Web 3
Unlike Web 3, the metaverse is not a specific technology, a fully formed industry, and is still somewhat difficult to visualize. What helps with the visualization of the metaverse and its gradual evolution is the emergence of games that are considered to have similar characteristics to what a functional metaverse would.
Games like Fortnite can offer glimpses of a future metaverse. However, gaming platforms with the most valid claims to the nascent metaverse industry have outrightly declared themselves as metaverses — such as Realm, Axie, or Sandbox — all crypto games. This makes sense because of their chosen labels and because, generally, a metaverse is also expected to be a commerce hub. More importantly, these games are based on Web 3 technology. As a result, the rising adoption and importance of P2E metaverse games like Axie proves that crypto games might be the biggest catalyst yet for the dawn of metaverses and Web 3.
That a crypto game (GameFi in essence) contributes to a future and better internet (Web 3) is not a surprise, especially when considering how these factors are co-dependent. Crypto games require a decentralized Web 3 internet to run, Web 3 requires crypto games for traction, and the Metaverse requires both for quicker adoption. The complementary attributes of these three are sensible.
The ideal metaverse is expected to run on a decentralized network, free from monopoly and operated by popular consensus. Web 3 technologies will allow this. Web 3 information will not be centralized or stored in data centers belonging to super corporations. Instead, it will be distributed on decentralized cloud networks - a form of blockchain technology that will allow for more transparency and security regarding data storage and access.
The abundance of blockchain-based games and apps possibly means Web 3 is already upon us, with several developments already employing decentralizing technology. Its adoption has been set in motion.
Why is Gaming Perfect for Web 3 and Metaverse Adoption?
The gaming world is vast, intriguing, and has incorporated metaverse themes for years; EA's The Sims allows players to build cities, start families, and have a second life and Fortnite's players have the freedom to create worlds and fight wars.
Gaming franchises are constantly flirting with virtual reality and some have built universes of their own. Gaming is an immersive experience and like physical reality, strong human connections can happen across virtual realities. It makes sense that many believe an evolving gaming industry is the bedrock of a possible metaverse.
In 2020 and the aftermath of the pandemic, gamers were estimated to be 68% of the US population. Before, this was only about 54%. In 2021, US video gamers were calculated to be around 226 million. Similar figures are found in the UK and France, with 58% of the population being video game players.
These figures show that the gaming industry has evolved far beyond past tropes of gaming for geeks only. The GameFi industry has never been more appealing, necessary even, for all ages. It's easy to see what role the gaming industry could have in the future and how companies like Microsoft have recognized this.
The Metaverse — meant to fast-track and ideally implement Web 3 technologies — is best-presented in game-like worlds. This makes sense in practice and theory. If the metaverse is meant to serve as an alternative life for its users, then a social game-like scenario might be its best form of execution. According to this report, 36% of gamers form lifelong friendships with individuals they meet in gaming chat rooms and 8% of these relationships blossom into marriages or partnerships. Numbers will only increase with users and when social interaction is emphasized.
Evidence shows that social gaming metaverses can serve as an essential building block in developing and fast-tracking a new internet experience as many required structures have already been modeled by online games. For example, the popular online game Fortnite has hosted virtual events since 2019 for millions of live listeners. Fortnite's virtual concerts have grown into global internet sensations that offer a unique experience gamers haven't experienced before.
The public's appeal for cryptogaming has taken off with various lockdowns. According to Craig Russo, director of innovation and investment at Polyient Games, 10.5 billion dollars was spent in April 2020 by American gamers, a record for games played at home. The gradual return to normal life has changed nothing. In July 2021 alone, blockchain game Axie Infinity recorded $600 million in transactions; a historic month for the game that has the most expensive NFT collection with a transaction volume of over $1 billion.
Popular Crypto Games
According to Coinmarketcap, there are at least 160 tokens related to gaming, totaling about 13 billion dollars. In July 2021, it was worth only 7.9 billion dollars and barely a billion 2 years before. Its exponential rise is testament to the increasing popularity of crypto in games. Like earlier free-to-play flash games that paraded simplistic games before the arrival of behemoths like Fortnite or Warzone, play-to-earn games have also evolved enormously where graphics and gameplay are as advanced as top-class games.
Sandbox and Axie are great examples. Axie Infinity is a worthy competitor to Pokémon, where the goal is to raise and fight monsters that can then be sold for digital currency. Following the successes of Axie and others, more studios are tempted to enter the market. The following are some popular crypto games which expectedly have been dubbed metaverse games.
Decentraland is a virtual world where players can own land, organize events, generate and share content, and participate in various social activities. Like Axie Infinity, the Sandbox, and other blockchain-based games, Decentraland leverages blockchain technology to empower gamers to own their digital identities and in-game assets.
Decentraland is one of the best-known blockchain-based securities and uses MANA (a standard Ethereum token) to power its economy. The game has become popular thanks to LAND, its virtual real estate NFT. MANA can be purchased on crypto exchanges like ChangeNOW.
The Sandbox is a virtual world that provides players with tools to create their own gameplay. The game's ecosystem, built by Pixowl and acquired by Animoca Brands, uses SAND to power its in-game economy.
Based on Ethereum, Sandbox allows players to create digital avatars and employ tools in designing their in-game assets before turning them into NFTs. Minted NFTs can be traded or sold. As such, the Sandbox can be considered a play-to-earn. The Sandbox also enables selling virtual land in-game, allowing landowners to create digital experiences on the platform like Atari and Walking Dead.
Axie Infinity was developed by Sky Mavis to explain how blockchain-based games work in a fun way. Also a play-to-earn, Axies are digital pets that players can collect, battle, and use to earn tokens and cash in at regular intervals.
The game uses Ethereum-based cryptocurrency AXS (Axie Infinity Shards) and SLP (Smooth Love Potion). On its platform, NFTs and crypto gives ownership rights to users. Axie Infinity also offers a strong community and scholarship program to empower and educate new players.
Conclusion
Technology is evolving and these changes are ushering in an age of advancement. The metaverse and new internet are no longer probabilities but certainties. When they do come, they can potentially forever transform our world.