How ICON and NOW Ensure Safe and Secure Crypto Transactions
Security is one of the greatest concerns when it comes to crypto transactions. This article will explore the importance of crypto security and provide an overview of the ICON ecosystem, highlighting the security measures in place. We will also discuss the collaboration between ICON (ICX) and ChangeNOW, and how NOW products, such as the NOW Wallet, support ICON. Finally, we will offer a guide on how to ensure safe crypto transactions from experts at NOW and Syscoin.
Crypto Security: Why It's Essential to Ensure Your Crypto Transactions are Safe
With the increasing popularity and adoption of cryptocurrencies, ensuring the safety and security of transactions has become more critical than ever. Crypto transactions involve the transfer of digital assets between users on a decentralized network, and the sensitive nature of these transactions makes them vulnerable to cyber attacks and fraud.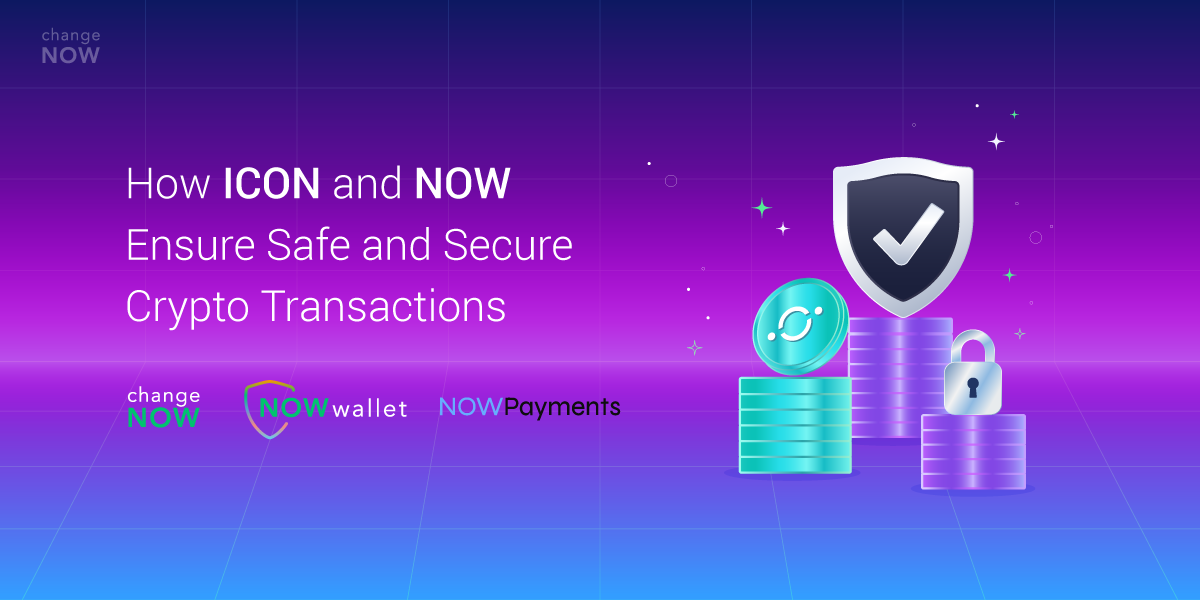 To protect your crypto assets and transactions, it's essential to choose the best crypto wallet that offers robust security features and safeguards your digital assets. By doing so, you can enjoy the benefits of the crypto world while minimizing the risks associated with it.
An Overview of the ICON Ecosystem
ICON is a decentralized network that aims to "hyperconnect the world" by building one of the largest blockchain networks for various industries, including finance, healthcare, and education. The ICON ecosystem is designed to promote interoperability between different blockchain networks, allowing them to communicate and collaborate seamlessly.
At the heart of the ICON ecosystem is the native cryptocurrency, ICX, which powers the network and enables various use cases, such as token creation, decentralized applications (dApps), and smart contracts. The ICON project is constantly evolving and expanding, making it an attractive option for crypto enthusiasts and investors alike.
ICON Security Measures
To ensure the safety and security of the ICON network, several security measures have been implemented. These include:
Delegated Proof of Contribution (DPoC): ICON uses a consensus mechanism called DPoC, which is a variation of Delegated Proof-of-Stake (DPoS). This allows network participants to elect representatives, who are responsible for validating transactions and maintaining the blockchain. DPoC offers enhanced efficiency and security compared to traditional Proof of Stake mechanisms.

Loopchain: The ICON network is powered by Loopchain, a high-performance enterprise blockchain technology with smart contract features. Loopchain offers enhanced security by ensuring the functionality of integrated messaging between different dApps and economies through the Loop Fault Tolerance algorithm.

IRC-16 Token Standard: ICON has its own token standard, IRC-16, which enables network participants to issue securities and tokenized assets securely and efficiently.
By incorporating these security measures, the ICON ecosystem offers a secure environment for users to conduct crypto transactions and explore various use cases.
ICX Supported by NOW Solutions: A Quick Overview of the Collaboration
ChangeNOW, a leading non-custodial cryptocurrency exchange platform, has collaborated with ICON to support ICX transactions. This collaboration enables users to seamlessly exchange ICX with other 850+ cryptocurrencies on the ChangeNOW platform, without the need for registration or limits.
In addition to ChangeNOW, NOWPayments, a crypto payment gateway, also supports ICX. This allows merchants to accept ICX payments for goods and services, further expanding the utility and adoption of ICX in the real world.
Why is Using ChangeNOW Secure?
ChangeNOW prioritizes security and ensures a safe environment for users to exchange cryptocurrencies. Some of the reasons why ChangeNOW is secure include:
Non-custodial service: ChangeNOW doesn't store users' funds or require registration, reducing the risk of hacking and unauthorized access.
Strong partnerships: ChangeNOW collaborates with reputable projects and platforms, such as ICON, to ensure the highest level of security and trust.
Advanced security protocols: ChangeNOW employs advanced security protocols and technologies to protect users' data and transactions.
By choosing ChangeNOW, users can enjoy a secure, fast, and user-friendly crypto exchange experience.
NOW Wallet (with ICON)
The NOW Wallet is a secure and user-friendly crypto wallet that supports multiple cryptocurrencies, including ICX. It offers users a convenient way to store, send, and receive ICX, as well as other supported digital assets.
Some of the key features of the NOW Wallet include:
Multi-currency support: Store, send, and receive multiple cryptocurrencies, including ICX, in one wallet.
User-friendly interface: Manage your crypto assets with ease, thanks to the wallet's intuitive design and features.
Secure storage: The NOW Wallet employs advanced security measures, such as encryption and PIN protection, to safeguard your digital assets.
By using the NOW Wallet, you can enjoy a seamless and secure experience when managing your ICX and other cryptocurrencies.
Tips from NOW and ICON Experts: How to Ensure Safe Crypto Transactions
To ensure the safety and security of your crypto transactions, follow these expert tips from NOW and ICON:
Choose a secure wallet: Opt for a reputable and secure wallet, such as the NOW Wallet, to store your digital assets.

Be cautious with new platforms and services: Conduct thorough research before using new platforms or services to ensure they are trustworthy and secure.

Regularly update your software: Keep your wallet software up-to-date to benefit from the latest security patches and improvements.

Monitor your accounts: Regularly check your accounts for any suspicious activity and report any unauthorized transactions immediately.
By following these expert tips, you can minimize the risks associated with crypto transactions and safeguard your digital assets.
Conclusion
Crypto security is essential for ensuring the safety of your digital assets and transactions. By choosing the best crypto wallet, partnering with reputable platforms like ChangeNOW, and following expert advice, you can enjoy the benefits of the crypto world while minimizing potential risks.
The collaboration between ICON and NOW Solutions, offers users a secure and seamless experience when managing and exchanging ICX. Don't miss out on the opportunity to explore the exciting world of ICON and its growing ecosystem.
Ready to dive into the world of ICON and secure crypto transactions? Exchange or buy ICX on ChangeNOW today!