How Fiat Conversion Drives FIRO Adoption to New Heights
In recent years, cryptocurrencies have experienced a remarkable surge in popularity, revolutionizing the financial landscape and providing individuals and businesses with an alternative avenue for transactions and wealth storage. Nevertheless, crypto enthusiasts encounter a common hurdle when it comes to converting their digital assets into traditional fiat currencies. This is where the significance of reliable and streamlined platforms, like ChangeNOW, comes into play.
In this article, we will explore the significance of fiat conversion for driving wider cryptocurrency adoption and delve into the unique features of FIRO (formerly ZCoin), a privacy-focused cryptocurrency. We will also discuss how ChangeNOW makes it easy and convenient to buy FIRO with fiat currencies, making it an excellent choice for individuals seeking privacy and security in their transactions.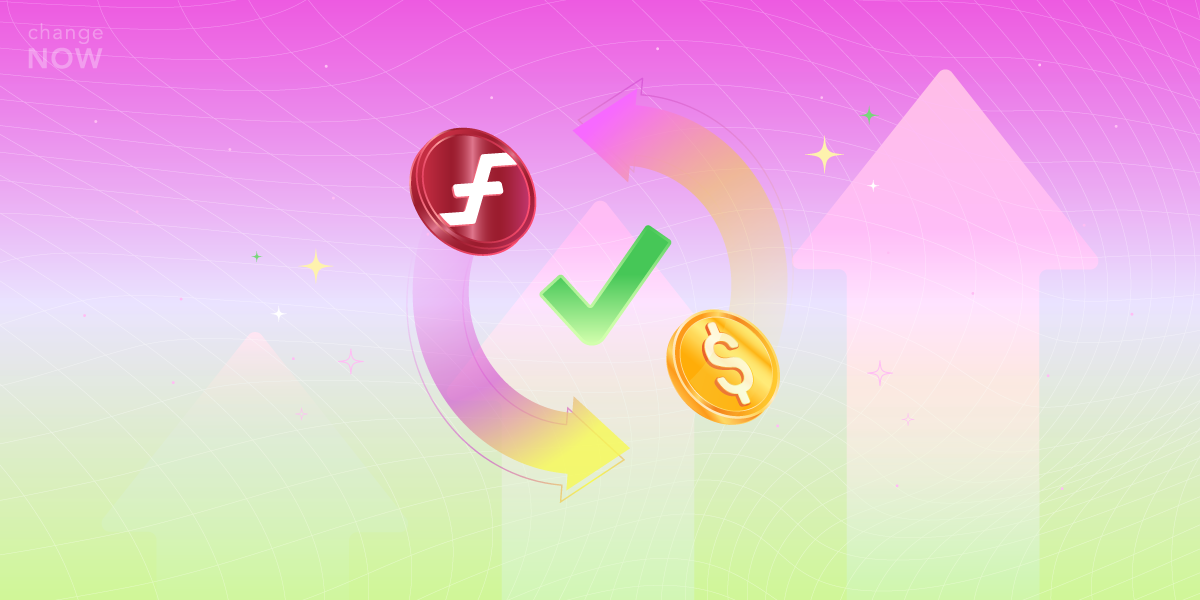 The Importance of Fiat Conversion in Crypto Adoption
Converting crypto to fiat is a crucial step for individuals and businesses alike. It enables them to access the value of their digital assets and utilize them for everyday expenses, investments, and business operations. Similarly, converting fiat to cryptocurrencies is equally important, as it allows individuals and businesses to enter the world of digital assets and leverage the benefits they offer. However, this conversion process has historically been plagued by complexities, long wait times, high fees, and concerns regarding security.
To overcome these challenges and drive wider crypto adoption, secure and efficient platforms that support fiat transactions play a pivotal role. These platforms bridge the gap between the crypto and fiat worlds, offering users a seamless and reliable method to convert their cryptocurrencies into traditional money, and vice versa.
Introducing FIRO: Privacy and Security at Its Core
FIRO (formerly known as ZCoin) is a cryptocurrency that focuses on privacy and security. It utilizes zero-knowledge cryptographic technology, allowing users to maintain complete privacy over their transactions. FIRO's innovative privacy protocol, combined with its commitment to decentralization, makes it an attractive option for individuals seeking a privacy-focused alternative to other cryptocurrencies. With FIRO, users can process transactions without compromising their financial information and privacy, empowering them with full control over their money.
The Role of Fiat Conversion in Driving FIRO Adoption
To facilitate the wider adoption of FIRO, it is essential to have a seamless and secure fiat conversion process. This is where ChangeNOW comes in. ChangeNOW is a leading cryptocurrency exchange platform that enables users to convert their fiat into crypto quickly and efficiently. With ChangeNOW, individuals can easily buy FIRO using various fiat currencies, making it accessible to a broader audience. The platform offers a user-friendly interface, competitive exchange rates, and a streamlined verification process, ensuring a hassle-free experience for users.
Future Prospects for FIRO Adoption
As FIRO continues to empower individuals and businesses with its privacy-focused features, its impact on the crypto landscape is becoming increasingly apparent. Privacy is a fundamental concern for many users in the digital age, and FIRO offers a compelling solution to this challenge. With its innovative technology and commitment to decentralization, FIRO has the potential to attract a significant user base that values privacy and security.
Furthermore, as fiat conversion becomes more seamless and efficient through platforms like ChangeNOW, the barriers to entry for cryptocurrencies diminish. This increased accessibility will likely drive the adoption of FIRO and other digital assets, leading to a more inclusive and robust crypto ecosystem.
How to Buy FIRO with ChangeNOW
Buying FIRO with fiat currencies has never been easier thanks to ChangeNOW. The platform simplifies the process, allowing users to convert their fiat currencies into FIRO quickly and securely. Here's how it works:
Visit the ChangeNOW website.

Choose your preferred fiat currency from the list of available options. ChangeNOW supports a wide range of fiat currencies, making it convenient for users worldwide.

Specify the amount of FIRO you wish to purchase. ChangeNOW provides real-time exchange rates, ensuring transparency and accuracy in the conversion process.

Follow the prompts to complete the transaction. ChangeNOW offers various payment methods, including bank transfers and credit/debit cards, providing flexibility for users.

Once the transaction is confirmed, you will receive the purchased FIRO directly into your wallet. ChangeNOW prioritizes security and ensures the safe delivery of your digital assets.
Conclusion
The rise of cryptocurrencies has paved the way for a transformative digital economy. However, the challenges associated with converting these digital assets into traditional fiat currencies have often hindered their wider adoption.
FIRO, with its innovative privacy protocol and commitment to decentralization, presents itself as a compelling alternative for privacy-conscious individuals and businesses. By leveraging secure and efficient fiat conversion platforms like ChangeNOW, the path to FIRO adoption becomes even smoother.
With ChangeNOW's user-friendly interface and commitment to simplifying the fiat conversion process, buying FIRO with fiat currencies has never been easier. Embrace the power of privacy and security by joining the FIRO revolution today.