Hoge Finance (HOGE) Token Overview
Are you ready to dive into the fascinating world of Hoge Finance and explore the possibilities of the HOGE token? In this comprehensive article, we will take you on a journey through the key features, use cases, and tokenomics of Hoge Finance. Whether you are a crypto enthusiast or a beginner, this article will provide you with all the essential information you need to know about Hoge Finance and how to buy HOGE.
Now, let's embark on this exciting journey and explore the intricacies of Hoge Finance and the HOGE token!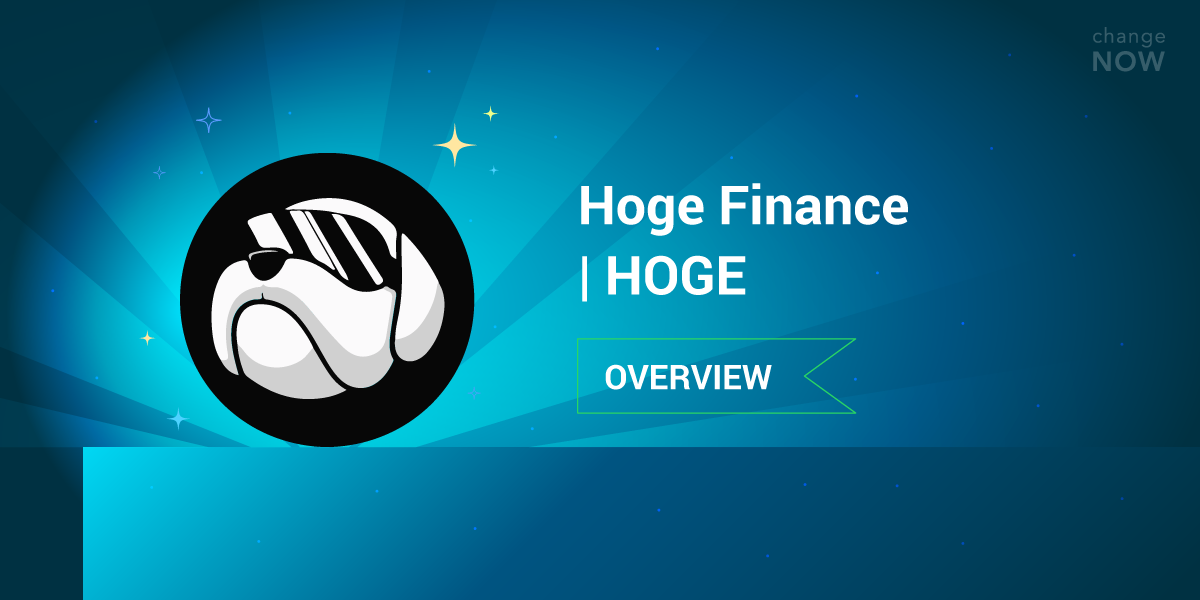 What is Hoge Finance?
Hoge Finance is a cryptocurrency project that strives to make Ethereum's decentralized network accessible to a wider audience. Drawing inspiration from the success of Dogecoin, Hoge Finance adds its own unique twist to the meme coin concept by focusing on the realm of DeFi. Although Hoge Finance may appear light-hearted and playful, it has garnered significant attention and interest within the crypto community.
At the core of Hoge Finance's operation lies the principles of deflationary tokenomics. This innovative approach entails a gradual reduction in the token supply over time, fostering scarcity and potentially driving up the value of the token. Additionally, the project introduces an intriguing and one-of-a-kind feature known as the Hoge Space Program. This ambitious initiative aims to launch mini-satellites into space, generating non-fungible tokens (NFTs) and making meaningful contributions to the field of space exploration.
The HOGE Token: Powering the Hoge Finance Ecosystem
Tokenomics of HOGE
HOGE is an ERC-20 token built on the Ethereum blockchain. It serves as the native currency within the Hoge Finance ecosystem, enabling various functions and interactions. One of the key aspects of HOGE tokenomics is its deflationary nature. Each transaction involving HOGE incurs a 2% tax, with a portion of the tax burned and the remaining distributed to HOGE token holders.
As the supply of HOGE gradually decreases, the token's scarcity may potentially drive its value upwards. However, it is important to note that HOGE is not the only deflationary token in the market, and its success will depend on building demand and community engagement.
Use Cases of HOGE
Here are some of the primary use cases of HOGE token:
Transaction Rewards: By holding HOGE tokens in your crypto wallet, you automatically receive a portion of the 2% tax collected from each transaction. This allows you to passively earn rewards while contributing to the deflationary mechanism of the token.

Non-Fungible Tokens (NFTs): Hoge Finance offers NFTs on platforms like OpenSea, allowing users to buy and sell unique digital assets. Additionally, Hoge Finance has introduced HogeMint, which enables community members to mint their own NFTs during limited-time events.

Community Empowerment: Hoge Finance functions as a decentralized autonomous organization (DAO), embracing the participation of HOGE token holders in governance matters. This inclusive model empowers the community to actively contribute and influence the project's future trajectory, fostering a sense of ownership and collective decision-making.

Charitable Initiatives: Hoge Finance is committed to giving back to society. The project has raised funds for various nonprofit organizations, including St. Jude Children's Research Hospital, The Humane Society, and First Responders Children's Foundation.
The HOGE token offers a range of opportunities for users to engage with the Hoge Finance ecosystem, participate in community governance, and potentially earn passive income.
Why Choose ChangeNOW for Buying HOGE?
ChangeNOW stands out from other exchanges due to its exceptional features and benefits:
No Registration or Account Needed: ChangeNOW allows you to buy HOGE without the hassle of creating an account or going through a lengthy registration process.
Wide Range of Supported Cryptocurrencies: ChangeNOW supports more than 850 cryptocurrencies, including HOGE. This gives you the flexibility to exchange various cryptocurrencies for HOGE quickly and conveniently.
Competitive Rates: ChangeNOW offers competitive rates for buying HOGE, ensuring that you get the best value for your crypto assets.
Fast and Secure Transactions: ChangeNOW prioritizes user security and ensures that transactions are processed quickly and securely. You can rest assured that your funds and personal information are protected.
Step-by-Step Guide to Buying HOGE on ChangeNOW
Step 1: Go to the ChangeNOW website using your preferred web browser.
Step 2: Choose the cryptocurrency you want to exchange for HOGE. If you already have the desired cryptocurrency, select it from the list of available options. Otherwise, you can buy the required cryptocurrency directly on ChangeNOW.
Step 3: Specify the amount of the chosen cryptocurrency that you want to exchange for HOGE. ChangeNOW will display the estimated amount of HOGE you will receive.
Step 4: Enter your HOGE wallet address where you want to receive the purchased HOGE tokens. Make sure to double-check the address to avoid any errors.
Step 5: Review the details of your transaction, including the exchange rate and transaction fee. If everything looks good, click on the "Confirm" button to proceed.
Step 6: Follow the instructions provided by ChangeNOW to send the cryptocurrency you are exchanging to the designated address. This ensures that the HOGE tokens are delivered to your wallet.
Step 7: Once the transaction is confirmed and your cryptocurrency is received, ChangeNOW will initiate the exchange and send the HOGE tokens to your designated wallet address.
Congratulations! You have successfully bought HOGE tokens on ChangeNOW. Now you can actively participate in the Hoge Finance ecosystem and explore the various possibilities that HOGE offers.
Partnership between ChangeNOW and Hoge Finance
ChangeNOW is proud to announce its partnership with Hoge Finance, integrating the Exchange API into its platform. This collaboration brings numerous benefits to users who wish to buy, sell, or swap HOGE tokens.
Stay tuned for more exciting details and updates resulting from the partnership between ChangeNOW and Hoge Finance!
Hoge Finance Roadmap and Future Plans
Hoge Finance has an ambitious roadmap that outlines its future plans and goals. While the project started in February 2021, it has already achieved significant milestones. The team continues to work diligently to bring their vision to life and drive the adoption of Hoge Finance within the crypto space.
The roadmap includes the launch of the Hoge Space Program, which aims to send mini-satellites into space to generate NFTs and explore space data security. This innovative initiative showcases the project's commitment to pushing boundaries and exploring new frontiers.
Additionally, Hoge Finance plans to establish cross-blockchain bridges to enable cheaper transactions and expand its reach. The project has already implemented a bridge to the Gnosis Chain (formerly known as the xDai Chain), providing users with more options for interacting with the Hoge Finance ecosystem.
Join the Hoge Finance Ecosystem and Buy HOGE on ChangeNOW
If you want to be part of the Hoge Finance community and buy HOGE tokens, visit ChangeNOW today. Experience the convenience, security, and competitive rates that ChangeNOW offers as you embark on your journey into the world of Hoge Finance.
Don't miss out on the opportunity to be a part of the Hoge Finance ecosystem. Start your HOGE journey on ChangeNOW today!
Disclaimer: The information provided in this article is for informational purposes only and should not be considered financial or investment advice. Cryptocurrency investments are subject to market risk, and it is essential to conduct thorough research and consult with financial advisors before making any investment decisions.