Head of PR at ChangeNOW Mike Ermolaev Featured on the Daily Hodl
On Wednesday, a respected crypto media outlet Daily Hodl published an exclusive op-ed written by our Head of PR Mike Ermolaev.
The article is devoted to Bitcoin and gold correlation. Mike has compared the two, analyzed the past and current situations, and made predictions for the future.
Mike starts by explaining why the BTC versus gold debate is relevant nowadays. He then outlines the characteristics that Bitcoin and gold share. They include:
Limited supply
Mediums of exchange
Safe-haven appeal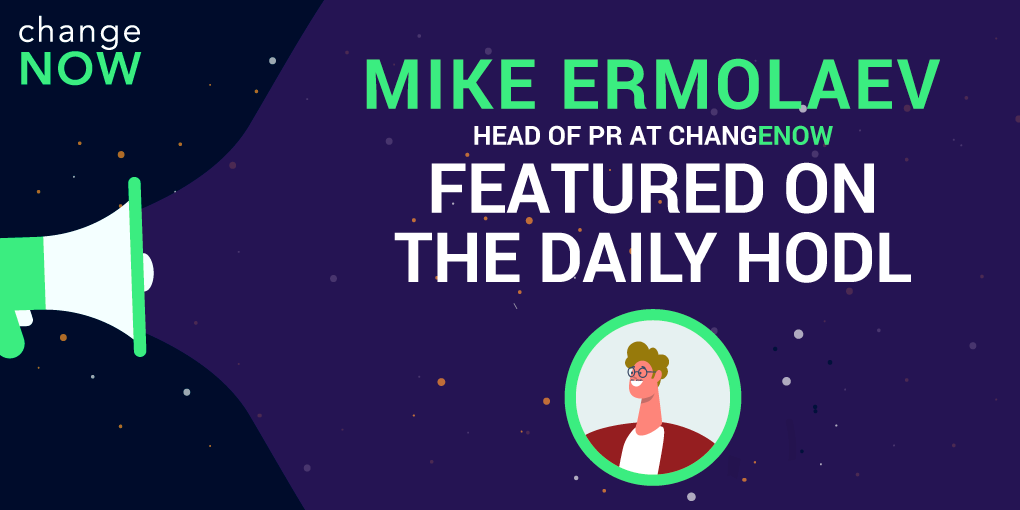 Afterwards, he elaborates on the main difference between BTC (and cryptocurrencies in general) and gold which is volatility. However, as Mike anticipates, the situation might change in the future:
"Looking ahead, the presence of institutional investors in the crypto market might dampen its volatility and smooth out the market's dynamic. I believe that at some point extreme volatility will no longer be the case for crypto."
Next, Mike examines the graphs that measure Bitcoin's correlation to gold and draws conclusions from it.
In the end, he reflects on the gold and Bitcoin's future, the global adoption of cryptocurrencies, and more. One of his final thoughts was:
"Crypto adoption continues to grow exponentially, and Bitcoin returns continue to outpace gold, so it's only volatility that prevents it from becoming a mainstream conventional asset. Bitcoin's volatile nature – along with its steady rise over time – is what both scares and attracts people."
To find out what else Mike had to say about gold,Bitcoin, and the possible future of cryptocurrencies, check out the whole op-ed here.
Yours,
ChangeNOW team